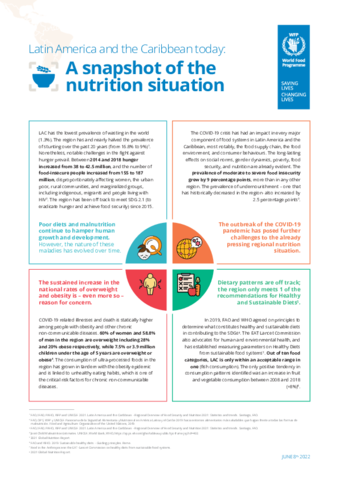 The Latin American and Caribbean (LAC) region has the highest levels of inequality and inequity globally. In addition, the combined effects of COVID-19 have amplified the food emergency and threatened to increase the number of food and nutrition insecure people in the region.

In response to this scenario, WFP's vision for nutrition in LAC integrates 3 main entry points: nutrition systems integration within social protection frameworks, evidence generation for informed decision making, and partnering for results.

We invite you to learn more about the current food and nutrition security situation in the region, and how WFP prioritizes nutrition as a central element of our operations.

La región de América Latina y el Caribe (ALC), presenta los niveles más altos de desigualdad e inequidad a nivel global. A este panorama, se la ha sumado los efectos combinados de la COVID-19 que amplifica la emergencia alimentaria y amenaza con aumentar el número de personas en inseguridad alimentaria y nutricional en la región. 
 En respuesta a este panorama, la visión de WFP en favor de la nutrición en ALC, integra 3 ejes principales: la integración de sistemas de nutrición dentro de los marcos de protección social, la generación de evidencia para la toma de decisiones informadas y las alianzas estratégicas para el logro de resultados. 
 Te invitamos a conocer ser más de la situación actual de seguridad alimentaria y nutricional en la región, y como WFP prioriza la nutrición como un elemento central de nuestras operaciones.