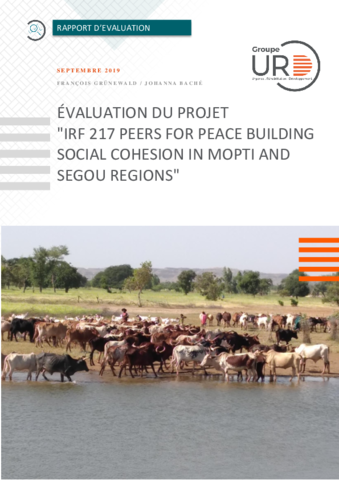 The evaluation covers the joint Peace Building Fund (PBF)-funded joint project "Peers for Peace Building, Social Cohesion in Mopti and Ségou Regions", launched in 2017 and implemented by WFP, FAO and UNHCR. The exercise was commissioned by WFP to an external firm in early 2019 and managed outside of the WFP Quality Assurance System for Decentralized Evaluations (DEQAS) framework.
According to the terms of reference, the main objectives of the evaluation were to:
1. Carry out an in-depth review of the results and effects of the project;
2. Analyze and evaluate the "theory of change" approach and validate related assumptions.
The purpose of this double evaluative objective was to show whether the elements of success - or failure - of the project were due to its conception and to the theory of change which underlies it or rather to its execution.
Key evaluation questions included, among others:
1. To what extent have the objectives been achieved during the implementation period?
2. Given the large number of factors that influence an outcome, to what extent and how has the intervention contributed to the observed changes in social cohesion?
3. What was the added value of the joint approach bringing together the three agencies?
The evaluation aimed to answer the above key questions using OECD/DAC criteria, namely relevance/adaptability, effectiveness, efficiency and sustainability/impact, and also focused on the added value of the joint nature of the response.
Main areas of recommendations include i) the use of the joint theory of change as a project management tool; ii) timing and scope of diagnostic exercises; iii) formalization of the risk analysis and management system; iv) capitalizing collaboration at field level; v) adaptation of the financial mechanisms to the project ambitions and vi) reinforcing communication around the PBF project.