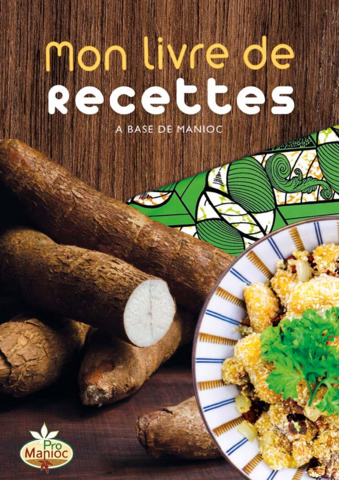 Cassava is a favoured staple food in the Republic of Congo
To support the Government's efforts towards agricultural development and food sovereignty, WFP RoC launched a project called "ProManioc" in September 2020. The activities under the ProManioc project strengthen the emergence of the artisanal value chain for cassava derivative products, contribute to enhancing local food resilience and boosts the income of the participating cassava producing and processing farmers. Funded by the European Union, this project directly supports 600 producers/processors and 100 local welders from the Bouenza department of the Republic of Congo. The locally processed cassava derivative products are used in the WFP School Feeding Programme school meals and benefit more than 8,500 school children. 
As part of this project, WFP produced a cookbook showcasing the versatility of cassava derivatives and their multiple culinary uses. The cookbook is also a vehicle to connect the ProManioc smallholder farmers to new markets and widely promote locally processed cassava derivative products. This collection of recipes is the result of close collaboration with the Congolese Chef Honor Toudissa who is renowned for his unique cuisine that celebrates local ingredients in a strategic attempt to blend Congo's diverse traditional and modern culinary heritage.
There is no doubt that gari, attiéké, cassava flour, tapioca or starch have great potential to replace and complement imported cereal-based foods. Mboté ya Congo et bon appétit!