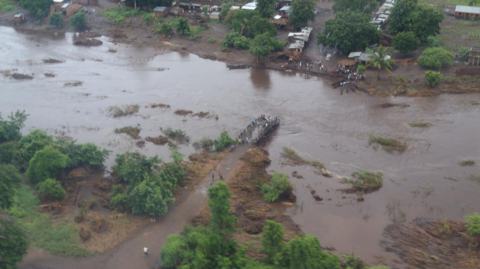 This document, jointly developed by UN agencies; IOM; the Red Cross; and NGOs, guides the support to be provided by HCT to GoM in meeting the humanitarian needs of the affected population and undertaking necessary steps towards an early recovery and resilience-building of communities.
It explains the overall and sectoral strategies, and resources needed by all partners and donors willing to support this tremendous effort. It includes both immediate life-saving assistance to the affected population and early recovery actions. The activities, when possible, are carried out with a gender perspective and human rights-based approach.
This RRP seeks $30.3 million to enable the humanitarian community to address the needs of over 160,000 flood-affected people, in particular 50,000 IDPs, to recover and rebuild their lives. Furthermore, it seeks to support those whose crops and livelihoods were devastated by the heavy rains and floods.
The main strategic objectives of the Response and Recovery Proposal are:
1) To provide immediate lifesaving and life-sustaining assistance to the population affected by the floods in the following areas: shelter, water, sanitation, and hygiene, food, health, protection, nutrition and education;
2) To restore livelihoods and support the normalisation of flood-affected communities through early recovery and resilience-building activities that link the humanitarian activities to longer-term development efforts, and;
3) Boost logistics and operational
capacity by strengthening coordination and reinforcing the logistics cluster, guaranteeing that relief items are adequately procured and distributed in a timely manner.