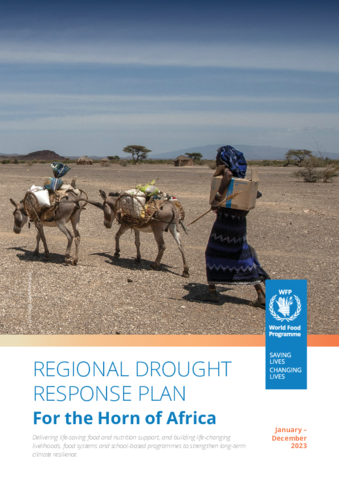 In drought affected areas of Kenya, Ethiopia and Somalia, 22 million people are acutely food insecure and 5.1 million children are acutely malnourished. In 2023, WFP is urgently calling for USD 2.4 billion to help avert a major humanitarian crisis in the Horn of Africa and support 8.8 million people affected by the drought with regular life-saving relief.
After five consecutive below-average rains, the humanitarian crisis in the Horn of Africa is deepening. To address the devastating drought-induced hunger and malnutrition across the region, WFP is pursuing an integrated dual track approach; meeting immediate life-saving food and nutritional needs while simultaneously building resilience to extreme climate variability.
WFP is already on the ground, providing millions of people with life-saving assistance every day. Since mid-2021, thanks to the generosity of its partners, WFP has more than doubled relief assistance across drought-affected areas of the Horn of Africa from 4 to over 8.8 million food relief beneficiaries every month. Responding now is necessary to avert a humanitarian catastrophe, prevent suffering, protect dignity and save lives.