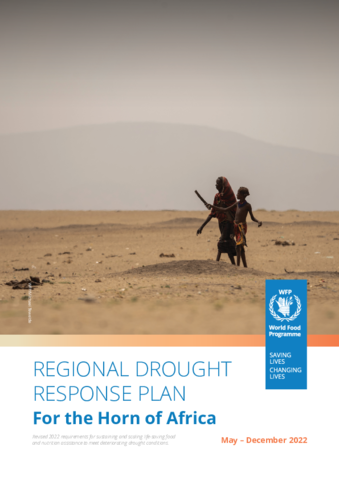 Over 15 million people are now acutely food insecure across the Horn of Africa because of drought, up from 12-13 million at the beginning of the year. Should the ongoing rains fail and increased relief assistance not take place, this number of acutely food insecure could rise to 20 million people by the end of the year.

This report outlines WFP's response to support the increased humanitarian needs across this region.

In January 2022, the World Food Programme (WFP) released a six-month Drought Response Plan for the Horn of Africa. This Plan outlined the critical humanitarian needs and WFP's accompanying relief requirements necessary to respond to the already severe drought.
The humanitarian situation has subsequently deteriorated so severely that this Drought Response Plan has been updated to reflect the increased relief requirements, both in terms of more people in need and additional relief programmes.
The revised Plan covers WFP's drought response from May until the end of the year and adds Djibouti's drought-related needs to the severely affected countries of Ethiopia, Kenya and Somalia.