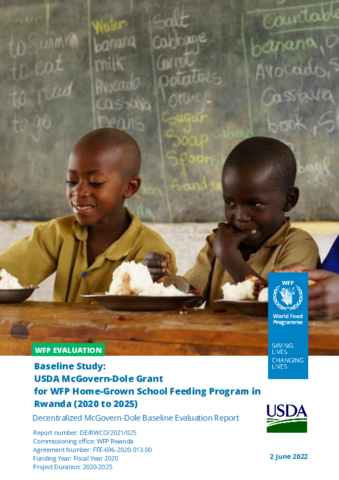 This decentralized evaluation was commissioned by the WFP Rwanda Country Office and covers the United States Department of Agriculture (USDA) McGovern-Dole International Food for Education and Child Nutrition Programme (McGovern-Dole) Grant for Home-Grown School Feeding Programme (HGSF) in Rwanda (2020-2025).
The decentralized baseline evaluation was carried out in 2021/2022.
The evaluation was commissioned to inform Phase II implementation and support the rollout of the national school feeding programme, and was intended for both accountability and learning purposes.  It focused on programme indicators developed by the country office based on USDA performance indicators. The baseline evaluation addressed 10 evaluation questions and employed the standard evaluation criteria of relevance, coherence, effectiveness, efficiency, impact, and sustainability. The baseline includes schools not participating in either phase as "control" schools.
The evaluation covered the Home Grown School Feeding and related activities in 136 pre- and primary schools in seven districts of Rwanda: Karongi, Rutsiro, Nyamagabe, and Nyaruguru ("Group 1" schools), which were supported in the FY15 McGovern-Dole Program ("Phase I"), and Burera, Kayonza and Gasabo ("Group 2" schools) added in FY20 ("Phase II"). The McGovern-Dole Program strategic goals are to improve the literacy of school-age children (MGD SO1) and increase the use of health and dietary practices (MGD SO2) in the targeted areas.
Key evaluation findings included:
Finding 1. The programme is seen to be relevant to the needs of both Group 1 and Group 2 schools as contributing to reduced dropouts, improved literacy, reduced malnutrition, and improved hygiene and sanitation.
Finding 2. The programme aligns with national objectives, policies, strategies, and plans to improve the literacy of school-aged children.
Finding 3. The programme in Phase 1 was effective in improving attendance and reducing dropouts.
Finding 4. While the use of resources among Group 1 and Group 2 schools was generally efficient, there is room for greater efficiency in the programme as overcrowding of treatment schools compromises the ability of feeding programmes to provide enough food to each child, especially when pre-primary children also receive food. 
Finding 5. The programme has had a positive impact on its beneficiaries and the Phase 1 results in terms of on-time attendance, improved hygiene, reduced malnutrition, and an improved teaching and learning environment, as observed at the Phase 2 baseline, provide an indication of impact pathways for Phase 2.