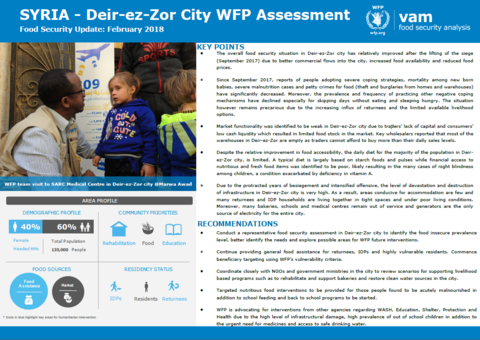 The assessment employed qualitative data collection instruments and secondary data analysis (mVAM, FSA, HNO, WFP market price monitoring). Data collection took place on February 13-14, 2018.
Focus group discussions (FGD) were conducted with the key informants, medical teams, government actors in Deir-ez-Zor including representatives from the Ministries of Supply and Trade, Social Affairs, with representatives from the SARC branch and with bakeries. The interviews included a mix of males and females beside representatives from sub-groups. A number of individual interviews were also conducted with key traders and households. The following topics/indicators were included in the survey: 
Food sources, consumption patterns, coping strategies, community-level priorities, shocks and livelihood/ income activities.
Market volumes, flows, constraints and capacity, supply routes beside food stocks and prices.
The impact the lifting of the siege had on market functionality, food availability and prices of main staple commodities through secondary information and FGD.
Population estimation, food security profile, health,nutrition and sanitation through secondary information (FSA, HNO, mVAM).
| Document | File |
| --- | --- |
| Full Report [English] | |