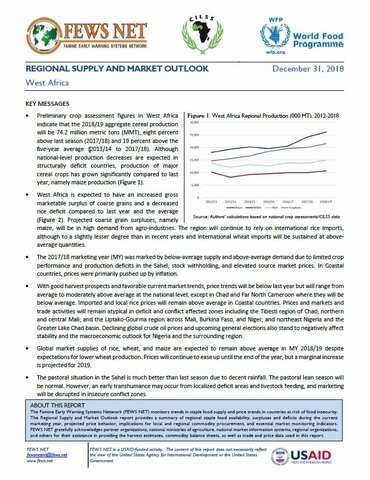 Preliminary crop assessment figures in West Africa indicate that the 2018/19 aggregate cereal production will be 74.2 million metric tons (MMT), eight percent above last season (2017/18) and 19 percent above the five-year average (2013/14 to 2017/18). Although national-level production decreases are expected in structurally deficit countries, production of major cereal crops has grown significantly compared to last year, namely maize production.
West Africa is expected to have an increased gross marketable surplus of coarse grains and a decreased rice deficit compared to last year and the average. Projected coarse grain surpluses, namely maize, will be in high demand from agro-industries. The region will continue to rely on international rice imports, although to a slightly lesser degree than in recent years and international wheat imports will be sustained at above-average quantities.
The 2017/18 marketing year (MY) was marked by below-average supply and above-average demand due to limited crop performance and production deficits in the Sahel, stock withholding, and elevated source market prices. In Coastal countries, prices were primarily pushed up by inflation.
| Document | File |
| --- | --- |
| Full Report [English] | |