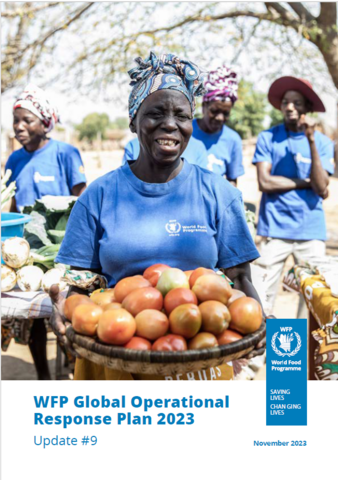 This report provides an analysis of food security and evolving needs and an update on WFP's response and priorities.
Hunger persists for as many as 333 million people who are acutely food insecure globally in 2023 across the 78 countries with WFP operations. In 2023, an estimated 47.3 million people in 54 countries are in Emergency or worse levels of food insecurity (IPC 4+), which is an increase of 6.9 million people compared to the estimate from June. Currently, an estimated 45 million children under five years of age suffer from acute malnutrition, with numbers predicted to rise.
Protracted conflict, climate disasters, economic shocks and the prolonged financial aftermath of the pandemic continue driving up needs, while funding levels dwindle, and access constraints reduce the humanitarian space - and increase operational costs. Women and girls bear the brunt of the food security crisis, as they are disproportionately affected by these shocks.
Between January and June this year, WFP was able to reach an estimated 119.5 million people with food, cash, and commodity vouchers. This is 8 million more people reached than the same period last year. Still, in many countries, people have been excluded from assistance completely, while in others, people have been assisted with reduced rations, or for a shorter period of time, stretching assistance to enable a greater coverage of populations in need.
For 2024, WFP plans to reach 157.3 million people, based on current funding outlooks and needs. Country offices are already employing prioritization strategies to meet expected funding levels and will continue doing so into 2024.