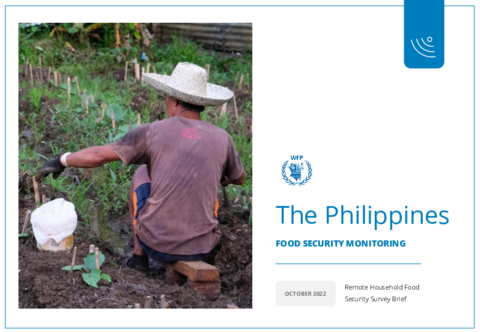 The monthly mobile vulnerability analysis and mapping (mVAM) is intended to provide the government and humanitarian/development partners information on the impact of the global food, fuel, and fertilizer crisis on households in the Philippines. Mobile phone interviews were conducted with 2,249 households throughout October, covering all seventeen regions of the Philippines.

According to October survey results, one out of ten households in the Philippines are food insecure. The poorest regions have been more affected by food insecurity. The three most food insecure regions (BARMM, Region VIII, and XII) are among the seven poorest regions in the Philippines. The Bangsamoro Administrative Region in Muslim Mindanao (BARMM), which is the poorest region in the country, is the only area that recorded food insecurity levels above 30 percent.
Households that rely on agricultural livelihoods are also significantly more food insecure. About a quarter of agricultural households are food insecure, compared to only 9 percent for non-agricultural households. As more agricultural households reported reduced incomes, they are more likely to resort to coping strategies to address food insecurity.
Seven out of ten households are using livelihood coping strategies to address food insecurity issues. Households, on average, said that they used two coping strategies in the past month. The most common strategies households adopt are borrowing money for food, purchasing food on credit, and spending savings. More alarmingly, however, four out of ten households are reporting use of crisis and emergency coping strategies.