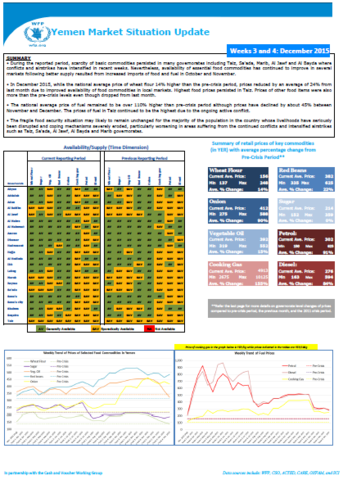 Market situation update for Weeks 3 and 4 of December 2015. Key highlights include:
During the last two weeks of December 2015, scarcity of basic commodities persisted in many governorates including Taiz, Sa'ada, Marib, Al Jawf and Al Bayda where conflicts and airstrikes have intensified in recent weeks. Nevertheless, availability of essential food commodities has continued to improve in several markets during the reporting period following better supply resulted from increased imports of food and fuel in October and November.
In December 2015, while the national average price of wheat flour 14% higher than the pre-crisis period, prices reduced by an average of 24% from last month due to improved availability of food commodities in local markets. Highest food prices persisted in Taiz. Prices of other food items were also more than the pre-crisis levels even though dropped from last month. 
The national average price of fuel remained to be over 110% higher than pre-crisis period although prices have declined by about 45% between November and December. The prices of fuel in Taiz continued to be the highest due to the ongoing active conflict.
The fragile food security situation may likely to remain unchanged for the majority of the population in the country whose livelihoods have seriously been disrupted and coping mechanisms severely eroded, particularly worsening in areas suffering from the continued conflicts and intensified airstrikes such as Taiz, Sa'ada, Al Jawf, Al Bayda and Marib governorates.
| Document | File |
| --- | --- |
| Weekly Market Situation Update: Week 3 and 4, December 2015 | |
| Weekly Market Situation Update: Week 1 and 2, December 2015 | |
| Weekly Market Situation Update: Week 3 and 4, November 2015 | |
| Weekly Market Situation Update: Week 1 and 2, November 2015 | |
| Weekly Market Situation Update: Week 3 and 4, October 2015 | |
| Weekly Market Situation Update: Week 1 and 2, October 2015 | |
| Weekly Market Situation Update, September 2015 | |
| Weekly Market Situation Update: Week 3 and 4, August 2015 | |
| Weekly Market Situation Update: Week 1 and 2, August 2015 | |
| Weekly Market Situation Update: Week 4, July 2015 | |
| Weekly Market Situation Update: Week 3, July 2015 | |
| Weekly Market Situation Update: Week 2, July 2015 | |
| Weekly Market Situation Update: Week 1, July 2015 | |
| Weekly Market Situation Update: Week 3 and 4, June 2015 | |
| Weekly Market Situation Update: Week 2, June 2015 | |
| Weekly Market Situation Update: Week 1, June 2015 | |
| Weekly Market Situation Update: Week 4, May 2015 | |
| Weekly Market Situation Update: Week 3, May 2015 | |
| Weekly Market Situation Update: Week 2, May 2015 | |
| Weekly Market Situation Update: Week 1, May 2015 | |
| Monthly Market Watch, March - April 2015 | |
| Monthly Market Watch, February 2015 | |
| Monthly Market Watch, January 2015 | |