3 ways WFP protects people and planet (while tackling hunger)
From strengthening early warning systems to predicting climate hazards and giving people valuable preparation time, WFP is giving communities the tools they need to protect themselves against climate impacts
, Jenny Wilson
When it comes to tackling the climate and environmental crises, protecting communities is the World Food Programme (WFP)'s top priority. From strengthening early warning systems to predicting climate hazards and giving people valuable preparation time, to facilitating access to insurance schemes to cover losses resulting from poor harvests, WFP is giving communities the tools they need to protect themselves against climate impacts.  
Also key is restoring ecosystems as natural barriers against climate impacts and improving food production in places where nature has been so degraded that agriculture is failing.   
Environment day: How a canal is bringing water fish and hope to farmers in Cambodia
How a project funded by Japan is enabling the World Food Programme to change lives in a community hit by erratic weather linked to climate extremes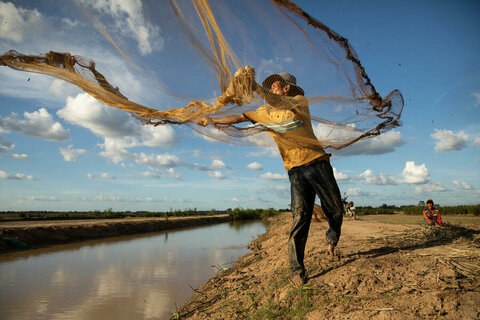 The link between the climate and hunger emergencies is chillingly clear. In 2022, climate extremes were the primary driver of acute food insecurity for 56.8 million people in 12 countries. The looming return of El Niño, the weather pattern connected to the eastward warming of the Pacific, is expected to make matters worse, setting off extreme shocks around our planet, which sadly looks set to pass the 1.5C warming threshold in 2027. 
Here are some of the ways WFP works with communities to respond.
---
1. Restoring ecosystems 
In Malawi, where 80 percent of people depend on smallholder farming, the stakes are high. Over the past seven years, this country has endured five major extreme weather events.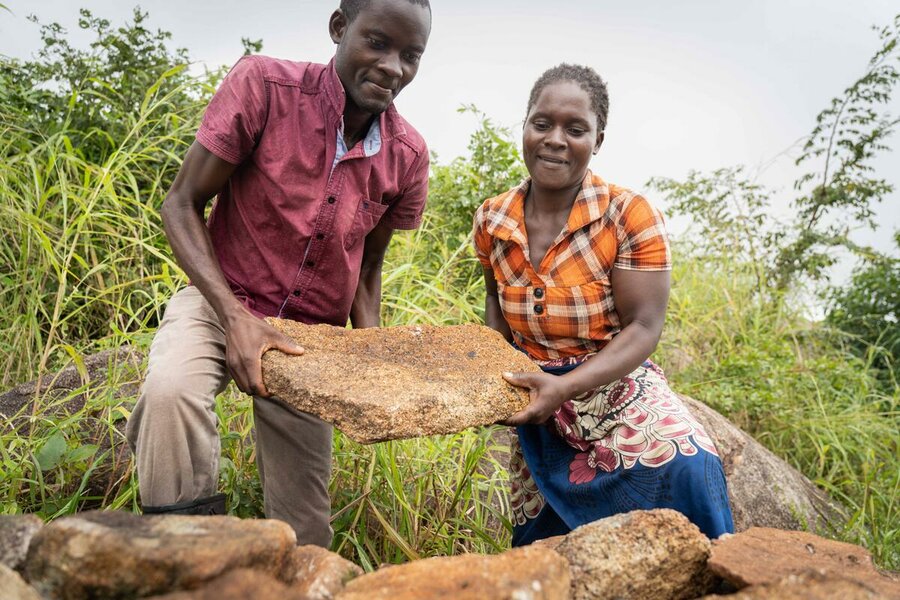 Since 2017, WFP has been working with communities to plant more than 20 million trees and rehabilitate 42,000 hectares of degraded land. We're also providing crucial support for farmers to access insurance for their crops and take part in programmes to build or restore natural and infrastructure assets in their communities, all while receiving food assistance.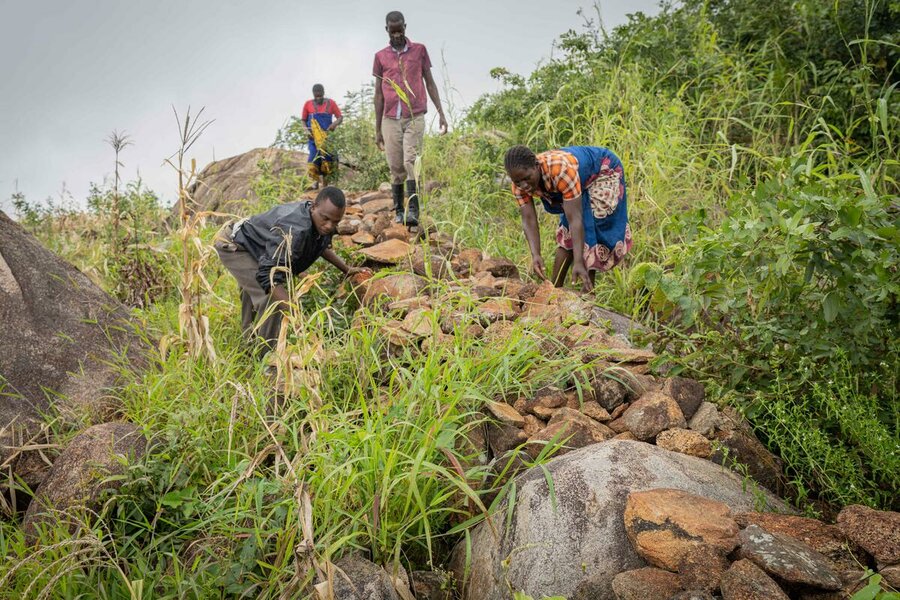 "This year again, a cyclone hit the country, but my house and my crops did not suffer any damage," says Josephine, a farmer who lives at the bottom of a hill. In previous years, her house and crops were devastated by flooding. In 2019, Josephine joined a WFP project and began constructing stone bunds – small walls of stones that control water runoff.  
Neighbouring villages that have not implemented similar measures continue to grapple with the impacts of flooding. "I want to encourage other farmers to replicate our work so we can beat hunger in our country," she says.  
---
2. Clean energy 
Burning fossil fuels to generate energy is not only causing climate change and triggering more frequent and intense weather events; it is also a major contributor to environmental degradation. Additionally, the use of firewood as fuel releases harmful gases into the atmosphere and leads to deforestation and soil degradation.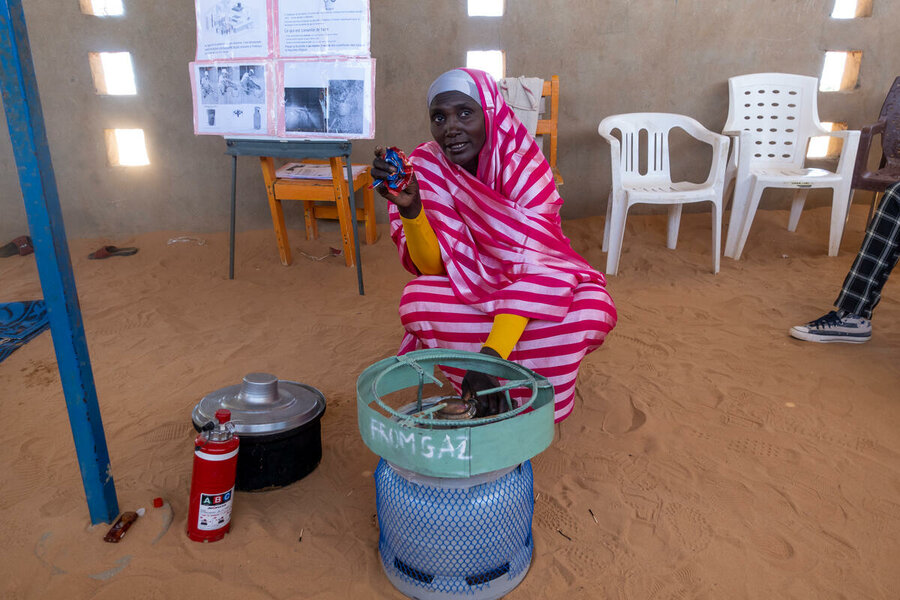 WFP works with communities to switch from firewood to cleaner and more sustainable fuels. In refugee camps in eastern Chad – a vulnerable region in the Sahel affected by conflict and the climate crisis - some 100,000 meals a day are now being cooked with clean fuel rather than firewood.  
The positive impacts of this initiative go far beyond environmental preservation, releasing fewer gases into the atmosphere and minimizing deforestation. Switching to clean fuels not only saves time and money, but also improves the health and wellbeing of communities.   
"Gas is very useful" says Fatime Ahmat, a trainer involved in the project. "Now, we can use gas which helps us avoid the problems with firewood. Thanks to the gas, our children won't have to go collect firewood anymore."   
3. Greening our operations and reducing waste 
As well as supporting others to protect their local environment, WFP makes sure its own operations are as green and clean as possible.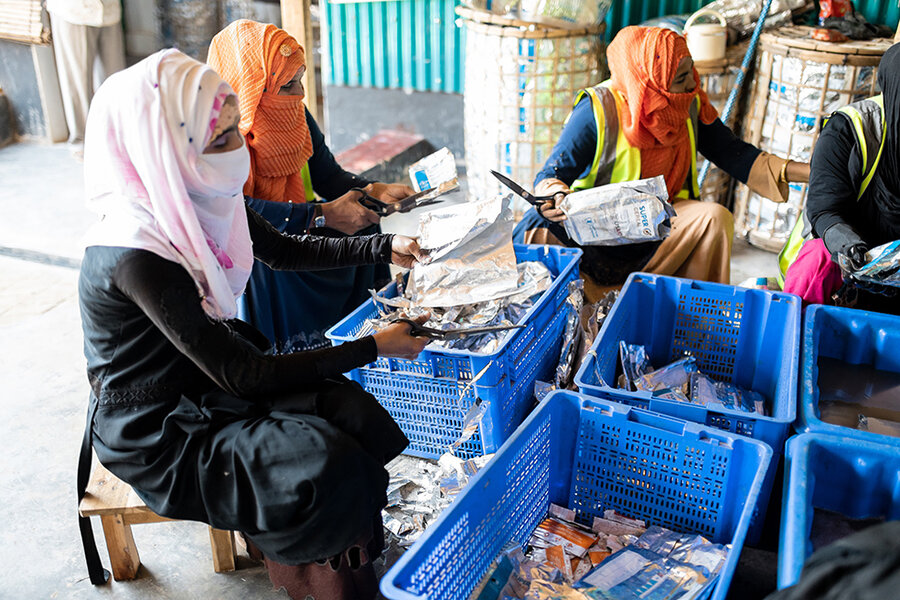 With over 23,000 staff and operations in 120 countries, WFP understands the importance of integrating sustainability into everything we do. To achieve this, we are implementing a tool called an Environmental Management System (EMS) across the organization. EMS enables our operations to systematically minimize their environmental footprint in areas including facilities, technology, transport and procurement.  
In Burkina Faso's capital Ouagadougou, for example, WFP has taken steps to reduce our environmental footprint through initiatives like reducing waste, and to embrace renewable energy by introducing a solar system to partially power our operations.
Cyclone Mocha survivors face new perils: monsoon season and shrinking funds
In Myanmar and Bangladesh, WFP urgently needs US$116 million to support the most vulnerable
Through a local, WFP-supported recycling project, mostly female entrepreneurs have transformed 240,000 used plastic food bags into rope to sell, boosting their livelihoods. The initiative also contributes to reducing waste in a city that produces 680,000 tons of garbage yearly - one-third of which is plastic that releases harmful emissions when incinerated. 
Through innovative projects like these, WFP strives to adopt environmentally friendly practices and ensure our operations leave a positive impact on the planet and on people. 
Now is the
time to act
WFP relies entirely on voluntary contributions, so every donation counts.
Donate today