To bee or not to bee in Kyrgyzstan
How a farmer who dreamed of earning money from honey made a beeline for a World Food Programme training course
, Aichurek Zhunusova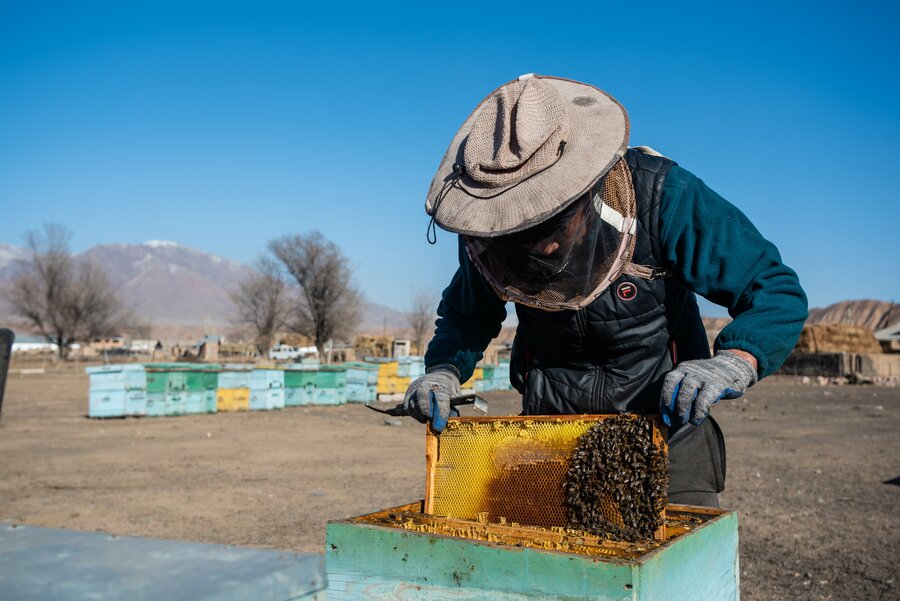 Ryskulbek's hopes of becoming a successful bee farmer became a reality after he joined a World Food Programme (WFP) Food-for-Training project in Kyrgyzstan, which helps vulnerable farmers improve their livelihoods.
This World Bee Day, he is the proud owner of a bee farm making organic honey and honey-related products in his village, Bash-Kuugandy. There he's known as the 'bee master' — as his honey products make their way across the country.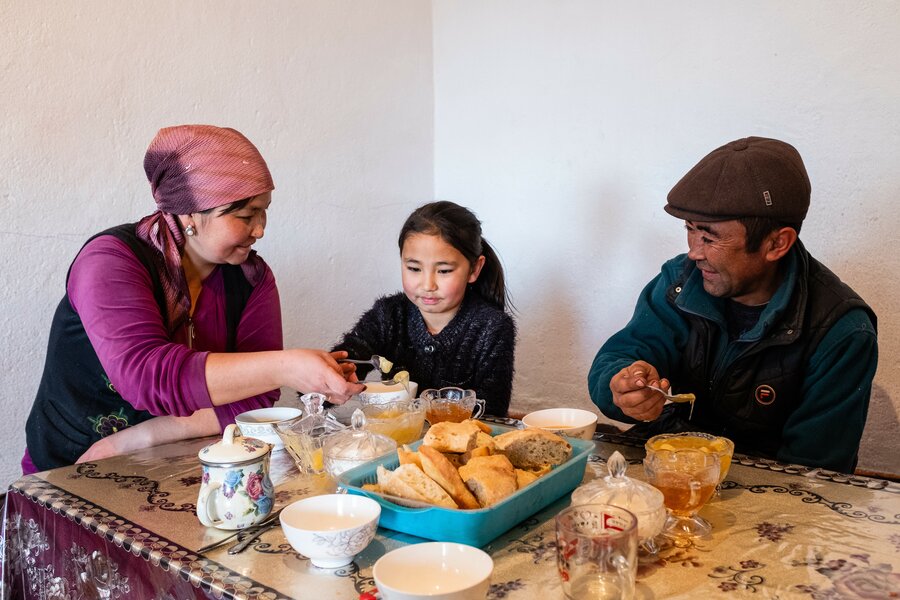 "Since the coronavirus outbreak, honey's become even more popular among the village residents and I've been able to sell a lot more than I'd planned without raising prices as many other beekeepers did," he says.
"This spring I put out more hives to increase honey extraction by the autumn, he adds. "My wife and I are planning to sell honey to poor families in my village at reduced prices or to give out for free to support them — making even the smallest contribution to coping with the pandemic by improving people's health and nutrition."
The 30-year-old first learned about beekeeping when he was helping a friend tend to 11 beehives in his garden apiary. Ryskulbek remembers this experience as "truly magical" and "life-transforming".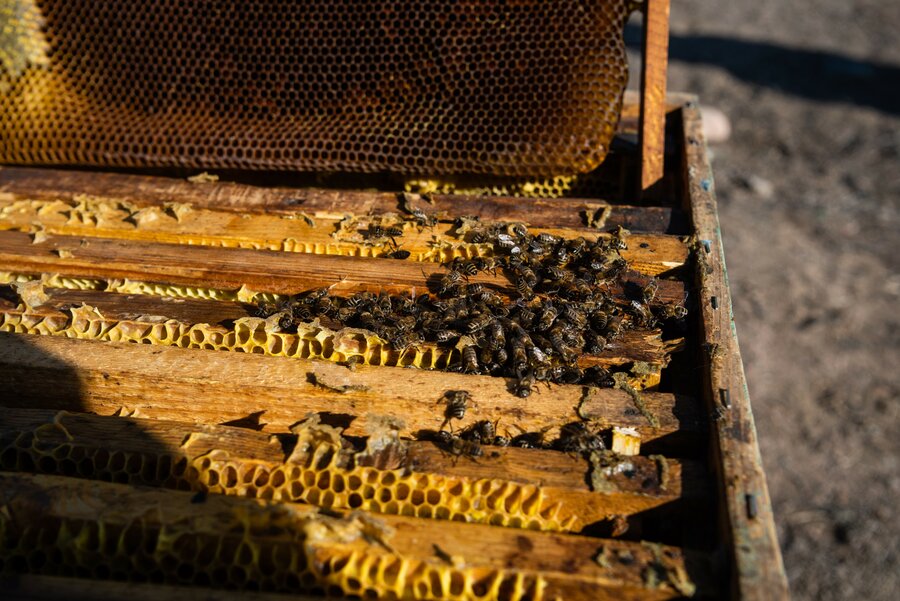 With only passion in his heart — he had no capital to buy beehives and supplies — Ryskulbek's dreams of running a bee farm found a lifeline when he learned about a WFP project providing training for beekeepers.
"When I first heard about the training, I thought that it would be a good opportunity to learn the craft and improve the nutrition of my family as we all know the health benefits of honey," he said.
Ryskulbek learned how to build an apiary, how to take care of bees and how to effectively store the honey. Trainee beekeepers also receive fortified wheat flour and vegetable oil to help meet their short-term food needs.
Once the bees produce enough honey, farmers can become self-reliant— since 2018, WFP has provided similar training to 440 people in the country. Ryskulbek launched his own beekeeping business and started making a small profit to help support his family.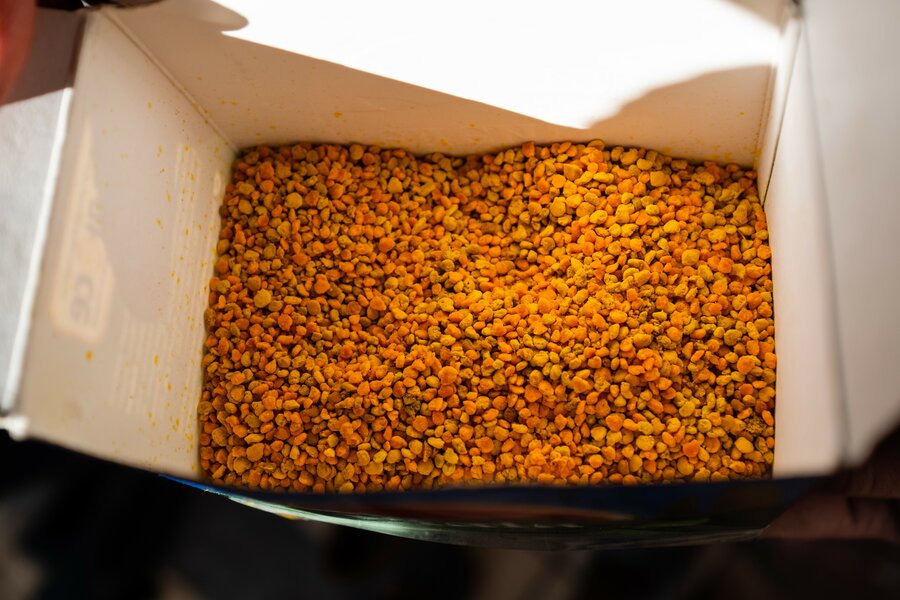 "I produce pure organic honey, which is hard to cultivate because it is made from the flowers of the sky-high mountains of this region," says Ryskulbek.
Pure organic honey is expensive because it is so difficult to produce. In one season — between May and July — Ryskulbek can earn US$ 5,000 to 7,000, something he couldn't dream of before. Thanks to its extremely high quality, Ryskulbek's honey has become famous in the region and he has regular buyers. In winter, when it's time to buy fuel, coal vendors exchange coal for honey.
Honey aside, the bee farming business benefits from propolis, royal jelly, and pollen products.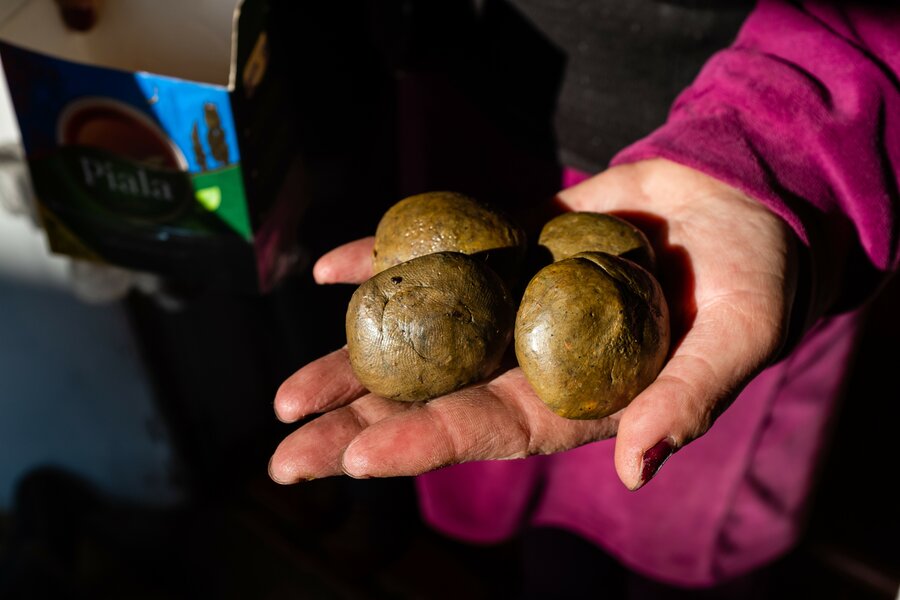 As the world reels from the coronavirus, Ryskulbek is working harder and harder. Well ahead of time, he's bought all the equipment, hives and medicines he needs for his bees in the winter.
Beekeepers without such foresight must wait till shops open up once lockdown restrictions are lifted.
Ryskulbek says: "I have been doing this business for three years now. I can provide for my family while doing the work that I like … Nothing can stop me from taking care of my bees and getting honey for people's health."