Kyrgyzstan: An herbal industry opens horizons for mountain farmers
At-Bashy district is capitalizing on its environment to grow much-demanded crops
, Almaz Tchoroev
Like thousands of others in Kyrgyzstan's northern At-Bashy district, Baktygul Karmyshakova and her large family live precariously. The unforgiving climate and mountainous terrain in this region bordering China make agriculture risky and employment opportunities rare.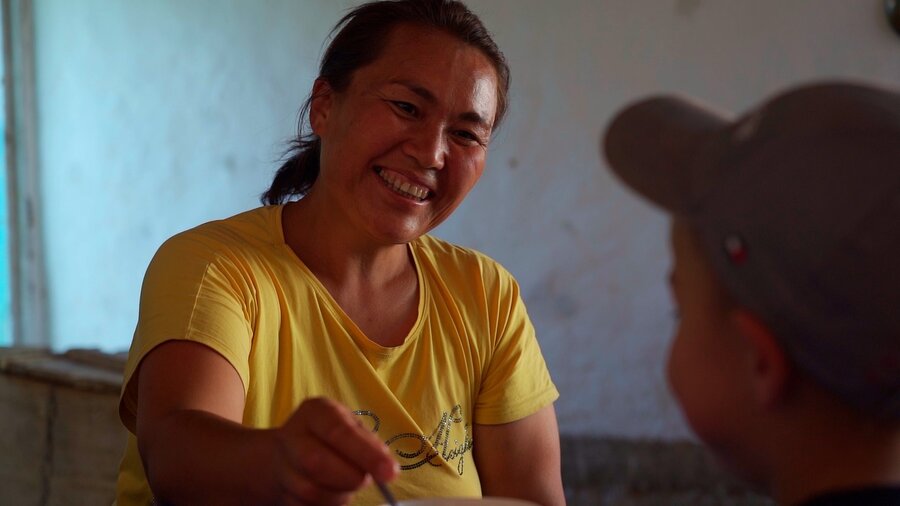 Rich in natural resources, landlocked Kyrgyzstan is nonetheless highly dependent on remittances and foreign assistance, making the country vulnerable to external shocks. The global food crisis sent staple food prices soaring, while COVID-19 restrictions deepened poverty.
Baktygul and her family face an additional challenge, with her husband unable to work because of a back injury. The social welfare they receive from the Government is not enough to support her seven children.
"Since we are both unemployed, we mainly work in our field," she says of the family's small plot, where they have traditionally grown potatoes.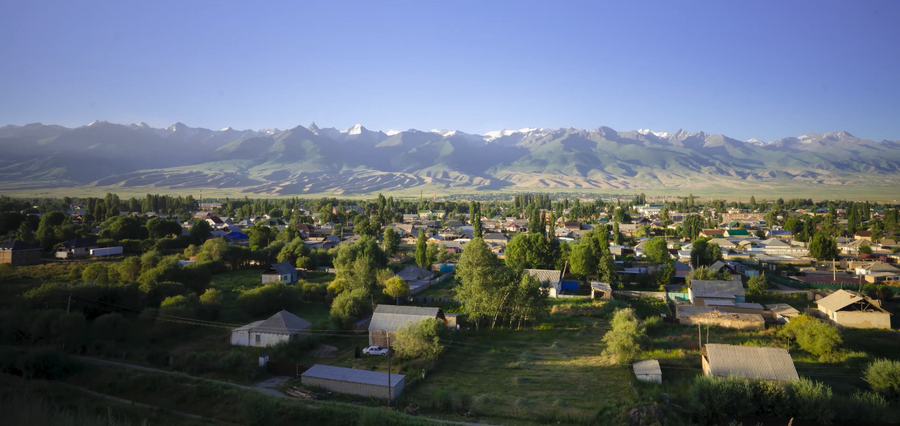 But today, a World Food Programme (WFP)-led collaboration is giving women like Baktygul new income-earning opportunities. Supported by Japan, local Kyrgyz authorities and a company in the area, it is capitalizing on At-Bashy's clean water and fresh air to grow herbs for essential oils.
Powering the project's rollout was a WFP assessment finding that climate change and pollution, among other adverse factors, limit the production of herbal oil in many countries. This in turn creates a high demand for the product — and an edge for At-Bashy farmers.
Cash and training
Batygul counted among some 1,000 smallholder farmers trained by WFP on herb-planting agro-technologies. The mostly female participants also received a WFP cash incentive (equivalent to US$100), as well as coaching and mentoring from a local agro-business firm to ensure high-quality herbs are harvested.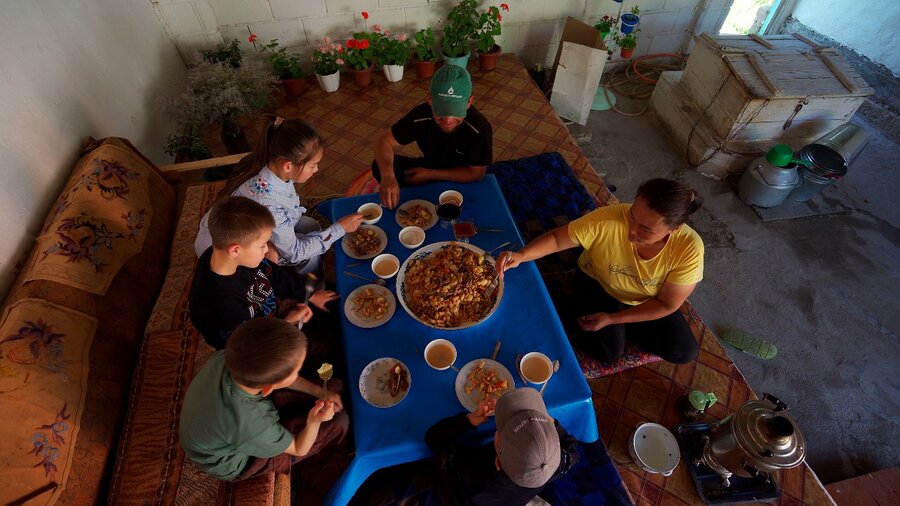 "With Japan's support, WFP can enable this innovative collaboration among the Government, businesses and farmers, and contribute to create income-generating opportunities for vulnerable people in At-Bashy," says Kojiro Nakai, WFP Representative and Country Director in Kyrgyzstan.
The initiative has opened new horizons for participants in a country where roughly 15 percent of the population — or more than 1 million people — are acutely food insecure.
Last year, WFP assistance reached more than one-quarter-of-a-million vulnerable people in the country. Many of them, like Baktygul, were unemployed and living in rural areas with few job opportunities.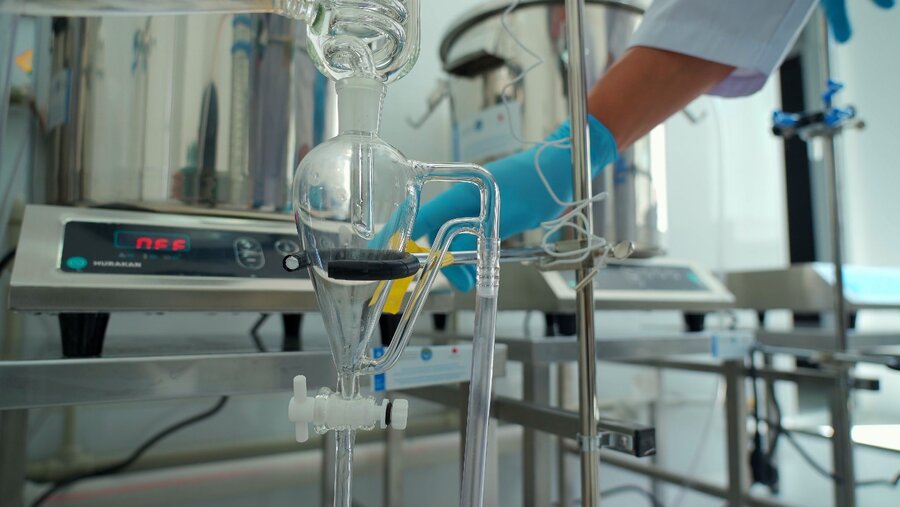 "We have some seasonal work in the village. Some villagers prepare livestock feed for the winter. Others move to pasture lands to look after their sheep, cows and horses," says Kenjebek Kachkynbaev, who heads the local government in Ak-Jar village, where Baktygul lives.
"We believe that this project will help our village," he added of the essential oils and dried herb micro-industry that has sprung up.
New goals, new markets
WFP provided the local company involved in the project with equipment and training on food safety and processing. Local authorities assisted in renovating buildings that today house a newly built workshop — which can process up to 3,000 kg of herbs daily into essential oils and dried products for use in industries such as cosmetics, food, herbal medicines and pharmaceuticals.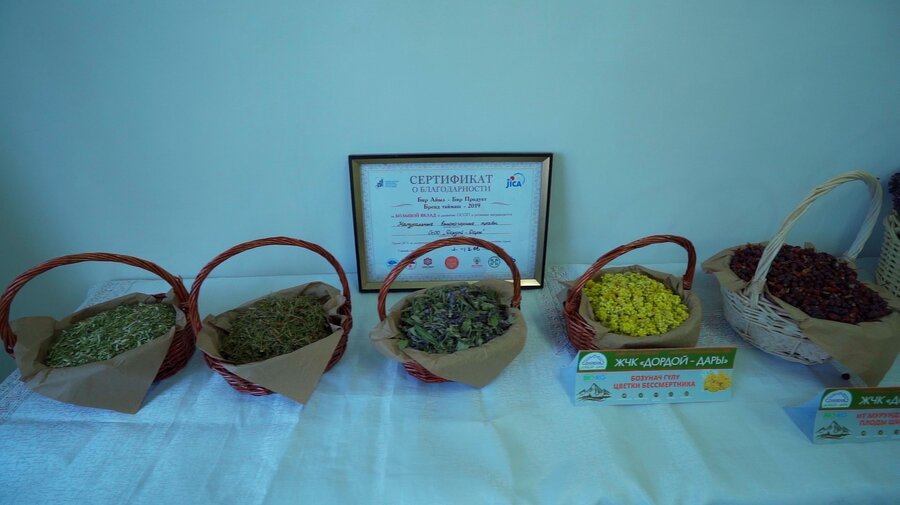 Baktygul and other growers supply the raw materials. 
"Vulnerable families will grow medicinal herbs and sell them to the workshop to generate additional income," local head Kachkynbaev says. 
WFP also supported the local marketing of scented soaps, sticks and candles produced in the workshop. There are now plans to market these products internationally.
Baktygul is also planning ahead. She wants to expand and diversify her herbal production to include new plants like chamomile. With the workshop a guaranteed buyer for her herbs, Baktygul aims to plant earlier this year to sell more once they blossom.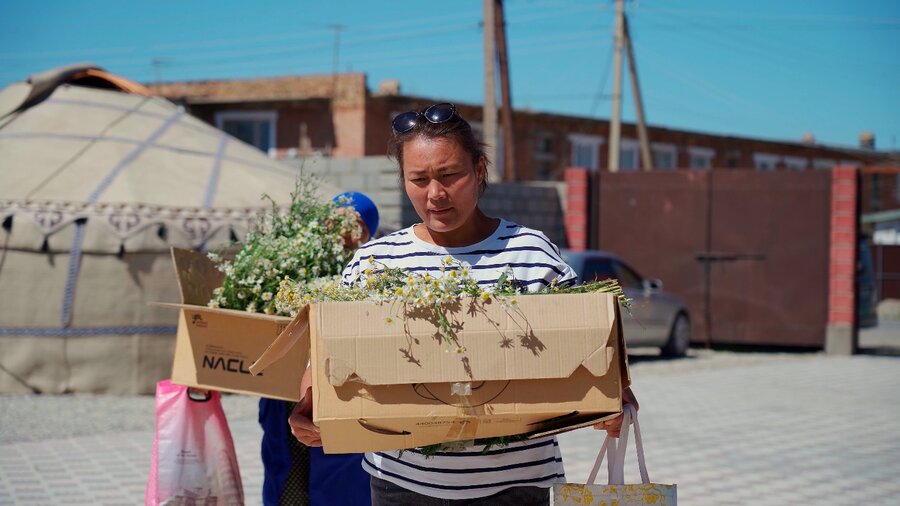 "We have set a goal of enlarging our land plot, finding new sources of income and ultimately improving our life through this project," Baktygul says.
She is also thinking about starting her own business. "If we work hard," she adds, "it will pay off."
Learn more about WFP's work in the Kyrgyz Republic
Now is the
time to act
WFP relies entirely on voluntary contributions, so every donation counts.
Donate today