Not too cool for school in Kyrgyzstan
How a World Food Programme school feeding project is changing the lives of underprivileged children in Central Asia
, Aichurek Zhunusova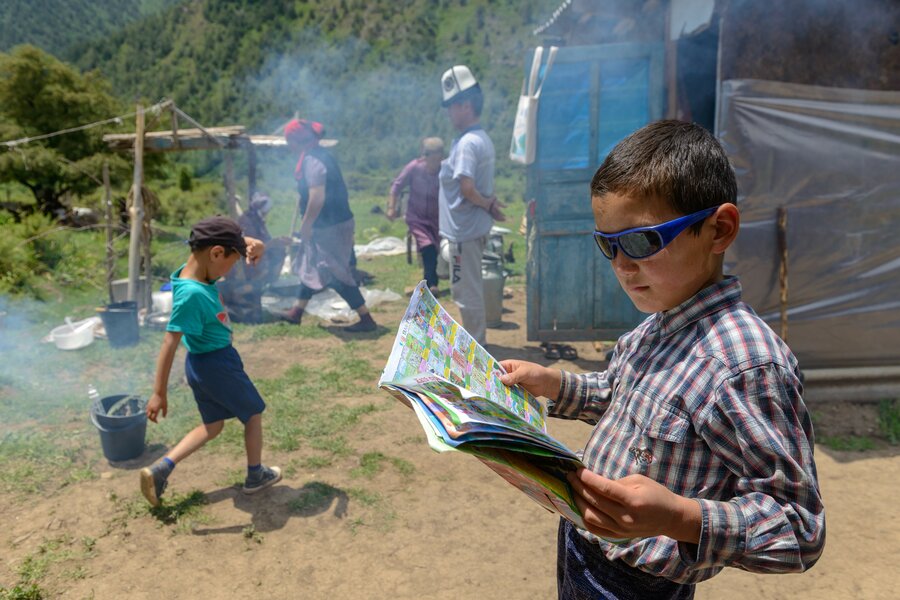 "I like science and enjoy solving difficult mathematics problems," says 10-year-old Turgunbai, who lives in Kashka-Suu village, in the Jalal-Abad district of Kyrgyztan. Unlike many boys his age, Turgunbai loves going to school. "I think I can become a good scientist if I do well in school and grow up healthy," he says.
The Word Food Programme (WFP) provides food assistance to 215,000 people in the landlocked Central Asian country, which has a population of 6.2 million. Children aged 5 to 18 are WFP's chief beneficiaries there.
Kyrgyztan's National School Meals Optimization programme currently provides high-quality, nutritious meals for around 200,000 primary school children in 640 schools across the country with financial support from the Russian Federation — the single largest donor to the WFP's school feeding programme there.
Every summer Turgunbai waits eagerly for the beginning of the new school year. While his classmates are out playing, he is preparing himself for school. Turgunbai knows only too well that his dream of becoming a scientist requires dedicated study.
"My mother told me that to be smart, I need to eat well," he says.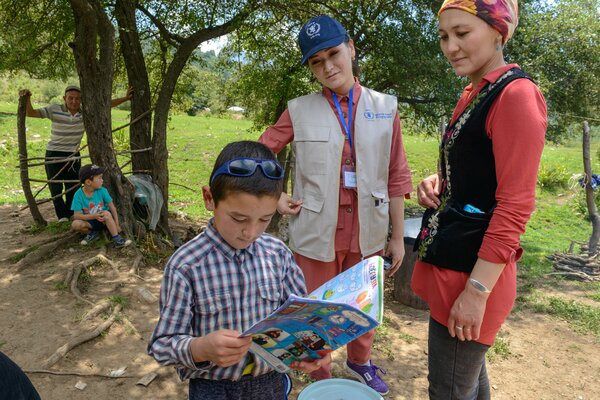 This year is a special one for Turgunbai. An additional 100 rural schools across the country have been included within WFP's school meals programme and his school is one of them. The school's canteen has been renovated, with modern equipment installed. This means Turgunbai will be able to enjoy tasty, nutritious and healthy lunches.
"I really like our new canteen," he says. "It has new paintings on the walls, new dishes and a place where we can wash our hands."
Culinary training
As well as good equipment, the right measurements, techniques and cooking temperatures, successful school feeding requires meals to be prepared to the highest hygiene standards.
According to a comprehensive assessment of the school canteens by WFP, only 17 percent of school cooks across Kyrgyzstan have the appropriate vocational education, while the rest rely on cooking skills and recipes passed down through their families or former school cooks. That is why WFP includes in its school meals programme culinary training workshops for school chefs and kitchen workers.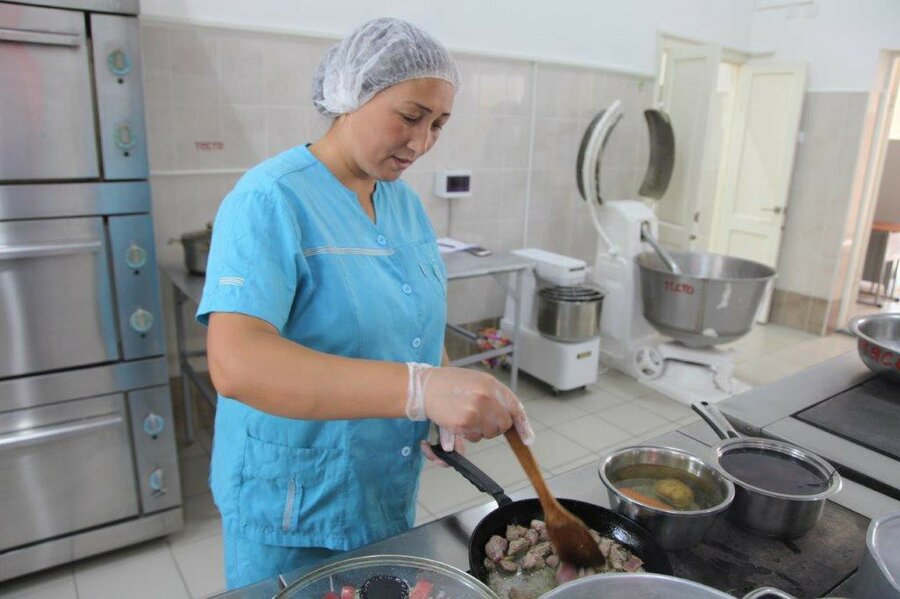 Since 2013, WFP's School Meals Optimization project has trained more than 1,300 school cooks around Kyrgyzstan, including those at Turgunbai's school.
"It was very useful for me, says Yrys Orozbaeva. "I learned the techniques of preparing multiple dishes at the same time, the right temperature for serving, the exact grams of a certain ingredient needed for one dish, and the importance of following basic hygiene rules."
Yrys adds: "For me personally, it was important to learn how to serve aesthetically pleasing food, as children like to eat what looks good. Now I can confidently cook any dish for the school menu."
Taking food lessons home
At school Turgunbai has tried dishes he has never seen his mother make: green salads, beetroot, bean soups and a variety of pastas. "Baked chicken with potato puree is my new favourite," he says.
During extracurricular lessons, teachers and nutrition specialists teach him and his classmates the importance of balanced and nutritionally-diverse meals and the hygiene necessary to prepare and cook them.
Turgunbai is then able to pass on his own culinary knowledge and experience to his mother, who has started experimenting with new recipes.
"Now, I ask my mother to cook diverse and nutritious new meals for us every day. And I teach my siblings to wash their hands before the meal," he says.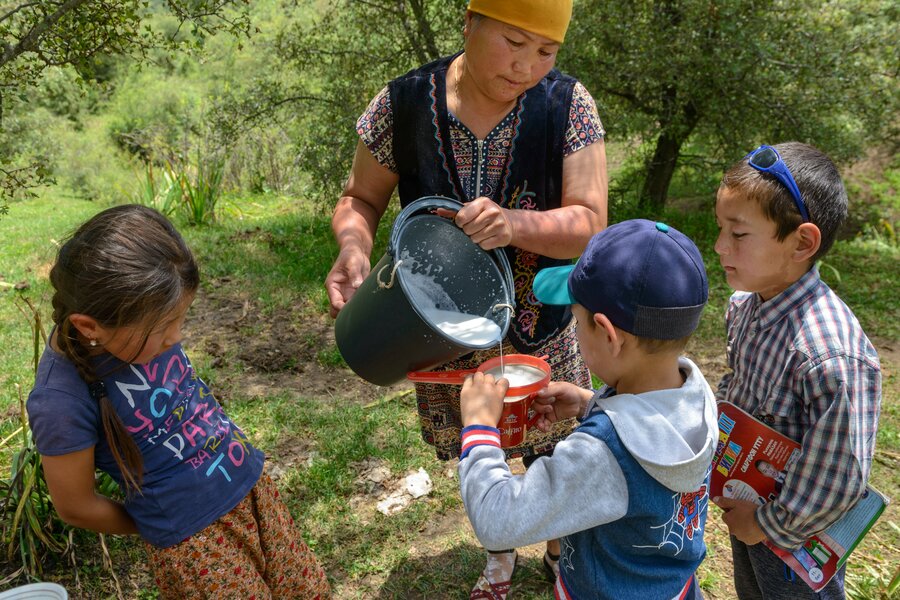 By 2022, WFP and the Kyrgyz Government plan to reach all schools in the country with nutritious hot meals. The programme is now based on a law on school feeding passed in October, a critical breakthrough in boosting the school feeding development in the country and for the sustainability of the system. The law will strengthen the role, functions, and responsibilities of communities — parents, teachers, local governance, schoolchildren — in implementing the programme. WFP supported its adoption by providing legal expertise and advocacy support.
For now, for Turungbai and his classmates, the future looks bright.
Learn more about WFP's work in Kyrgyzstan