In Cambodia, people with disabilities receive WFP assistance following floods
On International Day of People with Disability we turn to one of the most vulnerable groups who have been affected by the worst floods Cambodia has seen in a decade.

, Kun Li
Sim Thuon, 62, has spent most of his life overcoming hardship and adversity. As a young man he lost both his legs when stepping on a landmine, a reminiscence of Cambodia's civil war some five decades ago.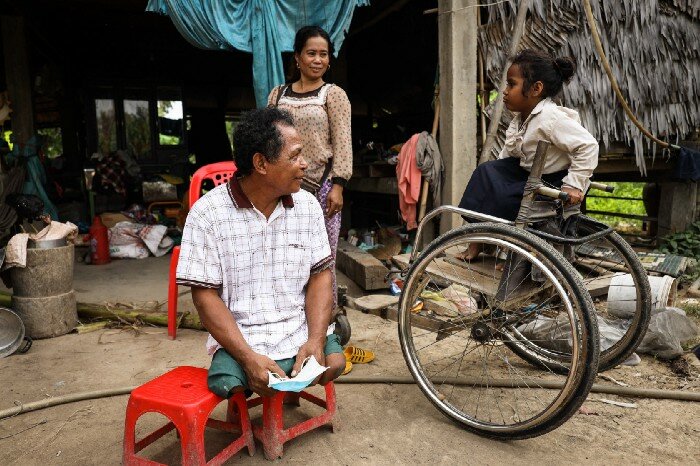 Over the years, he has worked hard to build a life as a farmer. Produce from his fields — rice, corn and also sugarcane and fruits — is enough to make ends meet for him and his family — wife Ven Sok and their two young daughters.
But this year, with just a few days to go until the rice could be harvested, all was lost when floods raged through his village in western Cambodia.
"The rain started in early October, and by the middle of the month, the waters had risen quickly," says Sim. "We couldn't go anywhere — I couldn't go to work because the roads were under water, the markets were closed and remained closed for the rest of the month."
The torrential rains have caused the worst floods Cambodia has seen over a decade. Hundreds of thousands of families across 14 of the country's 25 provinces were affected. Pursat province was the among the worst hit.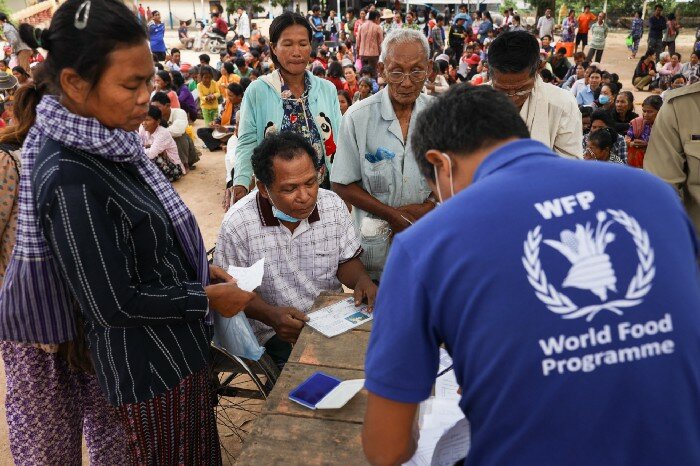 "It was so difficult for us. I also have a disability in both my legs and diabetes," says Sim's wife, Ven Sok. "The crops were our only hope. It was only three or four days before they could be harvested. Now it is all gone."
The World Food Programme (WFP), in partnership with Cambodia's National Committee for Disaster Management (NCDM), has provided emergency food assistance to families in need of support, with funding contributed by USAID.
Sim and Ven's is among 2,560 families receiving WFP assistance following a joint assessment conducted by the government, UN agencies and international NGOs.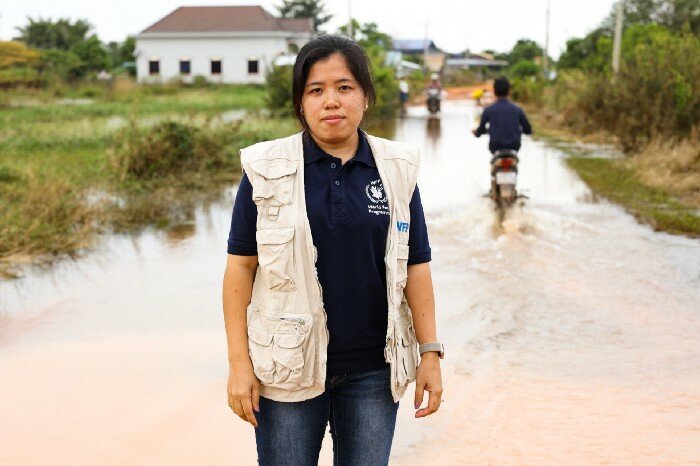 "Pursat has been severely affected, with about 20,000 households in need of emergency support," says WFP staffer Chea Chan Moniroth, who works in disaster information management and part of WFP food distribution team.
"Many people in this province are already poor. What's more, there has been limited relief coming to the province. Our food assistance — 50 kg of rice and five cans of fish — is for families in urgent need of help, like those that include older members of people with disabilities."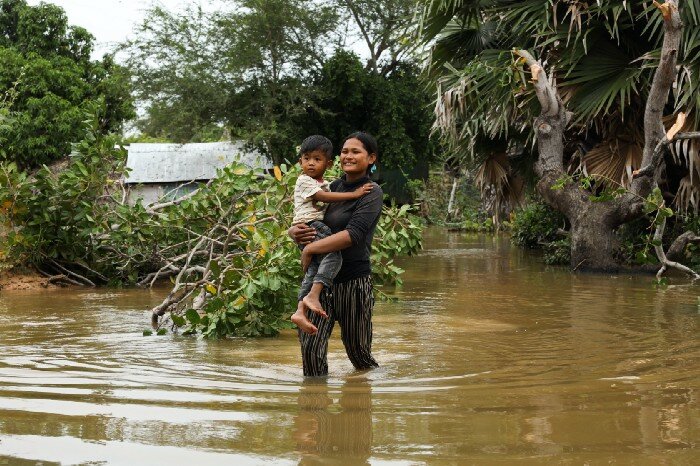 Freelance photographer Cesar Lopez Balan, who visited the area last week on assignment for WFP, witnessed the hardships the families are confronted with first-hand.
"Large parts of the crop fields and roads are still filled with leftover rainwaters. Some people have lost all their land and can no longer feed themselves," he says. "People are giving some of the rice they got to their chickens to keep them alive. So little is left both in terms of livelihoods and livestock."
Besides the loss of homes and belongings, 2,000 km of roads were damaged with over 330,000 hectares of agricultural land ruined across the country.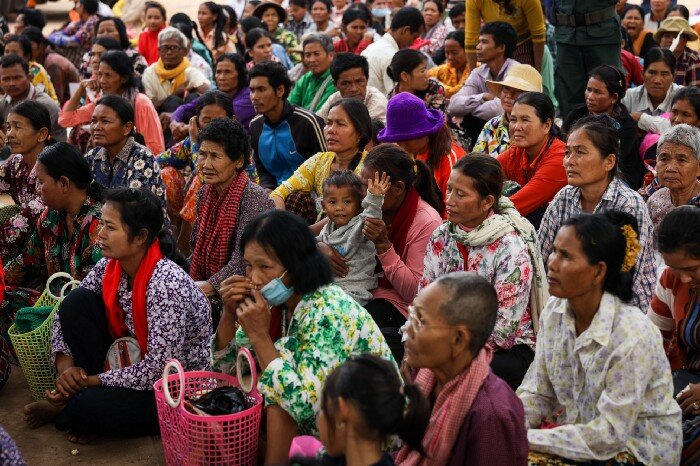 Since June, heavy rainfalls and floods have wreaked havoc across Asia, from far East, to South East and South Asia. As the most disaster-prone region, Asia could experience more extreme weather in the coming years as a result of climate change.
For Sim, the rice and canned fish will help him and his family cope, while he figures out a way to recover from the devastating loss. He had taken loans to pay for seeds, fertilizers and farming tools, and was counting on the income he could make from the harvest.
"I don't know how to pay off the debt. Fortunately, the interest is low. We'll just keep on going, we may even sell things, if needed. No matter what, I can't stay still, I have to keep on going," he says.