Cash support in DRC points people towards self-reliance
The experience of one village shows how the World Food Programme can change lives in a year of unprecedented hunger, one community at a time
, Elizabeth Bryant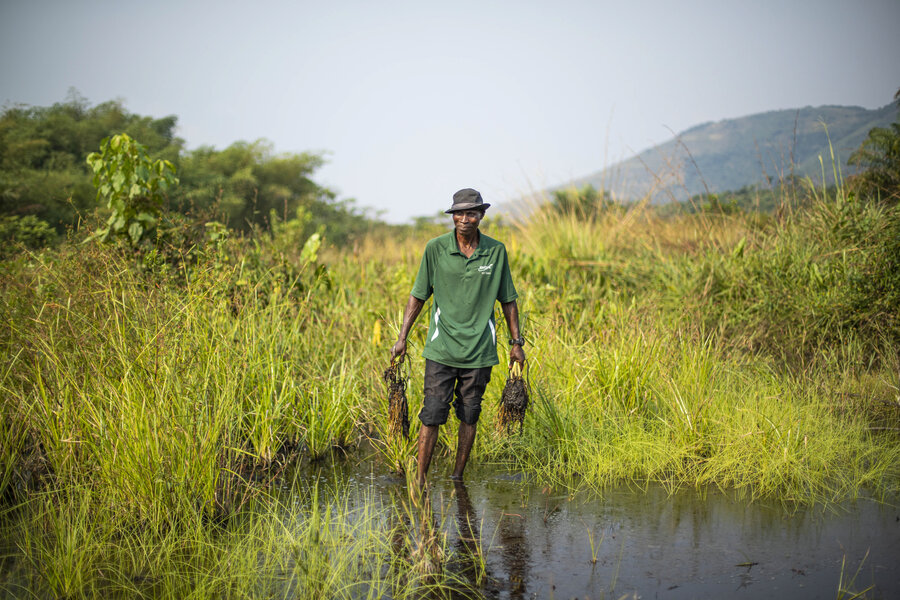 Masuisse proudly displays his freshly caught tilapia – fingerlings that will need a few months more to be harvested. His fish pond glistens in the afternoon sun, the banks fringed by tall grasses and backdropped by rolling hills in Kinduti village in the Democratic Republic of the Congo (DRC).
In terms of numbers, with 26 million people sliding into acute hunger, DRC is the World Food Programme's (WFP) biggest emergency. The country is part of a of a 'ring of fire' where WFP warns conflict and climate change are intersecting to devastating effect, raising prices in economies already ravaged by the COVID-19 pandemic. 
Even before the war in Ukraine disrupted the export of wheat from Black Sea ports to vulnerable locations across the world, WFP had warned 2022 would be a year of unprecedented needs. 
Funding shortfalls are pushing millions to the brink – WFP needs nearly US$119.2 million for its response in DRC through to September. 
This includes boosting resilience projects such as the one farmer Masuisse is involved in.
"By investing in fish farming, I figured I won't just be helping my family but the entire community," he says, explaining why he got into the business three years ago.
That was before the fallout from the COVID-19 pandemic devastated the fragile economic fabric of Kinduti village, part of the sprawling commune of N'sele, located on the outskirts of the capital Kinshasa.
Restrictions to stop the pandemic's spread have deepened urban poverty and hunger here, limiting opportunities for N'sele's informal-economy vendors, and farmers like Masuisse, to sell their produce and firewood locally and in the city. A report in November found three-quarters of Nsele's residents struggle to feed their families. Some are experiencing crisis or above hunger conditions according to the global standard for measuring food insecurity – the IPC or the Integrated Food Security Phase Classification.
---
"People can eat — but only if they forgo other basic necessities," says Mathilde Vaultier, who heads WFP's first urban poverty-fighting initiative in DRC, rolled out in N'sele a year ago. "They adopt survival strategies like choosing less-preferred foods or skipping meals so their children can eat."
Reaching roughly 100,000 people, WFP's joint initiative with UNICEF delivers social protection and cash assistance to some of N'sele's most vulnerable residents. But over its four-year span, the project has bigger goals: to give people here the tools to build businesses and sustainable futures – and to put especially women in the driver's seat of change.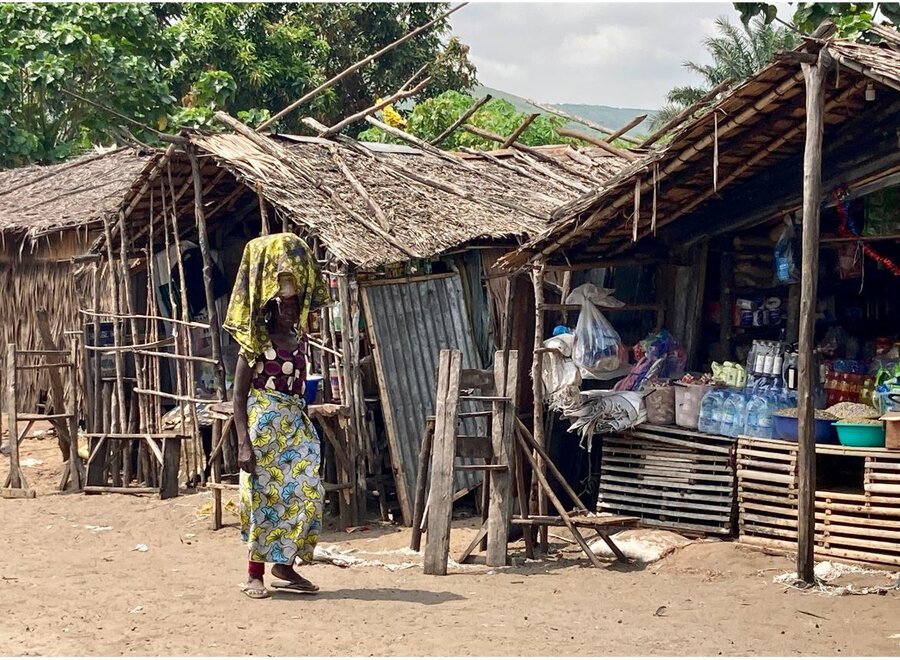 "We hope to replicate the N'sele model elsewhere in the Kinshasa area where people are also facing high levels of food insecurity," says Vaultier.
WFP's cash assistance – averaging about US$40 monthly for project participants – helped Masuiss and his family to recover financially after coronavirus restrictions initially dried up income from his fish ponds and fields.
"I kept working during COVID-19, but more people were buying on credit," he says. "When the project arrived, people began paying with WFP cash, and repaying their debts."
The N'sele initiative is driving change in other ways. It has harnessed a small army of volunteers who have broadened community awareness campaigns previously focused on vaccination and child malnutrition. Today, they tackle hot-button topics like women's rights and domestic violence. WFP and UNICEF are also training these community workers on sexual exploitation and abuse prevention.
" WFP's cash [intervention] has helped both men and women here," says community outreach worker Nestor Mokili, even as he describes other challenges faced in the area, including Kinduti's lack of a properly equipped primary school or health clinic.
2022: The makings of a hunger catastrophe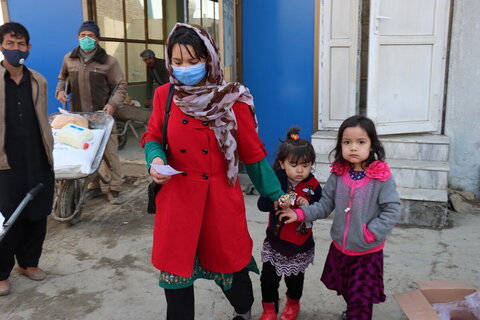 Pandemic restrictions similarly turned WFP's cash transfers into a lifeline for 48-year-old Elisee Ngunza, whose small restaurant depends on locals and truckers transporting firewood to Kinshasa.
"During COVID-19, I could spend all day without selling a single meal," says Ngunza, a mother of five, as she stirs a savory mix of fish and onions. "But once the WFP project started, business rebounded. Because people had money to spend again, especially during the days of cash distributions in Kinduti."
"People have really capitalized on the cash they received," says WFP monitor Christine Mahana, who also works on the N'sele project. "Those who were doing nothing have started businesses. Those who have already started businesses are growing them."
"This project has made a real impact," she adds, with a hint of pride. The organization's longer term intention for communities to become self-reliant. 
Now is the
time to act
WFP relies entirely on voluntary contributions, so every donation counts.
Donate today