Five lives forever changed by Yemen's war
After five years of conflict in Yemen, five people reflect on what this has meant for them and their families. Their stories highlight the human cost of Yemen's war, yet at the same time the country's amazing resilience, dignity and hope.
, Annabel Symington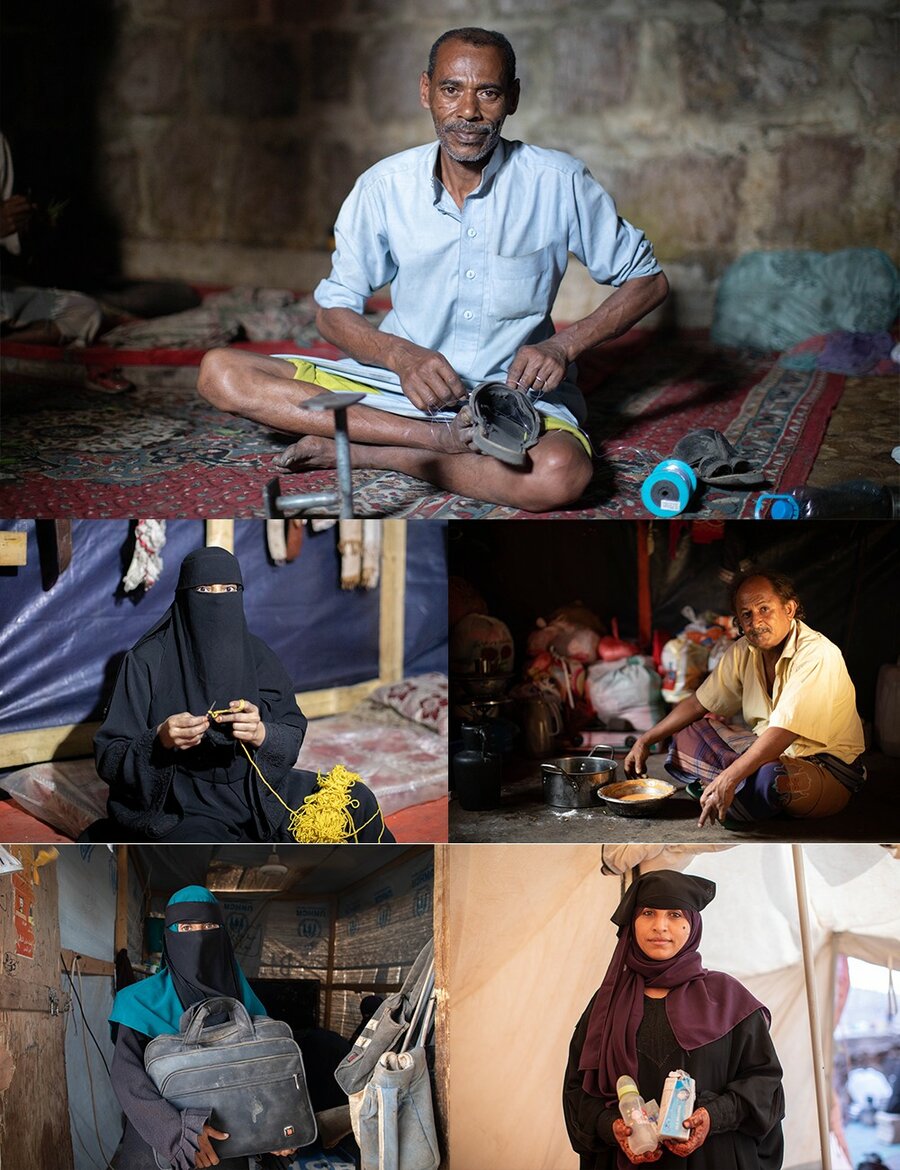 Since the start of the conflict in Yemen five years ago, the World Food Programme (WFP) has gone from feeding 1 million people a month to over 12 million. The threat of famine, so far averted by the huge humanitarian response, still looms over the country. Over 3.65 million people have been displaced and millions more have lost their livelihoods as the war has wrought economic collapse.
Below, five Yemenis explain what the past five years have meant for them and their families.
Nawal, a midwife from Hodeidah (displaced in Lahj)
Nawal was a teenager when she witnessed her mother struggle through a difficult labour. This was when she knew that she wanted to be a midwife. She finished school and enrolled at university. A few years later she was working as a midwife in a hospital in Hodeidah.
"We thought we would end up living on the street. We did not know where to go."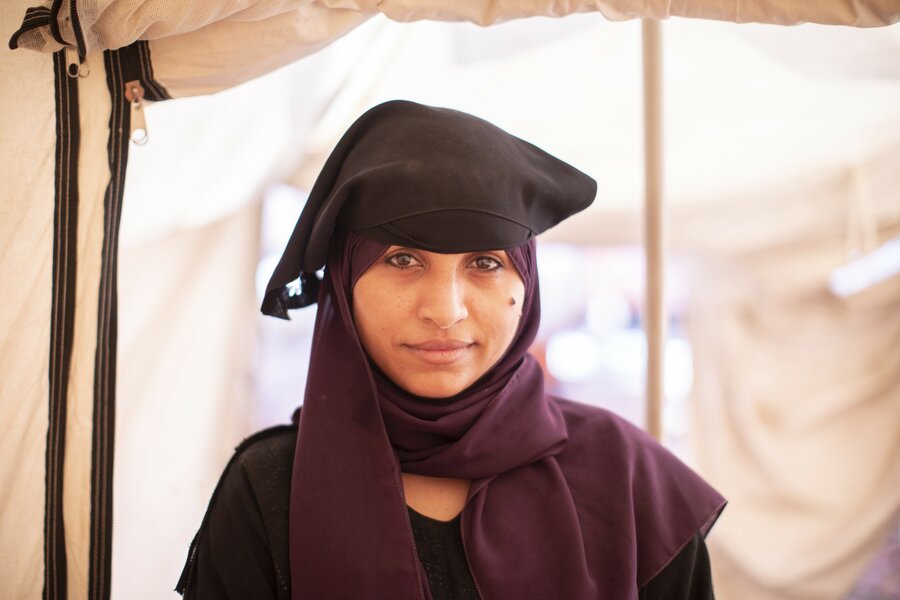 "I love my work so much. I feel so happy when I hold a baby in my hands," says Nawal.
Then the war started. Nawal's hometown, Hodeidah, has experienced some of the fiercest fighting in Yemen's five-year war. In 2018, the conflict forced Nawal and her family to flee.
"We sold my father's motorbike," she explains. "We thought we would end up living on the street. We did not know where to go. We came to Aden. Thanks to God, we met a woman on the bus who told us about this camp for internally displaced people. We arrived after midnight. Thankfully, we received mattresses and blankets and we started to feel comfortable."
Nawal and her parents, two brothers and baby daughter were registered with WFP to receive monthly cash assistance for food and other basic needs. Money that has also allowed Nawal to return to doing what she loves: helping women give birth.
There is nearly always a woman outside Nawal's tent asking for assistance. She's helped deliver countless babies in the camp, earning her the moniker 'Dr Nawal'.
"I feel embarrassed to ask for money, especially if the family is very poor. After I finish my work, I do not ask for a penny," says Nawal.
"In Hodeidah, I used to make money from my work. But here they are all displaced. They live in difficult situations and cannot afford to pay me. Because I am a woman, I know how women suffer during childbirth. That's where my passion came from to help women when they give birth.
"I walk with them (during labour). I wash their faces with water. When a woman is tired, I help her lie on the mattress. I give her dates for energy. I massage her belly. Women love me and I love this job."
Ahmed, a cobbler from Taiz (displaced in Ibb)
Ahmed is a cobbler from Taiz, Yemen. He is now displaced in Ibb and dependent on WFP monthly food assistance to feed his six children.
"I dream of a home for me and my children. I also want a job. I want to work and support my family."
"I used to make leather sandals and sell them to people for 200 to 300 riyals," explains Ahmed. His family was poor but he had enough to feed his children.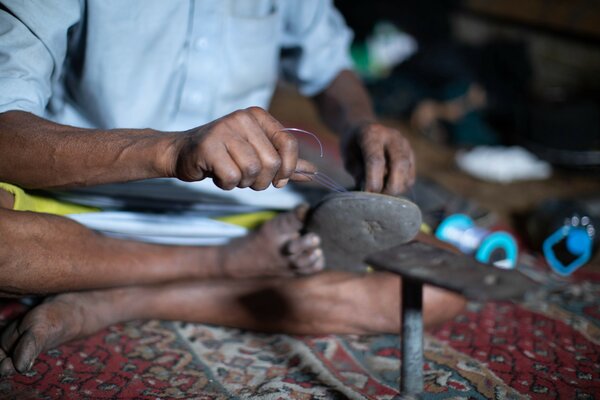 When the war started, his home in Taiz was destroyed by an airstrike. He moved his family multiple times before arriving in Ibb, seeking shelter in a disused building that had become a home for many displaced families.
"I can't find any work here," says Ahmed. "Sometimes my children work in the streets collecting empty bottles. I dream of a home for me and my children. I also want a job. I want to work and support my family."
Rania, a teacher from Hodeidah (displaced in Lahj)
Rania always knew she was going to be a teacher.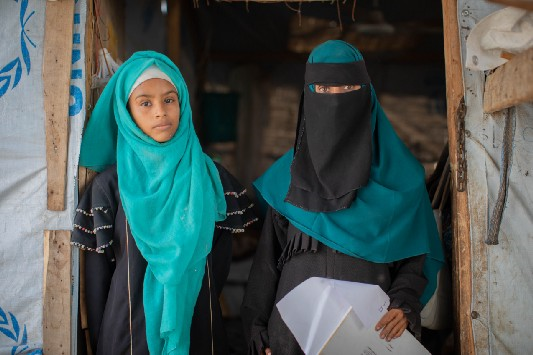 "When I was a child, if anyone in my class was having a problem or couldn't understand something, they would ask me. At break time, I would always end up re-explaining the maths or science exercises to my classmates," she explains.
"When we were first displaced, we remembered our old life with sadness."
Rania worked in a local school in Hodeidah, her hometown. She loved her job. But then one day the tanks rolled into the school playground. Her classroom was transformed overnight into a military barrack. She realized it was time to leave.
Rania and her five children fled south and sought refuge in a camp for internally displaced people in Lahj, where they receive monthly cash assistance from WFP.
"When we were first displaced, we remembered our old life with sadness," says Rania.
But she did not forget her passion for teaching, quickly finding new purpose to her life in the camp.
"I noticed that all the displaced children had too much free time," she explains. "They were quarrelling all the time and creating problems for their families. So, I started teaching them. In the morning it was reading and writing, and in the afternoon, I started sessions for memorizing the Holy Quran."
Rania's students often tell her stories of what happened to them during the war — horrifying tales of violence and forced recruitment.
"The war has influenced and damaged so many children psychologically. What I am trying to do is ensure safety for my children and other children here in this camp.
"I want our children to be educated. I want them to pursue their ambitions no matter what conditions we live in. I want my daughter to be a doctor and my son to be a police officer, because our children are the forces of change in Yemen."
Rawdha, a seamstress from Taiz (displaced in Ibb)
Rawdha is a seamstress. She was well-known in her community for making beautiful clothes.
"The best dresses I made were for women and children," she recalls. "Work was good. Life was calm. I was sewing clothes and selling them in local shops. We were comfortable and had a good income."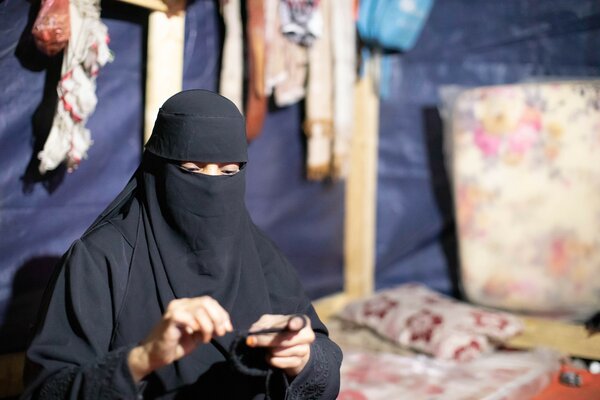 When the war began, everything changed. "We just took the clothes we were wearing when we fled Taiz," says Rawdha. She had to leave behind her sewing machine — her sole source of income.
Rawdha, who is pregnant with her third child, now lives in a camp in Ibb, where she receives monthly food assistance from WFP.
"I would like a new sewing machine and I would use it a lot. But I don't want my daughter to use it. I want her to study and find a better job; to become a teacher or a doctor. I want my daughter to finish her education. I want her to be different from me. I want her to be better than me."
Ahmed, a restaurant owner and chef from Hodeidah (displaced in Ibb)
Ahmed owned a busy restaurant in Hodeidah. It was famous. People used to travel for miles to taste his Makhloota, a local specialty made from flour, yeast, food colouring, spring onions, water and salt.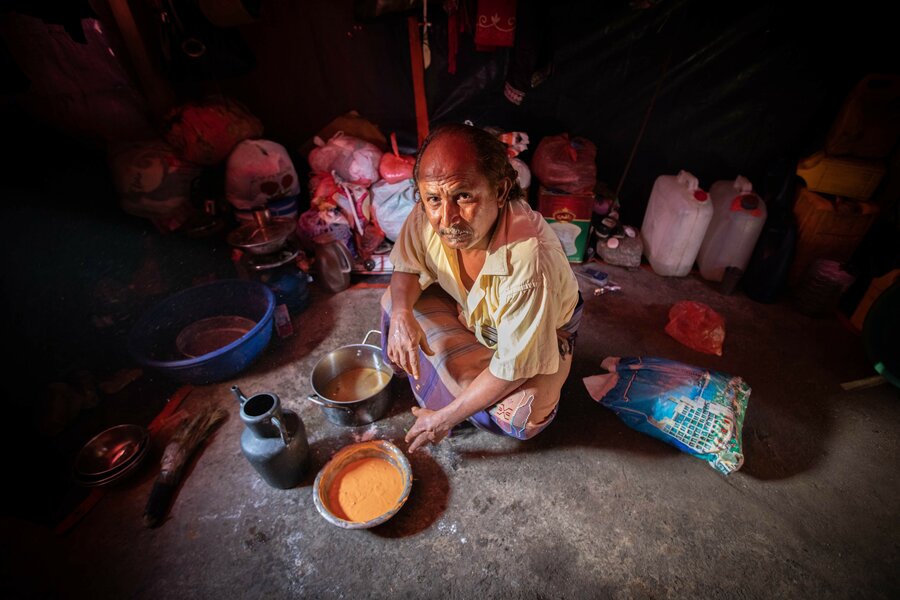 "When I made Makhloota, it sold so fast," recalls Ahmed. "Then the war came and damaged everything."
Shortages of gas and food caused by the conflict forced Ahmed to close his restaurant. When the fighting started in his neighbourhood, he fled with his family.
Ahmed, his wife and daughter live in a partially-built multi-storey building in Ibb city that is home to scores of displaced families.
"I came to Ibb because of the war and air strikes in Hodiedah," he says. "Life here is better but hard. It is cold and the rain gets through the cracks."
Ahmed dreams of opening another restaurant. He still makes Makhloota and sells it from a little makeshift stall he sets up on the street.
"Makhloota is very tasty and very famous in Hodiedah," explains Ahmed. But people are unfamiliar with it in Ibb, so Ahmed struggles to make money selling his Hodeidah delicacy.
The family receive monthly food assistance from WFP.
"There is often no food. Then what should we do? I appreciate the assistance, but I wish for more: work and a salary. We just have this assistance to allow us to survive."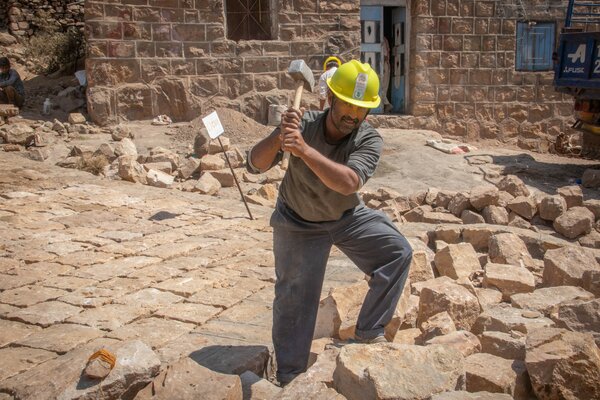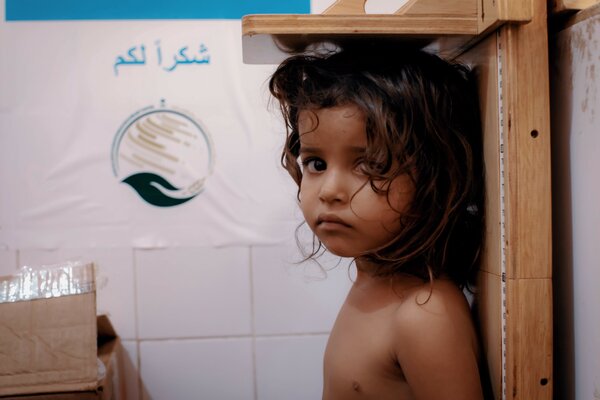 About WFP in Yemen:
The Yemen operation in WFP's largest operation in the world, supporting 12.5 million people — over a third of the population — with monthly food assistance through in-kind rations, vouchers or cash. WFP in Yemen also provides nutrition support to women and children, runs a school feeding programme in over 1,500 schools, and supports communities in rebuilding key assets like roads, schools and irrigation systems that can put them on a path to self-sufficiency.
WFP's response to the crisis in Yemen has so far averted famine. This level of response would not have been possible without the support of our donors: Austria, Australia, Bulgaria, Canada, Croatia, Czech Republic, Denmark, Estonia, EU, Finland, France, Germany, Germany BMZ, Iceland, Italy, Japan, KSrelief, Kuwait, Luxemburg, Norway, Qatar, Republic of Korea, Russia, Slovenia, Sweden, Switzerland, UAEAid, UK, UN CERF, USAid.