A giant carrot to feed the world
The fight for Zero Hunger seen through the eyes of participants in the World Food Programme (WFP)'s Children Design Competition.
, World Food Programme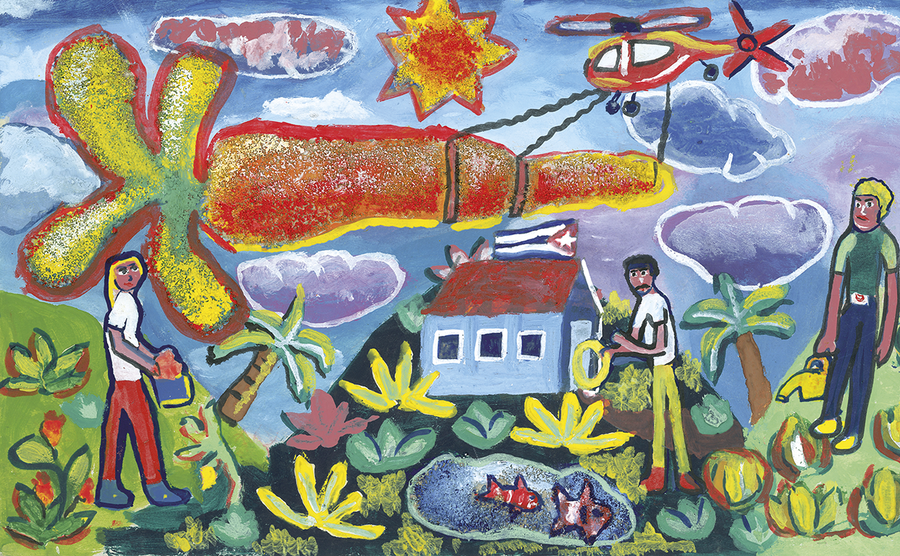 Every year, WFP provides school meals and snacks to millions of children across the world. In 2018, children from 20 of the countries WFP operates in participated in WFP's annual Children's Design Competition. Here is what the 20 winning artworks tell us about these children and what food means to them.
"When our bellies are full, my classmates and I learn more and we want to come to school every day." Laury Jiret López is 10 and lives in rural Honduras. She likes playing, cooking, watching TV and studying. She wants to be an English teacher one day and does not like to skip classes. The 'delicious meal' — her words — she enjoys at school helps her keep focused and motivated.
On the other side of the world, in Sri Lanka, 14-year-old Sasmini Minupama Elaperuma shares the same view. She insists on the importance of a good breakfast: "a good night's sleep followed by food in the morning helps you to stay active and concentrate at school," she says.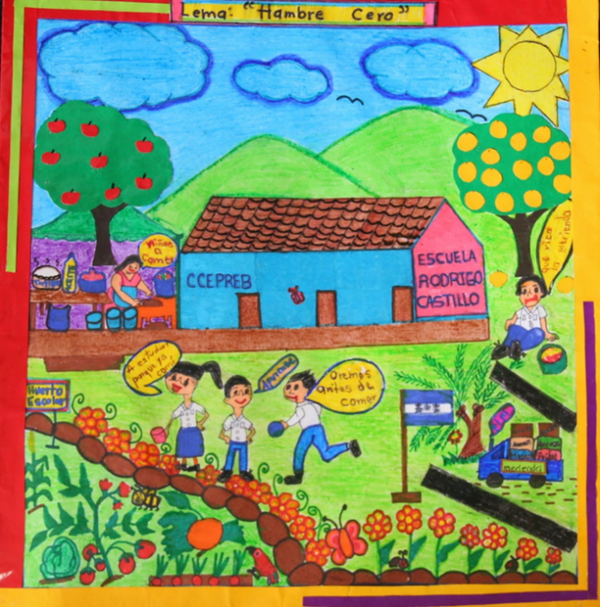 As illustrated in the work by Noah Baraka from Kenya, in many countries the food a child eats at school can make the difference between a life of destitution and the opportunity to have an education — which, in the words of Taiyaba Sharifullah Torsa, from Bangladesh, is "every child's basic right".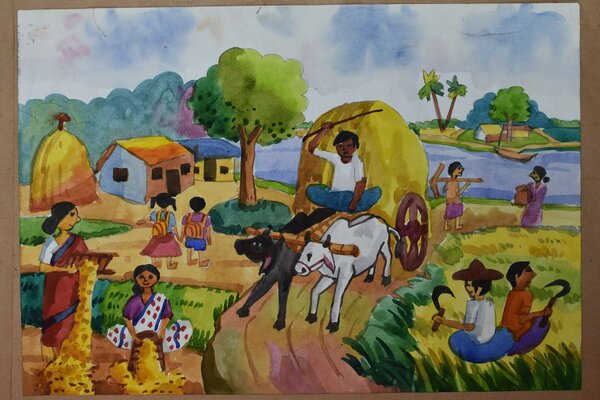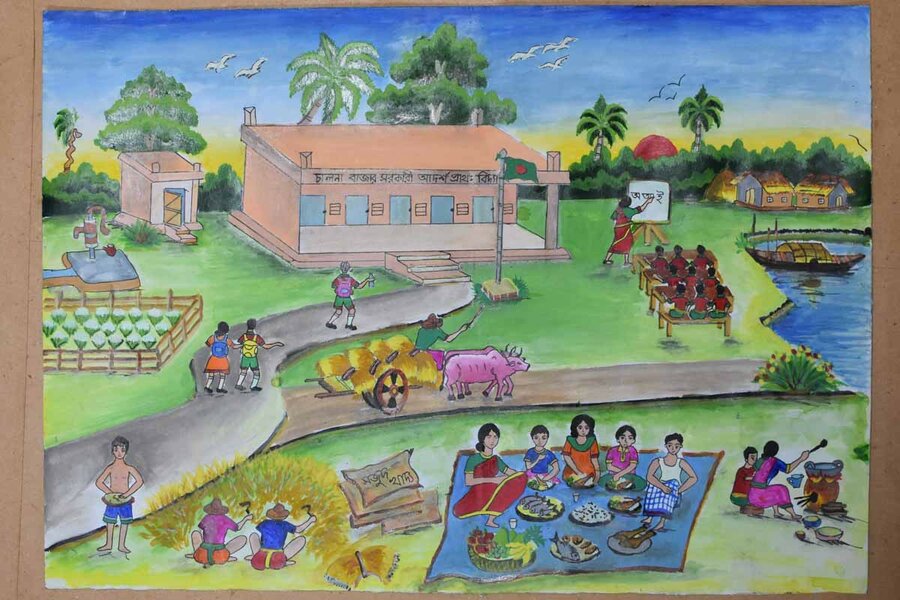 Food as a bridge
Food, when shared, has the ability to bring people together and smooth out differences. This is no less true for food eaten in schools.
"I think having a meal at school is important because it helps the less fortunate and brings the rich and poor together as one," reflects Asnawi Abo Macabato, a 13-year-old boy from the Philippines. And it is not just about money and class. "It is important that people from different ethnicity sit at a table to eat together," says 9-year-old Myrzayim Jailoobekova from Kyrgyzstan.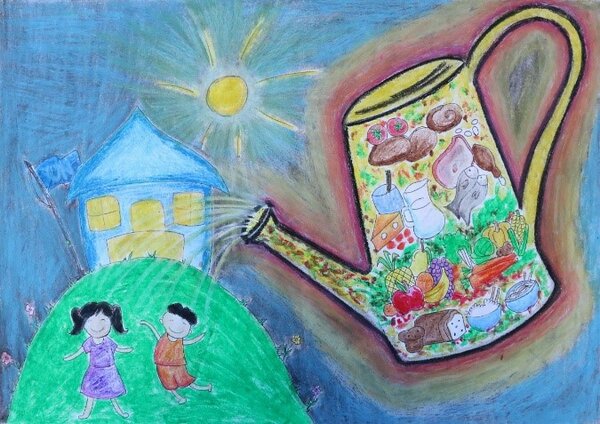 Learning a new ABC
Children who receive WFP meals or snacks at school also get to learn about good nutrition. The importance of eating vitamin-rich foods shows in many of the artworks. Vitamins, symbolized by their letters, are pictured as protecting from the detrimental effects of bad nutrition, and fueling students' dreams. In 'The vitamin machine', by 11-year-old Leandro Martínez Mirabal from Cuba, children ride on an oversize watermelon, surrounded by fresh and colourful fruit and vegetables, to a healthy, bright future.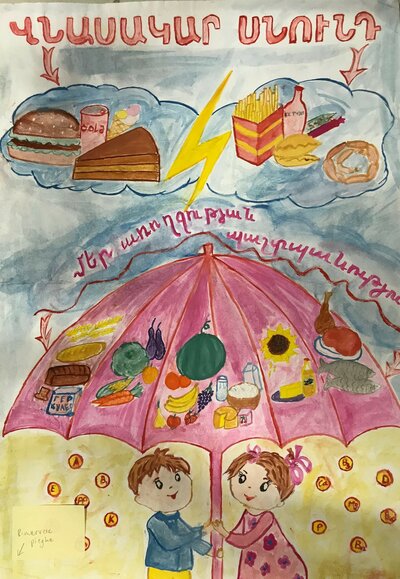 Super powers
School food also fuels the desire to put energy at the service of others and of the planet we live on. "If your stomach is full, you can learn," says Ahmed Ali Osman, a schoolboy from Somalia. He would like to be a doctor and his drawing shows the contrast between a present of conflict and a future where he will be able to help others through his profession.
"We are children of the earth — and the earth gives us its fruit and food. We must cultivate it so that nobody in the world will go hungry," says 10-year old María Eugenia Trejo Perdomo from Honduras. Her words are echoed in the artwork of another 10-year-old, Yenifer Vilarino Sintes from Cuba, which shows herself and her friends donating to WFP a giant carrot they have grown to feed all the world's children.
"I want to be a superhero in my own way by helping others," adds Nabil B. Panantaon, 14, from the Philippines. "To be able to do that, I need to have a strong body. Eating nutritious food will give me the energy to be strong."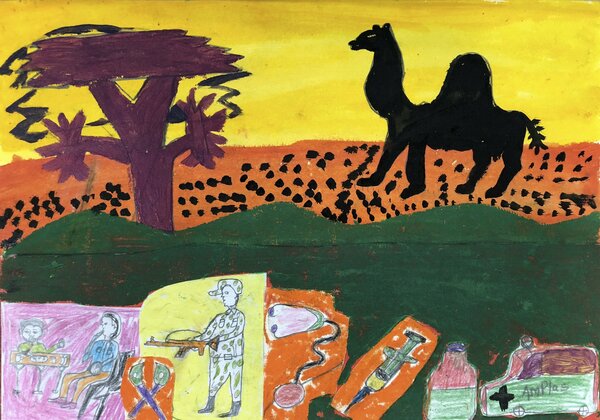 A shout out to WFP
In the mountainous Rahst district of Tajikistan, 11-year-old aspiring teacher Shahlo Abduhaeva shows WFP trucks delivering supplies — fortified flour, oil, salt and pulses — to schools. "Every day we have a hot and healthy meal at school thanks to WFP!"
Whether ingredients are brought in by truck or grown in the school garden, everyone agrees WFP school meals help fuel children's brains. "I was able to finish my studies because I eat a lot of fruits, vegetables and sources of protein. I hope I continue to become healthier and smarter so I can finish my studies early and get a nice job," says Omelkhayr B. Bangcola from the Philppines.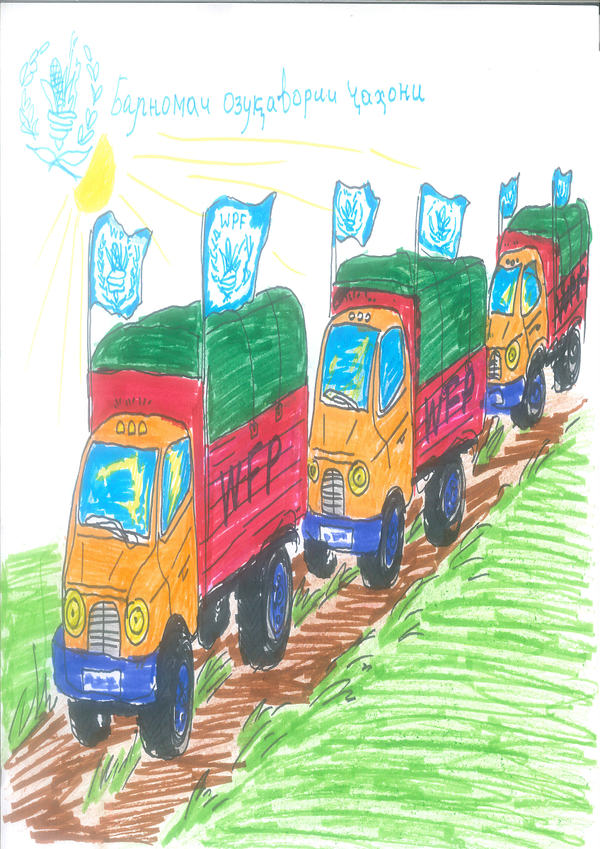 The winning artists will be awarded a Children's Design Competition certificate and will receive US$ 100. The schools they attend will receive US$ 200 for stationery and art supplies.