'I don't know how we would have survived'
Rebuilding homes and lives three years after Nepal's earthquakes
, WFP Asia & Pacific
On a bright Saturday, on 25 April 2015, Prisma and Tek Bahadur Sunwar's world changed in a few short minutes. Nepal was rocked by a devastating 7.8 magnitude earthquake which was followed by hundreds of aftershocks — the highest measuring 7.2 on the Richter scale.
Three years on, communities are making progress in rebuilding their lives and starting again.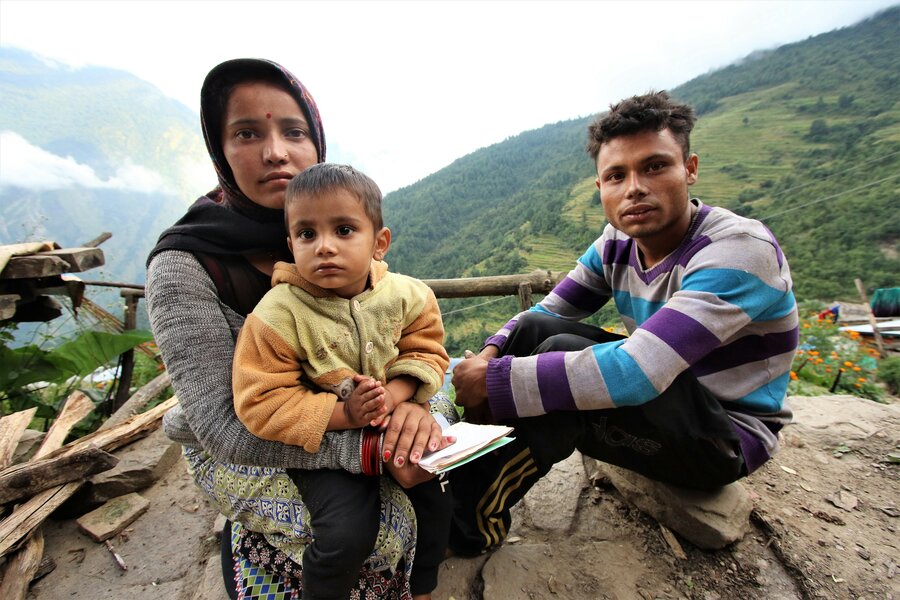 Gorkha district was the epicentre of the 2015 earthquakes, and it's also Prisma and Tek's home.
"Our house was completely destroyed by the earthquake so we are living in a temporary shelter," says Tek. Their home is made from corrugated iron that was donated from humanitarian organisations.
From Prisma and Tek's home, it takes a two-day walk to reach the nearest village. Sometimes even longer during the monsoon season. Nutritious food, regular incomes and healthcare are far from home.
Much of the land in this region was destroyed by the landslides that followed the earthquakes, so many families rely on small-scale farming and cattle rearing to survive.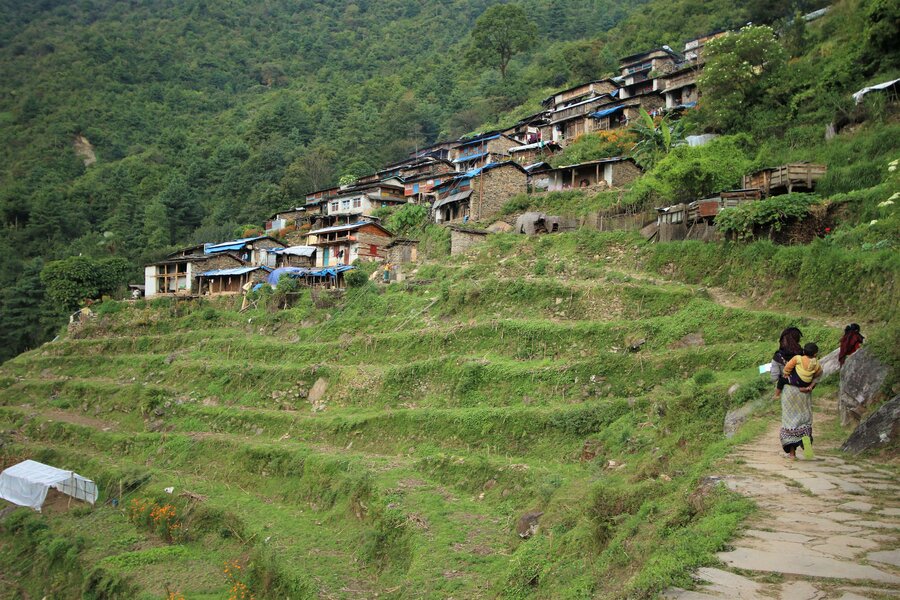 Hope for the future
After the earthquakes, the World Food Programme (WFP) launched several programmes to help communities so they would be able to withstand future shocks.
With support from the UK's Department for International Development (DFID), and the Governments of Canada, Australia and Norway, WFP has been supporting and continuing the reconstruction of assets and infrastructure in affected districts. Families have rebuilt roads, bridges, irrigation systems and facilities for drinking water. In return, they receive food and income.
Prisma mentions that her husband doesn't earn enough money as his work is always temporary. "If it wasn't for WFP, I don't know how we would have survived. Sometimes weeks between jobs for Tek go by, but working with WFP has meant that there is constantly food for my two children."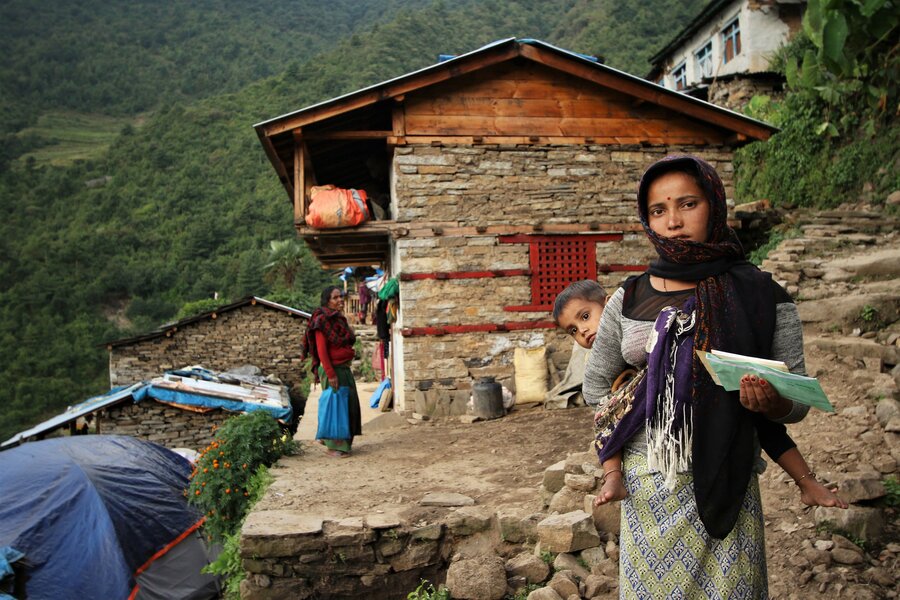 "Both my wife and I have worked on WFP's activities, and this allowed my child to have nutritious food and new clothes. The joy I see in their faces makes me happy," says Tek.
The couple saved some of their earnings to buy household supplies, pay school fees and buy stones and wood to rebuild their home. "We still manage to save a little after this," says Prisma with a beaming smile on her face.
Women take the lead
Tenzing Chodum, also from Uhiya village, worked on WFP's trail construction project that saw the construction of the 25 km Philim-Ripchet trail. This reconstruction project provided an employment opportunity for over 300 local villagers — half of whom were women.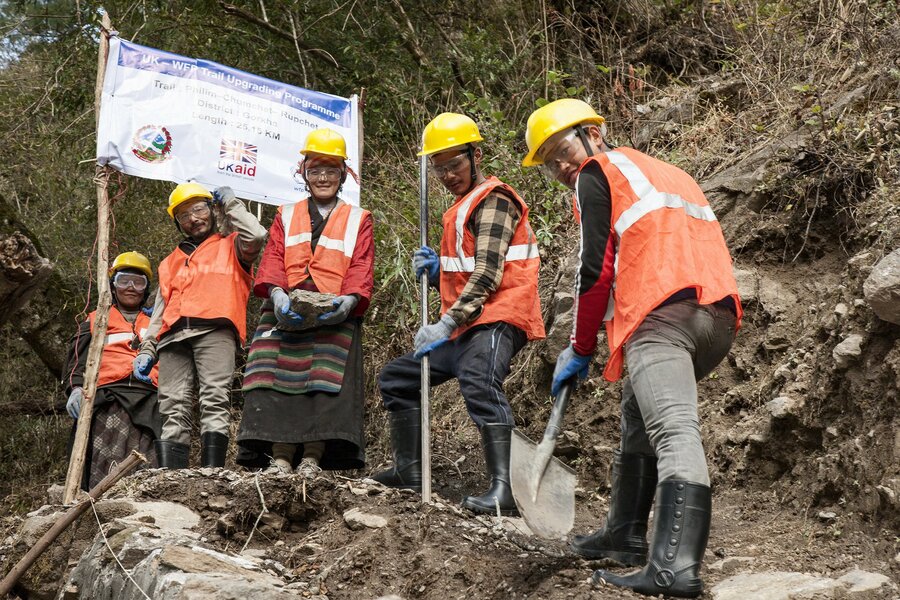 "With the opening of the trail, I can get food and basic items for my shop for half the price," she says. "Soon, we will be able to use mules to bring more goods, and prices will go down further. We are looking forward to better days!"
Due to the poverty in their village, many of the male members of households find themselves seeking opportunities as migrant workers in neighbouring India and sometimes the Middle East. "It is so difficult to find a job in Kathmandu, let alone our village. That's why so many of us migrate to these countries," says Tenzing. WFP's programmes are giving them a reason to stay in Nepal and contribute to the development of their own communities.
WFP continues to implement earthquake recovery operations in several hard to reach districts across the country to help communities rebuild their lives. WFP has supported over 60,000 people improve their livelihoods, improve nutrition and food security and rebuild infrastructure. Programmes to support earthquake-affected communities will continue until the end of 2018.
Story by Kessang Lama.