Millions face hunger as drought grips Ethiopia, Kenya and Somalia, warns World Food Programme
Call for US$327 million to respond to immediate needs of 4.5 million people and help communities become more resilient to climate extremes
, Peyvand Khorsandi and Gemma Snowdon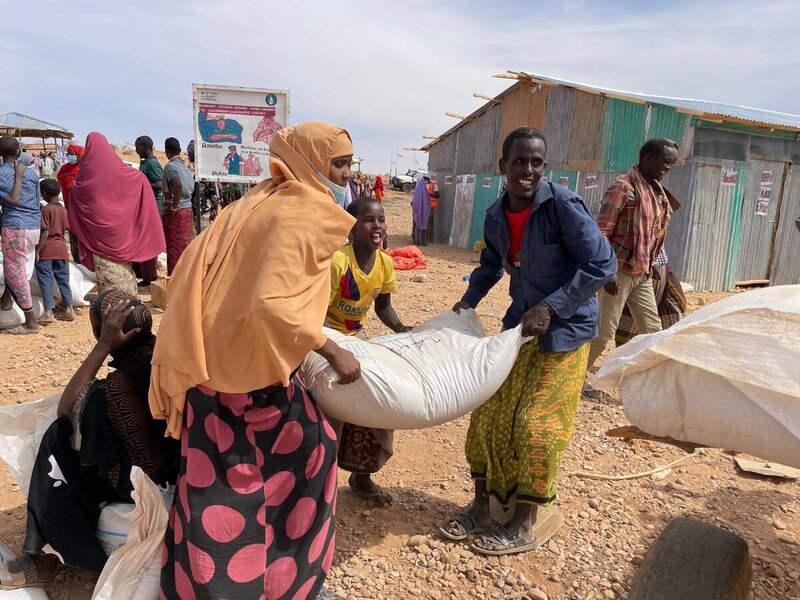 More than 13 million people across Ethiopia, Kenya, and Somalia face severe hunger as the driest conditions in decades spread a devastating drought across the Horn of Africa, the World Food Programme (WFP) is warning. 
Crop failures and an abnormally high rate of livestock deaths are dealing a crushing blow to whole communities' ability to grow, sell and consume nutritious foods, after three consecutive failed rainy seasons.
"Harvests are ruined, livestock are dying and families are bearing the consequences of increasingly frequent climate extremes," says Michael Dunford, WFP's Regional Director for Eastern Africa. 
"Droughts in the Horn of Africa are becoming more frequent and severe and are one of the key drivers of hunger across the region, devastating livelihoods and forcing families from their homes. These impacts reinforce the need for immediate humanitarian action and the importance of building the resilience of communities for the future."
The lack of rains is also driving displacement as families are forced to move in search of water and pasture, leading to intercommunal conflicts.
"It's shocking when you meet people and you hear their personal stories," says Dunford on a video call from Nairobi. "If you meet a pastoralist who's lost all their animals, it's devastating."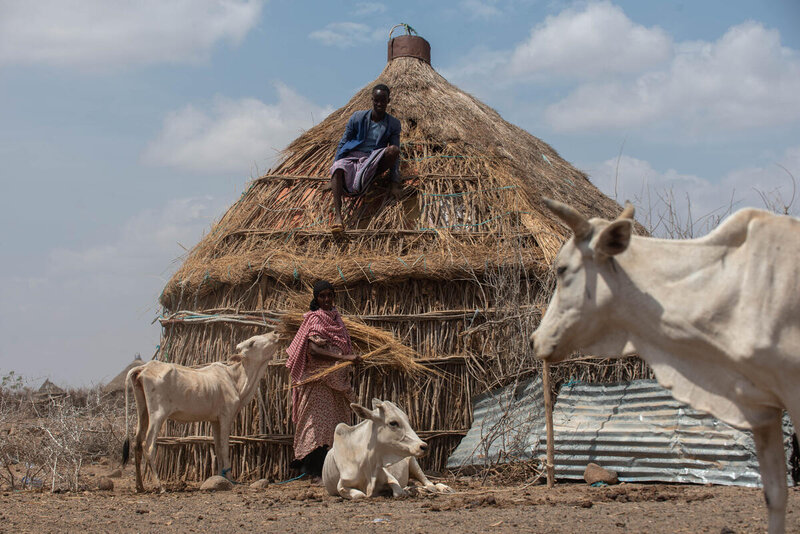 "Certainly, because of the climate changing, the situation is becoming worse," he adds. "We really need to be investing at scale using all of the techniques that the WFP and others have developed.
"We also need to continue to build on the anticipatory actions – early warning systems, access to financing when triggers are heard, access to different types of crop or livestock insurance… there's so much that we are doing that is cushioning the blow but [there have been] three years of insufficient rains."
The drought has hit pastoral and farmer populations across southern Ethiopia, northern Kenya and south-central Somalia. Impacts are compounded by increases in staple food prices, inflation and low demand for agricultural labour, further challenging families' ability to buy food. Malnutrition rates also remain high across the region and could worsen if no immediate action is taken.
"The statistics that I am seeing suggest that this is the driest this region has been in 40 years," says Dunford. Does it translate to the worst drought in 40 years? "Well, it depends how you want to measure. In 2011 there was a drought that killed 250,000 people in Somalia. We're not there yet."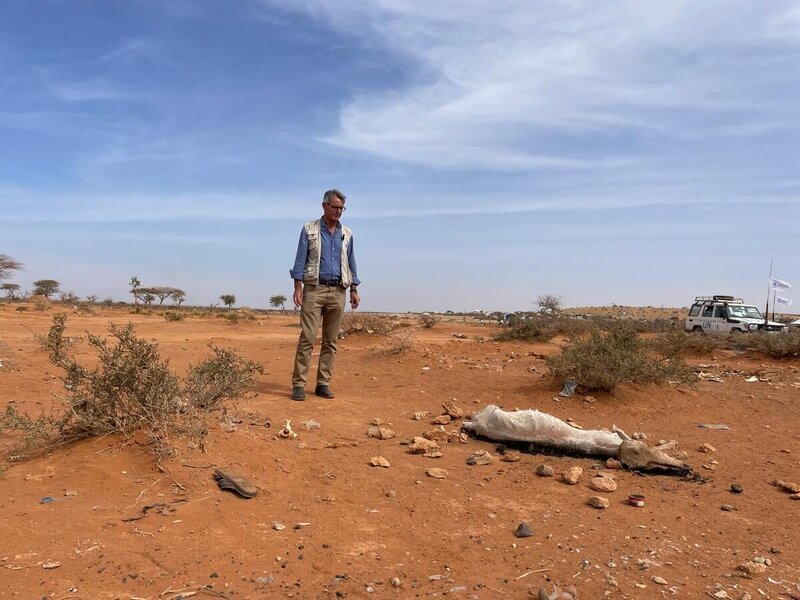 He adds: "But don't get me wrong, the situation is dire. I met climate evacuees living in camps for internally displaced people for over a year now because they lost all their animals. They have nothing left. And the only way they can meet the basic needs of their families is by coming into the villages where they are now receiving WFP support."
So what of the investments that WFP and others have made in the region over the course of the past 10 years? "By improving the ability of the populations to manage such climactic shocks, the needs are reduced and the impact has been lessened or delayed," says Dunford.
Chief among his concerns now is the threat of reduced rations. "What does it mean for WFP not to be able to provide a family with the minimum monthly entitlement," he asks.
Hunger hotspots: 4 countries face famine, UN report warns
Ethiopia, Nigeria, South Sudan and Yemen braced for 'starvation and death', says FAO and WFP study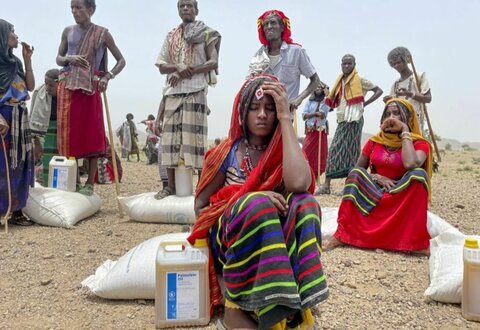 This week WFP will launch its Regional Drought Response Plan for the Horn of Africa, calling for US$327 million to respond to the immediate needs of 4.5 million people and help communities become more resilient to extreme climate shocks.
"[The money is] primarily for emergency response, with a proportion to continue to build capacities of communities and individuals to meet their own needs," says Dunford. "What we can't have is people adopting negative coping measures, either losing all their livestock or alternatively having to sell it, because once the drought is over, once the rains ultimately break, they won't have anything and they'll still be dependent."
Action is required immediately and at scale. "WFP has a long history of building resilience across the region. We've transformed vast swathes of territory into land that is suitable for agricultural [activities]," says Dunford. "The key for WFP is always the scale we operate at, particularly in close partnership and collaboration with the Governments at the central and regional levels and then directly with the communities and families."
Let's take a closer look at the affected countries:
Ethiopia
An estimated 5.7 million people affected by severe drought need food assistance in Ethiopia. WFP aims to support 2.9 million people with food relief in the Somali region, including 585,000 malnourished children and mothers with nutrition treatment, and 80,000 families with mothers or young children with preventative treatment against malnutrition. This emergency response will be complemented by expanding microinsurance support for up to 18,000 at-risk pastoralists. WFP is also seeking to add 50,000 children to its school meals programme, which currently reaches 87,000 children across 254 schools in other drought affected regions.
Kenya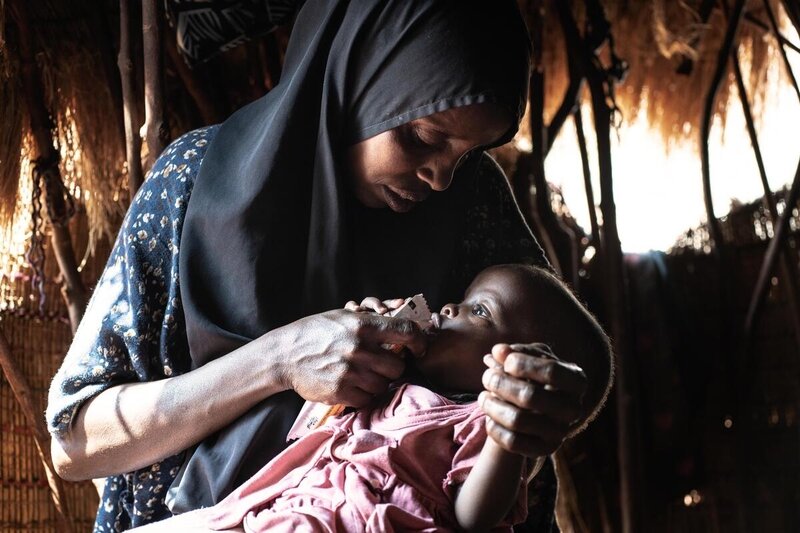 In Kenya, the Government declared the drought a national emergency in September 2021 and an estimated 2.8 million people are in need of assistance. WFP aims to provide urgent food assistance to more than 890,000 people in the worst affected counties as well as scale up malnutrition treatment and prevention programmes for women and children. WFP will also extend microinsurance support for smallholder farmers.
Somalia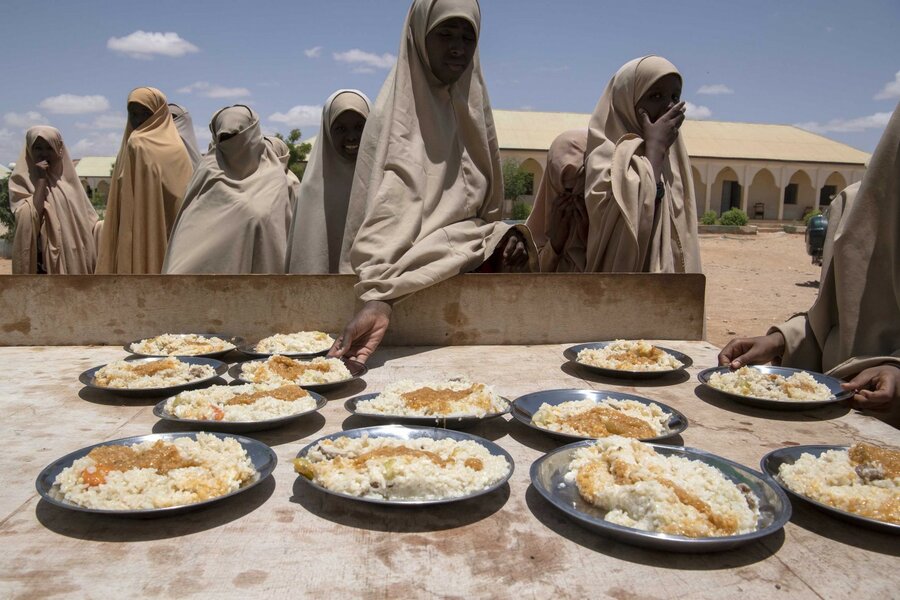 In Somalia, the number of acutely food insecure people is expected to increase from 3.5 million to 4.6 million by May, if humanitarian assistance is not received. WFP is aiming to scale up its food assistance to support an additional 600,000 people in the first half of this year, reaching a total of almost 2.5 million.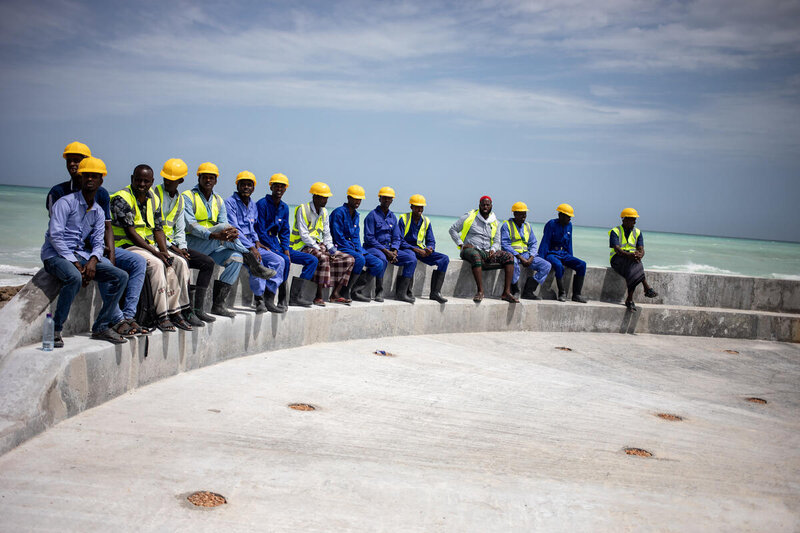 To help prevent and treat the implications of drought, WFP will also provide nutrition support to women and children. WFP is also continuing livelihoods, resilience and food systems programmes to protect recent development gains and strengthen vulnerable Somalis against droughts and other crises in the long term.
---
Adow's story: How WFP is changing lives
By WFP Staff
"The fear of poverty pushed me to farming," says Adow. "I used to be a casual labourer in construction sites. As I grew older, my body couldn't do the hard jobs. I opted to do farming and I've never regretted it or looked back." 
The 64-year-old, a father of 10, lives in Wajir East, one of the six departments of Wajir County in Kenya where he took to agriculture 15 years ago, growing kale and spinach.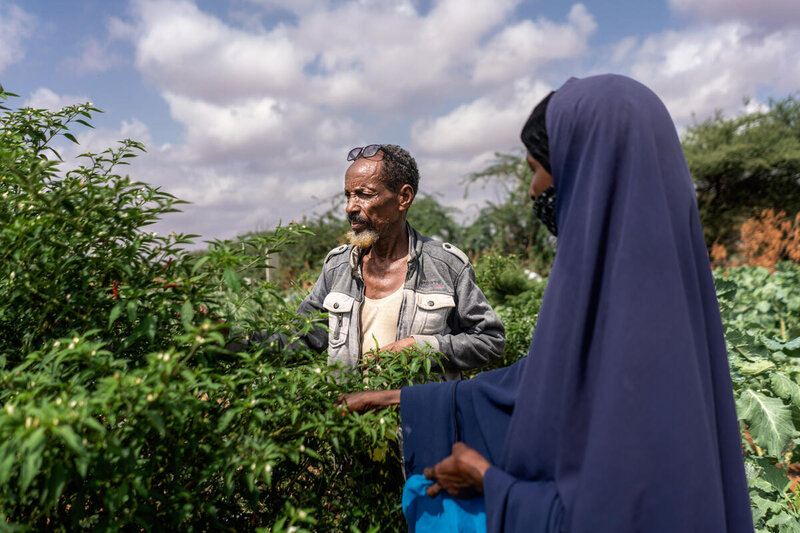 "Planting these vegetables is not difficult so long as we have water. However, the climate has changed and there have been droughts," he says.  Before, there used to be water everywhere. But for the last three years the water has been scarce."
Adow found his diesel-powered irrigation pump was costly, noisy and polluting. Then, in mid-2020, farming support arrived from WFP, as the world was in the throes of the COVID-19 pandemic.
"Businesses in the whole country went down. It is only now that we see people have started buying things," he says. 
This allowed him to expand production. A hybrid solar-powered infrastructure, consisting of a water tank and pump sets, was installed. 
"I never imagined that my farm would generate the income I currently get. I have been farming for years using traditional methods and was really struggling," he says.
"However, with the support of WFP, things have changed for the better, I am very happy and comfortable."
WFP staff helped Adow introduce a high-yielding variety of papayas and chillies to his farm. A year later, WFP installed a 100ftx50ft  garden infrastructure where Adow farms beetroots and coriander too. 
"Before, we used to grow only maize and sorghum," he says.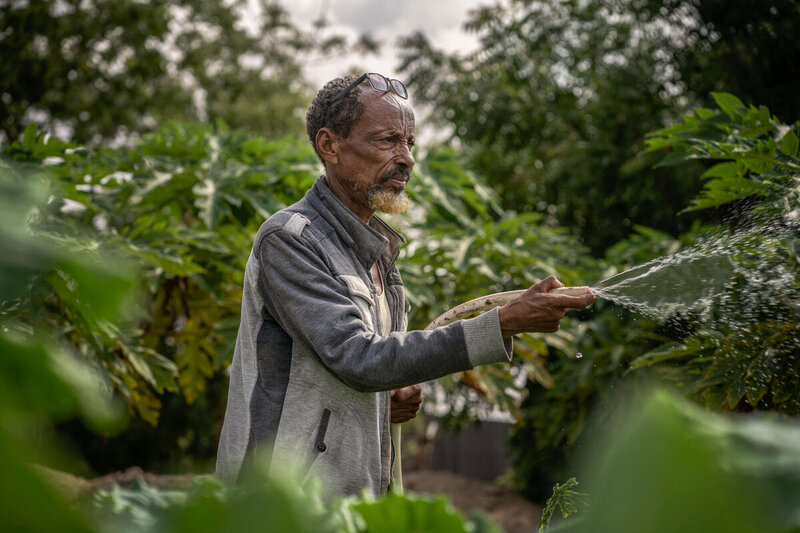 This helps protect crops from pests, the elements and also improves moisture retention. Thanks to WFP's support, Adow says that his farming has improved since it is less costly, the crops are more diverse and income from the produce has increased dramatically. 
"WFP has helped me with solar power, construction of water tanks and very good quality seeds. Since then I've prospered," he says. 
The stable income he now makes has enabled him to comfortably take care of and provide nutritious food for his large family, enabling them to better cope with the impact of drought. The biggest challenge Adow faces now is the threat from giraffes , who destroy his fence and eat his papayas, damaging other crops like kale and spinach in the process. 
In times of drought, animals have less to eat and Adow's farm is the only one in the area that grows papayas, which are popular with giraffes. 
Adow's family struggled during the COVID-19 lockdowns, as their customers had less access to markets and less money to buy the family's produce – still because of  the resilience measures put into place by WFP, they fare relatively well .
Adow now looks forward to trying out other types of drought-resistant crops such as yellow sweet potatoes. He hopes to expand his farm further and make enough money to educate all his children. 
"Without WFP, farming would have been difficult," he says. "Without this help, life would have been miserable."
Now is the
time to act
WFP relies entirely on voluntary contributions, so every donation counts.
Donate today