New crisis looms for Rohingya refugees on grim anniversary
The monsoon season sets new challenges for people living in camps on the Bangladesh border
, Shelley Thakral
On the six-month anniversary of the Rohingya refugee crisis, World Food Programme (WFP) reports officer Laura Philips warns of the new threats people will face during the upcoming monsoon and cyclone season. Laura, who has been in Cox's Bazar since last October, also explains how the situation has changed since she first arrived.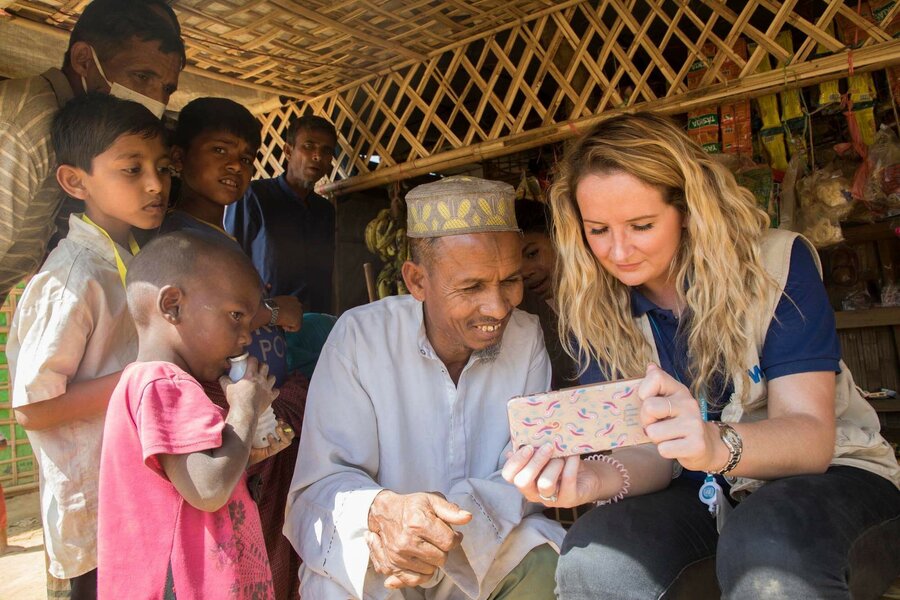 With the monsoon season approaching, what is the situation in the camps and what do you think we can do to ease congestion and improve access?
The Kutupalong megacamp and other spontaneous settlements are densely packed, with shelters shacked up on the steepest of hills. The landscape is an undulating sea of tarpaulins, crammed together with little privacy and no space that the Rohingya can call their own.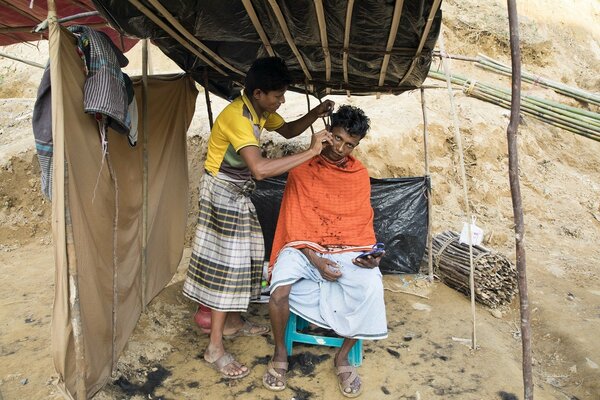 The monsoon season, due in the next few months, will bring immense challenges for the camps. WFP is firing up its logistics and engineering capacity in preparation, working with partners such as the UN Refugee Agency (UNHCR) and the International Organization for Migration (IOM) to reduce the risk of landslides and flooding.
As I have an environmental background, I have been able to contribute to the conversations with engineers and logistics experts. When I came to Cox's Bazar, I had no idea that my studies in soil erosion, slope stabilization and land rehabilitation would be so applicable in this context. Looking at the shelters, I could see where and how the land would be affected. As we have seen from the beginning of the crisis, the slightest rains lead to slippery slopes, flash flooding and, essentially, a mud bath.
'Our engineers are working around the clock to help build bridges and roads'
Our engineers are working around the clock to help build bridges and roads, fortify unstable terrains and reinforce sites against strong winds. We are exploring options to reach all refugees if and when the sites become inaccessible, including using porters and storing food closer to the communities.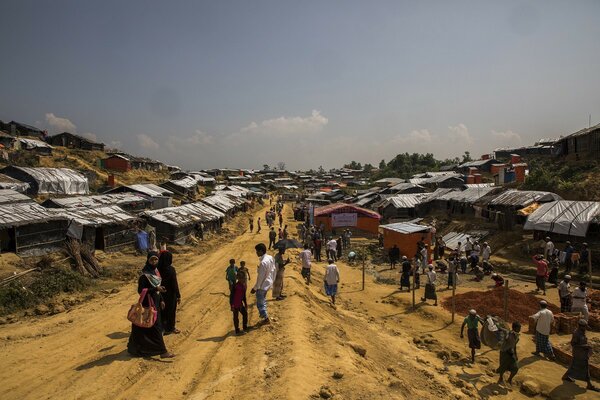 In the longer term, we will need to address the effects of deforestation — the camps stand on an area previously covered by forest, where 350 elephants used to roam in their natural habitat. The clearance of this forest has left the land bare and exposed, vulnerable to natural hazards, exploitation and degradation.
Interventions such as the planting of vetiver grass — a type of plant that helps stop soil erosion — and alley cropping — where rows of trees are planted at wide spacings, with a companion crop grown in the alleyways between them — will stabilize the soil, ensure a solid root system, and improve drainage and infiltration, making the land less vulnerable to the effects of erratic weather.
What did you find when you first arrived in Cox's Bazar?
It was chaotic, an absolute whirlwind. The roads in Kutupalong and the makeshift sites were scattered with clothes, thrown from trucks by people trying to help. The roadsides were strewn with families with nowhere to go. It was a sea of dazed faces, crying children and sheer desperation. It was immediately clear that these people had suffered major trauma and that addressing their needs would require massive assistance and resources.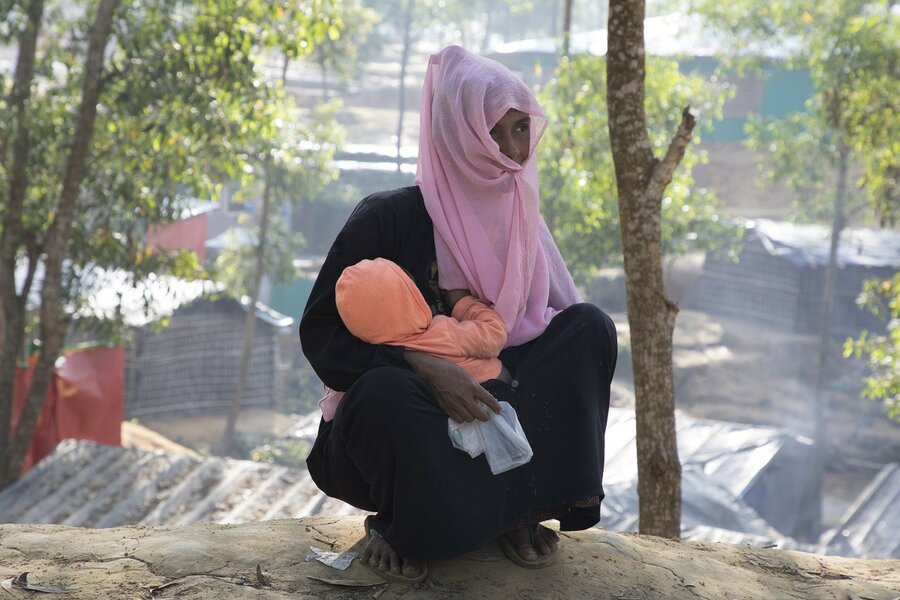 As I landed in Cox's Bazar, I had to try to navigate a huge mass of information. People were arriving by the thousands. Trying to understand where they were settling and to collect the information needed to kick off WFP's response was a gigantic task.
What progress have you seen?
Things have become more stable, and WFP staff, response and coverage have expanded significantly.
We now have 19 food distribution points where families receive 30 kg rice, 9 kg pulses and 3 litres of oil. To address the high rates of malnutrition, pregnant and breastfeeding women, and children under 5, regardless of their nutritional status, receive a special nutrient-fortified porridge.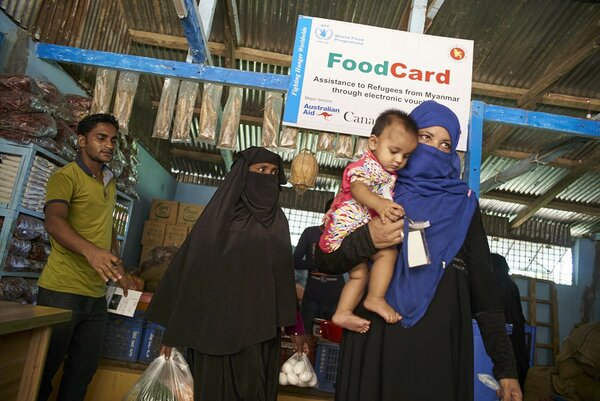 WFP is also progressively replacing in-kind food distributions with e-vouchers that can be spent in WFP shops in the camps, giving people the freedom to choose a diversified diet and enhancing their dignity.
'We hope to provide all refugees with an e-voucher card by the end of 2018'
People are being enrolled on WFP's registration platform with their biometric details, so that we can ensure the right people receive the right assistance. We hope to provide all refugees with an e-voucher card by the end of 2018.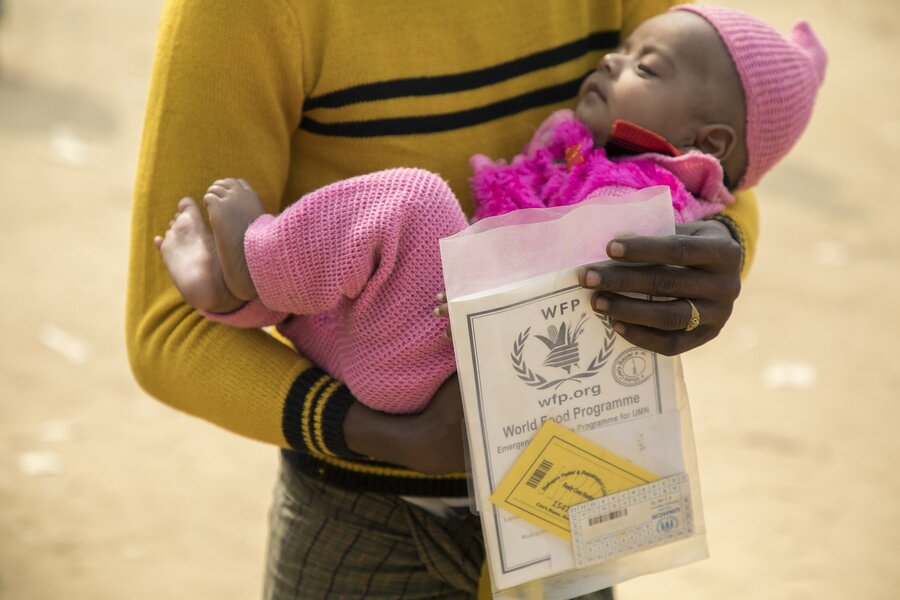 Also, over these past six months, our work has been transitioning from emergency response to longer-term projects, including engineering works to improve access and encouraging sustainable energy use. As women and children are forced to walk for hours to collect firewood, which exposes them to a number of risks, WFP and partners are implementing a liquid petroleum gas (LPG) project involving 18,000 Rohingya families in the camps. WFP aims to be firewood free by the end of 2018.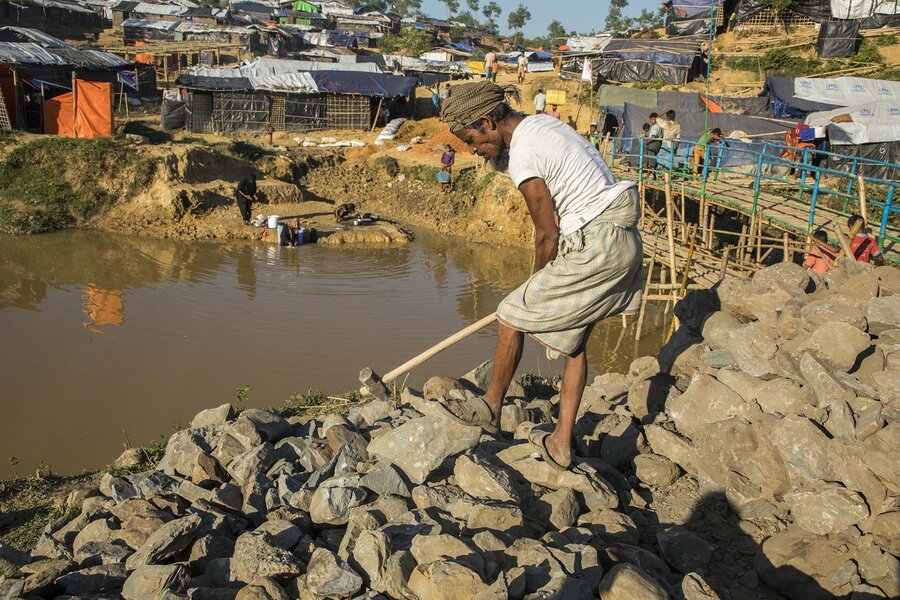 In light of the upcoming monsoon season, WFP is scaling up its preparedness measures, and will engage Rohingya refugees in activities — including drainage works, rehabilitating and enhancing road access and pre-positioning of stocks — that will mitigate the effects of extreme weather events.
Since August 2017, more than 688,000 Rohingya have fled Myanmar to seek safety in Bangladesh. Through the coordinated efforts of World Food Programme (WFP), local and international organizations and the Government of Bangladesh, hundreds of thousands of refugees have received life saving food, water, shelter, health care and protection services.
Read more about WFP's work to support displaced Rohingya in Bangladesh.