Northeast Nigeria crisis: WFP provides a lifeline to new arrivals in Bama Camp
Learn more about WFP operations in Nigeria.
, WFP West Africa
While food security across conflict-affected areas of Nigeria's northeast has improved over the past year, the World Food Programme (WFP) remains focused on meeting the urgent needs of the steady flow of newly displaced people. Many arrive from areas that remain inaccessible to humanitarian organizations.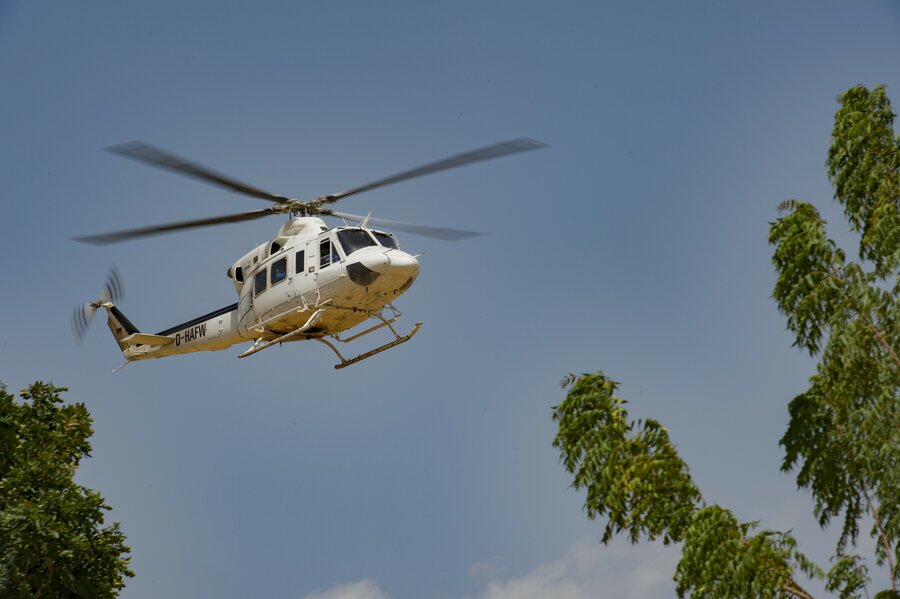 For humanitarian workers, the quickest way in to the town of Bama, in Nigeria's northeast state of Borno, is by the helicopter service operated by the UN Humanitarian Air Service (UNHAS). As the 30-minute helicopter flight from Maiduguri descends, the recent trauma suffered by this town becomes apparent. A victim of the conflict in northeast Nigeria, Bama is littered with the shells of burnt-out homes. A sprinkling of new roofs dot the town — a marker of some rebuilding — but many streets remain derelict and abandoned.
Situated on the trans-Africa trading route close to Cameroon, Bama was once a thriving market town. Its population numbered 270,000 people. But in 2014, it was occupied by a non-state armed group. When the Nigerian army retook the town six months later, most of the population had fled and almost 85% of the buildings were left damaged or destroyed by the escaping fighters.
The grounds of a former government boarding school now serve as a temporary camp for 25,000 displaced people. Most of the new arrivals here left their villages due to insecurity triggered by military operations against non-state armed groups. In June alone, 3,000 people arrived here. Some had been living in small villages deep in the bush; others had returned from Cameroon. With limited freedom of movement and scarce opportunities to make a living, the camp's growing population remains heavily dependent on emergency food aid WFP provides.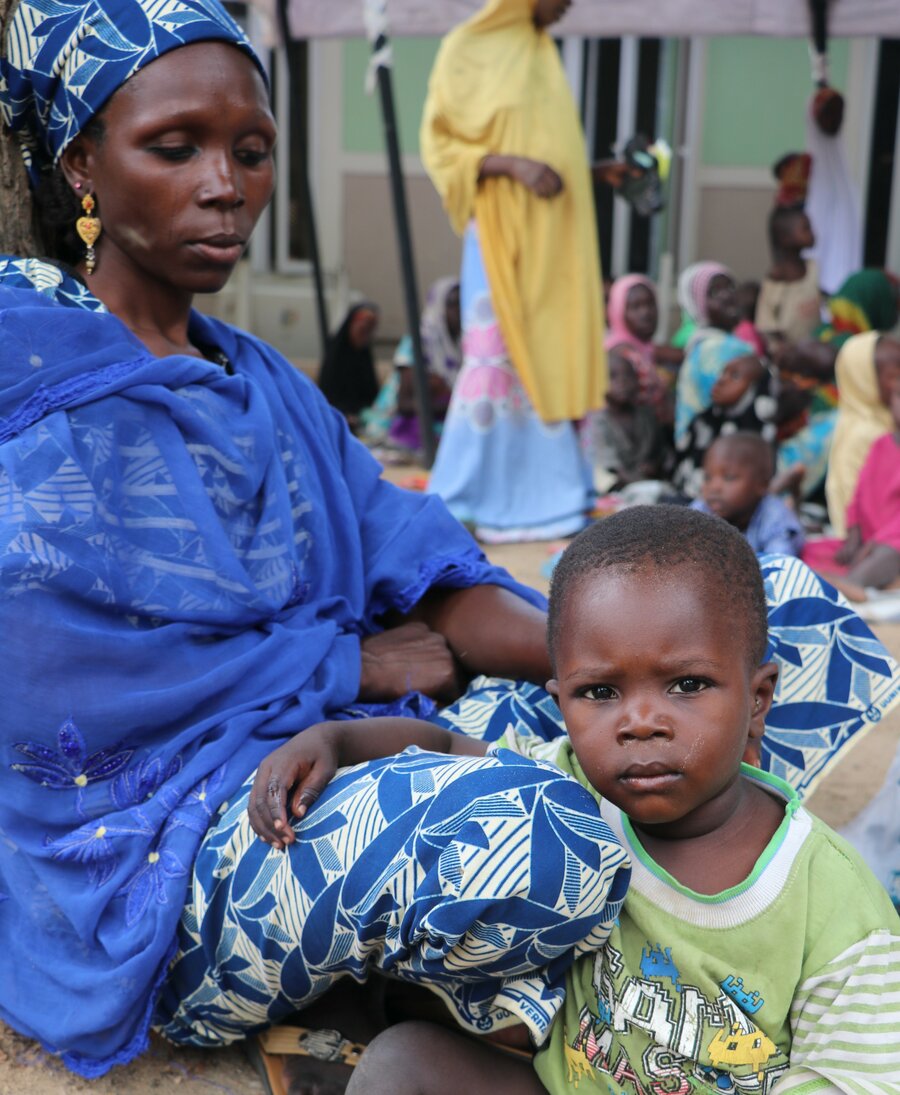 The number of people facing acute food insecurity in Borno, Adamawa and Yobe — the three conflict-affected states of northeast Nigeria — has significantly dropped from over 5 million to 3 million people over the past year. But the situation of thousands of freshly displaced people arriving in frontline towns such as Bama, remains precarious. Since the end of October of 2017, there have been an estimated 130,000 new arrivals. Sometimes, 20,000 people will arrive in a single month.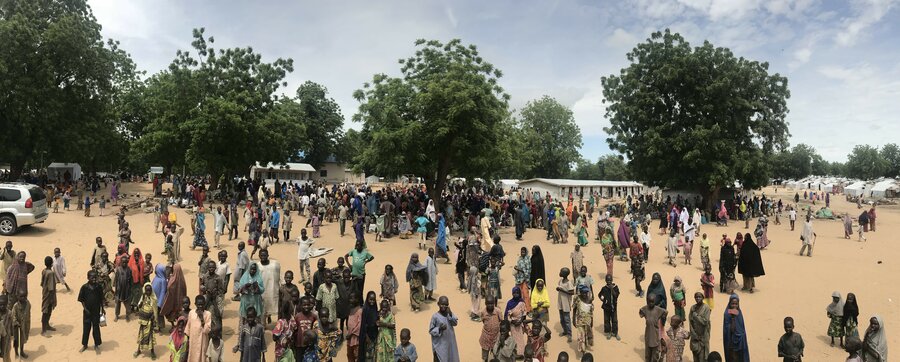 The school hall in the camp now serves as a warehouse and distribution point for food trucked in by WFP. Bulis Ntasiri, Food Security Officer with WFP's implementing partner, Danish Refugee Council (DRC), is preparing food for a group of about 50 women who have just arrived with their children. Each family receives a monthly ration of cereals, pulses, salt and vegetable oil. Children under five, women who are pregnant or breastfeeding, also receive extra nutrition in the form of super-cereal that has been fortified with vitamins and minerals.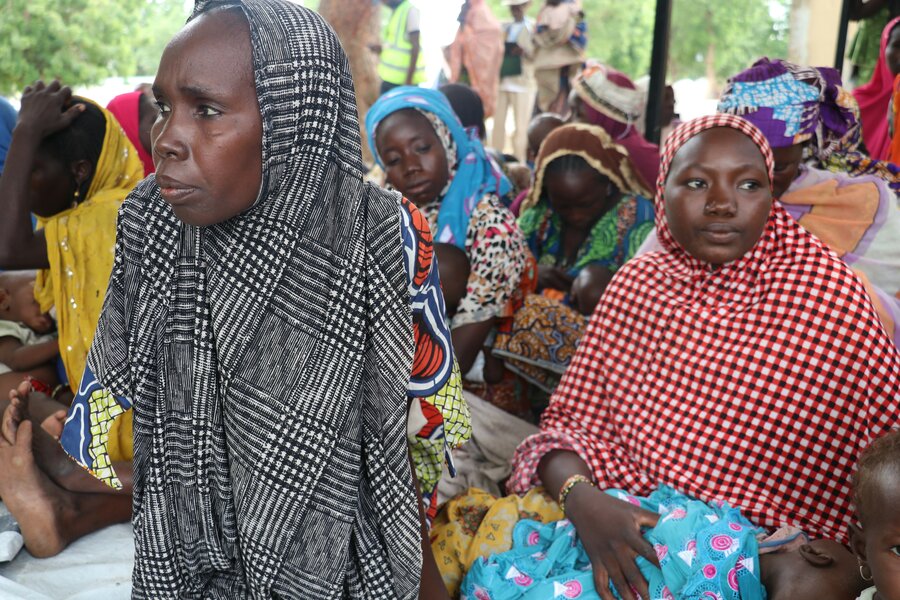 Fatima is among them. Her clothes are worn and dirty, and her 4-year-old son Mohammed lies limp in her lap. Weakened by hunger, his skeletal frame is covered in sores.
Fatima's story is typical of the experience of many of the women here. In 2013, her husband, a fighter with a non-state armed group, abducted her and her two-year-old daughter under false pretenses. He took them to a village in the remote Sambisa forest, on the border of Cameroon. She remained a captive for five years, giving birth to two more children. Eventually, she managed to escape with the help of another woman on the pretext that they needed to go to a neighbouring village to find food for her sick daughter. They walked for three days before reaching Bama.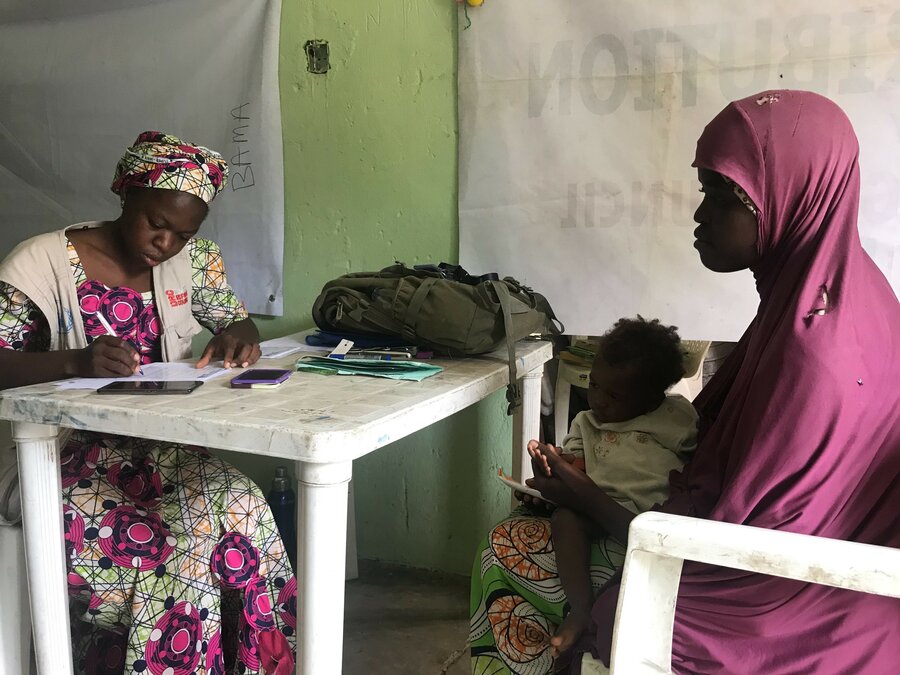 "We only travelled at night," explains Fatima. "The little food we had, I gave to the children to stop them from crying and attracting attention. If my husband had found us, he would have taken me back and given me away."
Gently squeezing a sachet of Plumpy'Sup, Bulis Ntasiri feeds small mouthfuls to Mohammed to boost his energy levels. This highly nutritious peanut based paste is fortified with vitamins and proteins and is distributed by WFP to prevent or treat children with moderate malnutrition.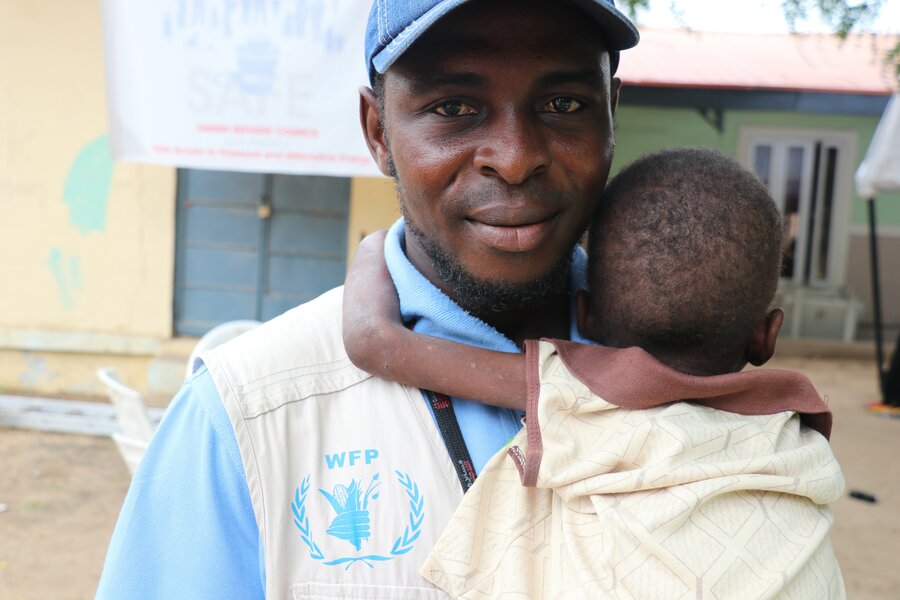 Many new arrivals in the camp, particularly the young, are malnourished. This is the lean season, when the year's food reserves are depleted. Those in the worst condition tend to come from villages where it is unsafe for humanitarian organizations to operate and food is scarce. Currently, some 800,000 people in these remote areas are thought to be cut off from any aid assistance.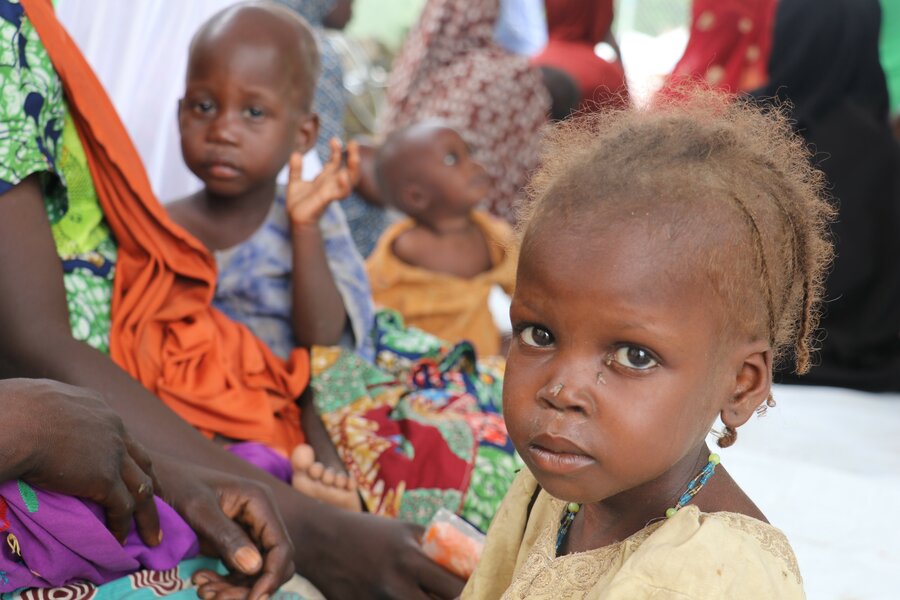 Fatima is relieved that her ordeal is over and her children are safe. Although she has food, Fatima will now need to find someone who is willing to share their cooking pot so that she can cook her children a meal. Once she has recovered her strength, she plans on tracking down her mother and brother who live in Maiduguri.
"We did not have an address but I remember what my neighbourhood looks like," says Fatima. "I haven't spoken to my mother since I was taken five years ago. She doesn't know if I'm alive or dead."
Written by Patrick Fuller
WFP recognizes the support of donors for its food assistance activities in northeast Nigeria. Canada, European Commission (ECHO), Finland, Switzerland, the United Kingdom (DFID), the United States (USAID), and private donors have made contributions to WFP Nigeria this year.
To continue its emergency operation in northeast Nigeria, WFP urgently requires US$ 100 million to provide emergency food assistance, prevent malnutrition in young children and pregnant and breastfeeding women, support livelihoods and retain flexibility to respond to further displacement through March 2019.