Plan bee in Palestine: Honey sweetens prospects for farmers
World Food Programme support enables people to grow and sell their own food
, Alia Zaki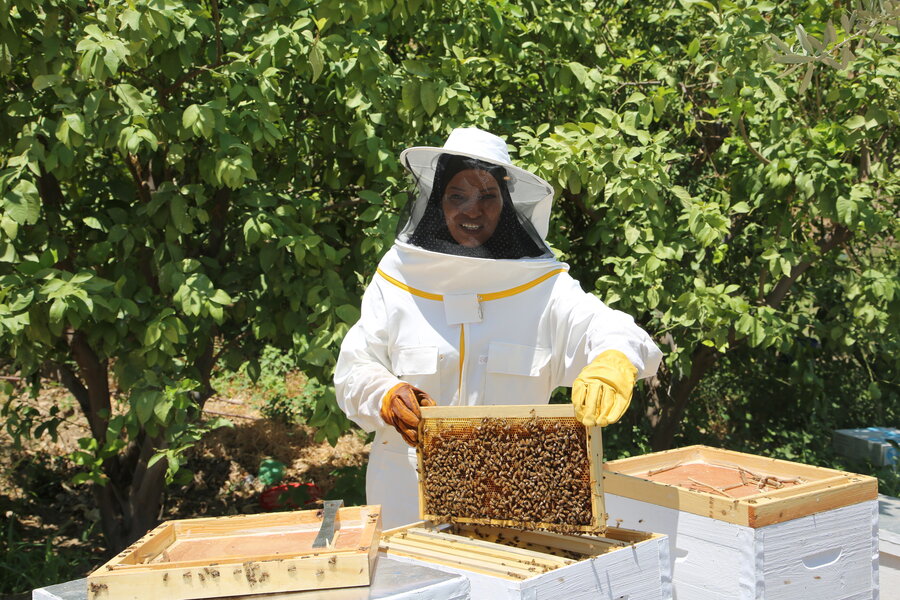 "The queen hasn't come back yet - she must be still roaming through Jericho," says Aisha.
On a hot May day in Jericho, a city in Palestine's West Bank, she's at work covered head-to-toe. She is one of only three beekeepers in town. 
"Are you ready to meet the bees?" she says.
Aisha's always been fascinated by beekeeping and what started off as a hobby has become a profitable business. She received training from the Ministry of Agriculture several years ago and has kept two beehives since. Her income's helped her to send her daughter to law school and take care of her elderly mother.
"I didn't complete my education, but I want to work," she says. "I want to contribute to making an income for my family. My husband's job doesn't bring in enough money for us," she says. "Now I am proud of myself. I am working on a project with my own hands that helps me to provide for my family." 
Now, her business is taking off after the World Food Programme (WFP) and partner organization the Applied Research Institute Jerusalem, facilitated nine beehives to help her to grow her business.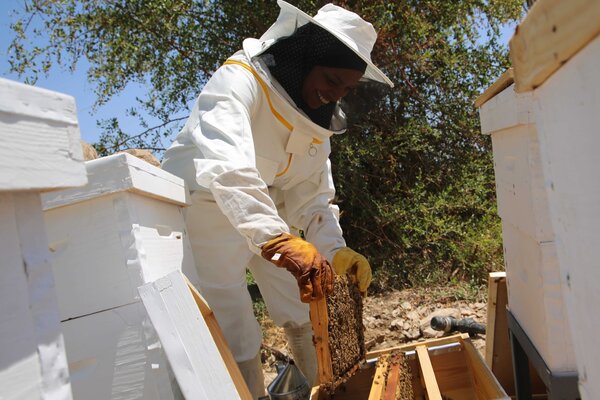 WFP supports small businesses in Gaza and the West Bank growing and producing food. More than 6,000 people have benefitted from 675 interventions, including beehives, wicking beds, livestock and greenhouses that helps families to earn an income and better withstand climate shocks.
Years of protracted conflict, weather extremes and economic stagnation have taken a toll on Palestinians. Characterized by a hot, arid climate, Palestine has experienced an increase in temperatures over the past 50 years. It is one of the countries most vulnerable to climate change despite its negligible contribution to global emissions.
To reach Aisha's house on the hills of Jericho, you drive past deserted farmlands, dry springs, and an increasing amount of construction. Jericho was once a farming area, but rising temperatures, restricted access to water and rising fuel prices have made farming harder and more expensive. With some farmers unable to meet their food needs, they have decided to work as casual labourers instead.
Innovative solutions are needed to help families to adapt.  While beekeeping is a tradition as old as time, it is rare in a land as hot as Jericho. 
"The heat is not good for the bees, so I built cardboard shelters and spray cold water on the ground around them to keep the temperature cooler," says Aisha.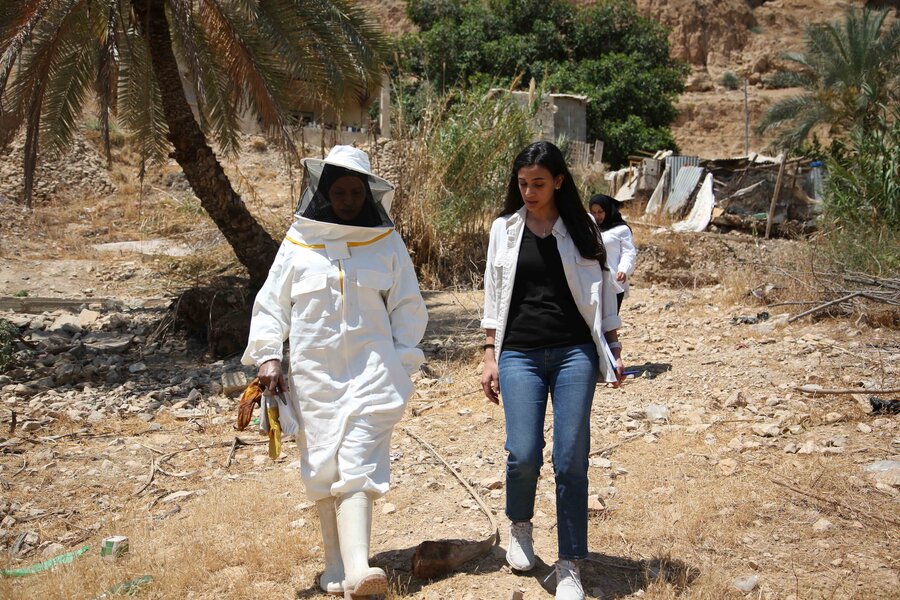 Aisha plans to expand her honey trade to start making candles and cosmetic products. She is eager to build on her trusted customer base.  
"I encourage every woman to find a hobby, start a project, and stay dedicated,"  she says. "Nothing brings more peace than being able to provide for yourself." 
Rising global food and fuel prices, exacerbated by Ukraine crisis, have hardened difficulties for hundreds of thousands of Palestinians already struggling to provide food for their families. In the past two months, wheat flour prices have shot up around 30 percent, and the prices of basic commodities such as oil and vegetables have soared.
WFP provides electronic vouchers to more than 300,000 people each month, but as prices rise people can no longer buy as much food with the same amount of money as they used to. As an import-dependent country, Palestine is highly vulnerable to global shocks. Such resilience and livelihoods interventions reduce people's dependency on aid and ensure they have a safety net to fall back on in times of crisis. 
Now is the
time to act
WFP relies entirely on voluntary contributions, so every donation counts.
Donate today