Rescuing discarded food from markets to feed thousands in Peru
WFP works with NGO Banco de Alimentos to ensure unsold produce from wholesale food markets is used to feed people in need
, Ana Lucía Llerena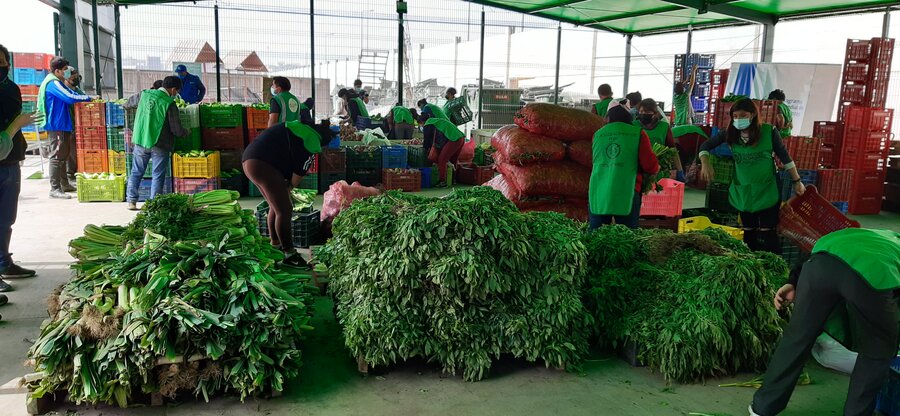 It's a misty winter dawn in Lima. As the sun rises over the sleepy city, its main wholesale food market, in the Santa Anita district, comes alive.
Every morning, 5,000 metric tons of vegetables, tubers and fruit leave this market to be sold across the metropolitan area. However, tons of food remain unsold and are destined for the bin.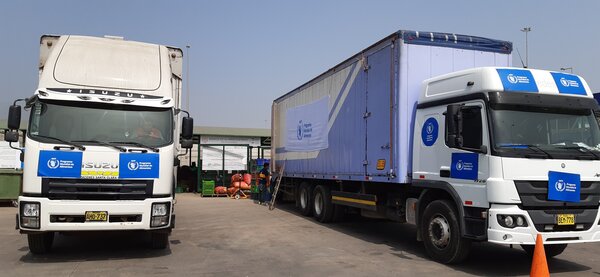 The World Food Programme (WFP), together with NGO Banco de Alimentos [Food Bank], and with support from USAID's  Bureau of Humanitarian Assistance (BHA), arranged for the food to be collected and delivered to food banks and community soup kitchens that feed thousands of Lima residents every day. The Peruvian capital has been hit hard by the socioeconomic effects of the COVID-19 pandemic, which have put nutritious food out of the reach of many. 
Rescuing food to feed those in need
In the first exercise, 15 tons of food were rescued from the market and transferred to a collection centre. There, 50 people, including soup kitchen volunteers, cleaned, sorted and classified potatoes, cucumbers, bananas, green beans, olluco tubers, spinach, basil, parsley, squash, leeks, coriander, papayas, pineapples, lemons and other products that form Peru's greatly biodiverse agriculture.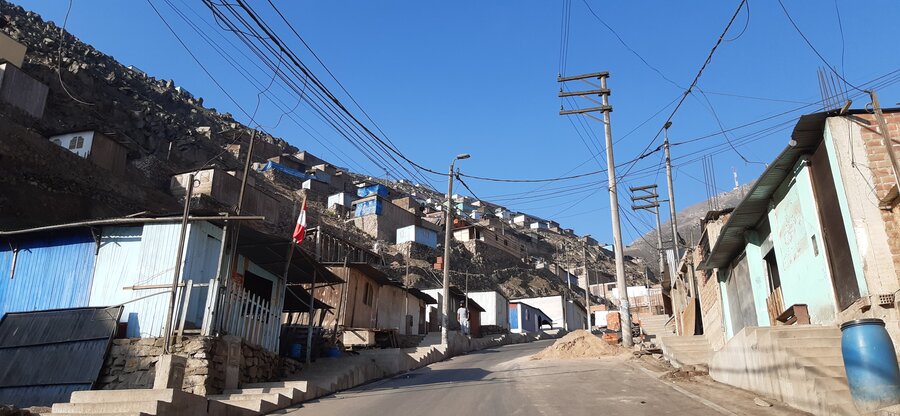 The volunteers come from the populous districts of San Juan de Lurigancho and Chorrillos, located respectively in the extreme north and south of the Metropolitan Lima area.
After six hours of hard work, 12 tons of food were classified as suitable for consumption and transferred to various soup kitchens, the number of which has mushroomed due to the effects of the pandemic.
The kitchens are managed and subsidized by the local authority and sell meals at low prices. They in turn function as distribution centres, delivering food to 25 community soup kitchens which serve meals to 3,000 people every day.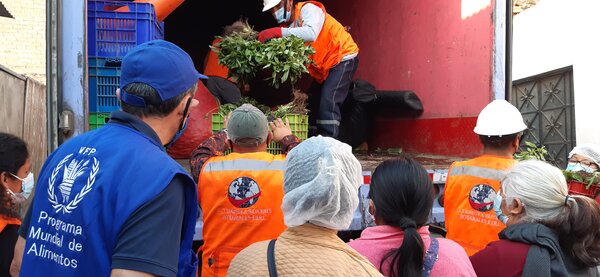 The team at Santa Rosa de Lima soup kitchen in San Juan de Lurigancho said that the volume of food supplies they received after this operation was six times their usual fortnightly delivery from Banco de Alimentos. 
During the past six months, thanks to the support of USAID's BHA, more than 600 tons of food have been rescued. 
Following this successful pilot, WFP Peru is expanding its food rescue operations, together with Banco de Alimentos, in various regions of the country, with the support of agro-industrial and agro-export companies. In the next few months, this alliance will multiply the strength of Banco de Alimentos' operations to provide support and help combat hunger during the pandemic.
Get involved: Reducing your own food waste can contribute to  stronger food systems by reducing gas emissions, while also helping to fight hunger by turning the money you save into lifesaving food for those who need it most, through WFP. Learn more at wfp.org/foodwaste.
Now is the
time to act
WFP relies entirely on voluntary contributions, so every donation counts.
Donate today