Rome's rival football clubs join forces to support the World Food Programme
Players kick off 'Stop the Waste' Campaign, highlighting the impact of food waste on global hunger
, Staff Writers
Fierce rivals by tradition, football clubs Roma and Lazio, of Italy's top-tier Seria A league, have found common cause: supporting the World Food Programme's Stop The Waste campaign.
On Sunday, Lazio players sported blue shirts emblazoned with the organization's logo in support of WFP Italia. The drive, now in its third year, aims to raise awareness around how food waste plays into the hands of global hunger. 
Based in Rome, WFP feeds 100 million people in more than 80 countries in the face of conflict, climate change and the coronavirus pandemic.
Roma players wore their shirts in a match against Torino FC on Thursday at Rome's Olympic Stadium, kicking off the collaboration.
Before the game, the club tweeted: "This evening we will wear a special t-shirt with WFP logo. In the next two years,  A.S. Roma football club will promote WFP through a series of joint-initiatives". Another tweet showed Roma midfielder Lorenzo Pellegrini, during the game.
At the same ground on Sunday, it was Lazio's turn to wear WFP-logo shirts in a match against Napoli.
Before the game, WFP Italia-branded shirts were presented by Lazio representatives to WFP's Deputy Executive Director Amir Abdulla and President of WFP Italia, Vincenzo Sanasi D'Arpe.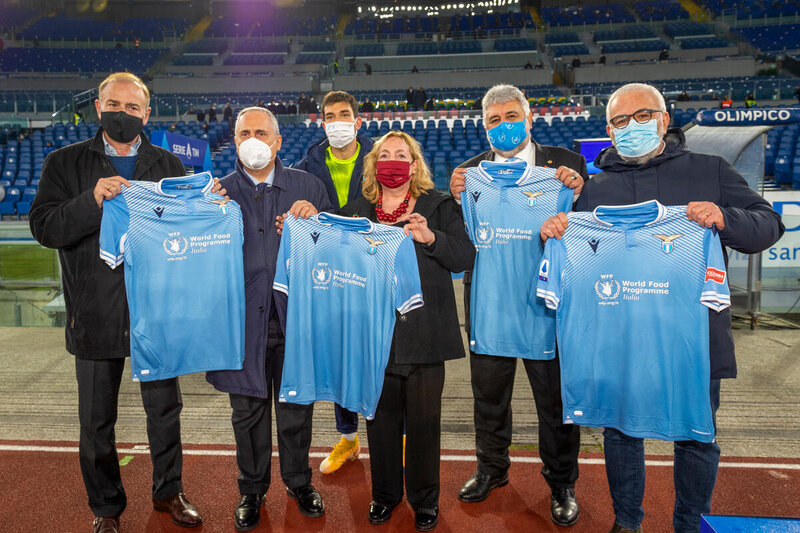 Abdulla said: "We welcome this initiative ... which will raise awareness among the Italian public about food waste and the fight against hunger, which still affects 690 million people worldwide. Only working together as a big team—UN, governments, civil society, private sector—can hunger really be defeated."
The pair were joined by Italy's Deputy Minister of Foreign Affairs Emanuela Del Re, and Marco Lucchini, Secretary-General of Banco Alimentare, an international organization that distributes collected foods to people in need, and which is contributing to the partnership.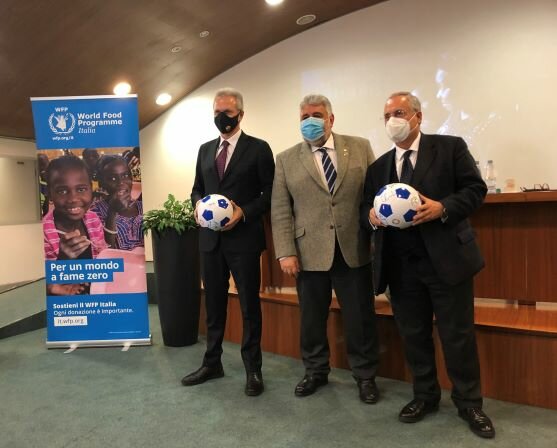 As part of the collaboration, players are being encouraged to advocate for healthy diets in public engagements and on social media, while pressing home the importance of reducing food waste.
The players' shirts with the WFP Italia logo will be auctioned early next year and revenues will go to the World Food Programme. In October WFP was named 2020 Nobel Peace Prize laureate.