Salome's story: How one woman is coping amid conflict and hunger in Mozambique
As World Food Programme funds dry up, heroic efforts to overcome tragic events are put in peril
, Denise Colletta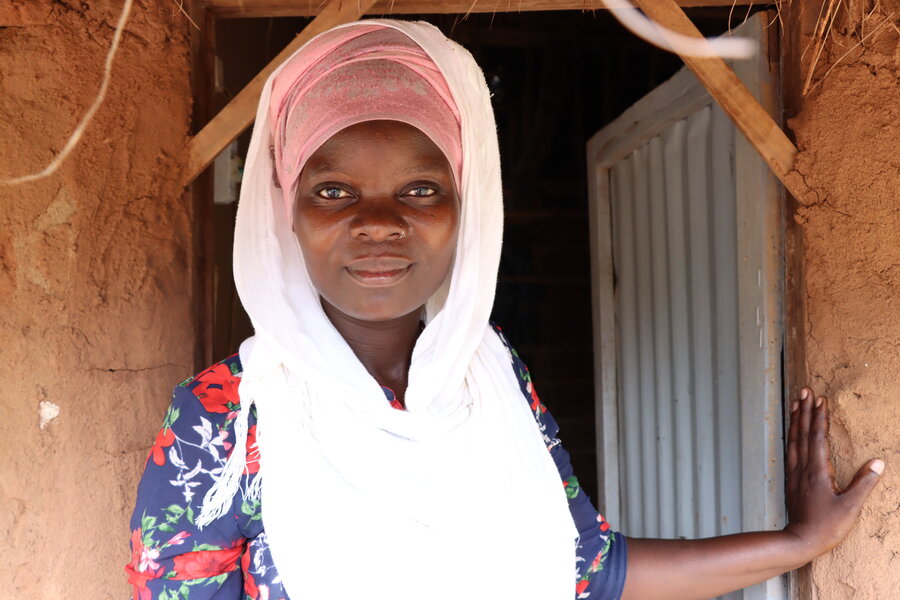 "When I came back home, they were already attacking us," says Salome. "My house was destroyed. I lost eight people from my family. My husband and my eldest son were killed. I managed to escape by foot, then I sold what jewellery I could grab to pay for my rides to meet my other children."
Before the very fabric of her life was ripped apart, she had been doing well, importing fabrics and clothes from Tanzania into her homeland, Mozambique – but fortune takes cruel twists in conflict-stricken Cabo Delgado, a province severely affected by the climate crisis. 
As the secure life she'd built in her hometown, Muidumbe, crumbled, she became one of a million people who've become internally displaced in Mozambique in recent years. 
WFP assists families fleeing Cabo Delgado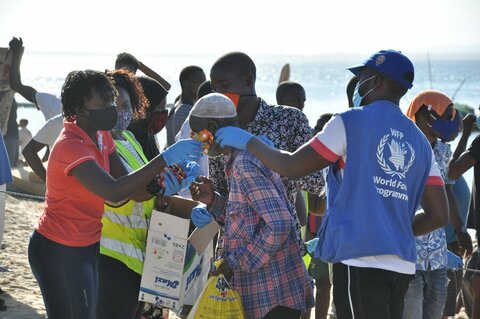 Salome and her children now live in a shelter that she built on a borrowed plot amid the relative safety of neighbouring Nampula province. 
Attacks in Cabo Delgado started five years ago. The region has the highest rates of malnutrition in Mozambique and in 2019 it was battered by the deadly cyclone Kenneth.
But it was only last year that Salome started seeing the threat getting closer to her village. Hearing rumours of horrors carried out against women and girls, she decided to flee with her two daughters, aged 10 and 7, and her 2-year-old boy, to her grandmother's home in Nampula. 
"Your father and brother went on a trip," she tells her children – keeping her grief to herself.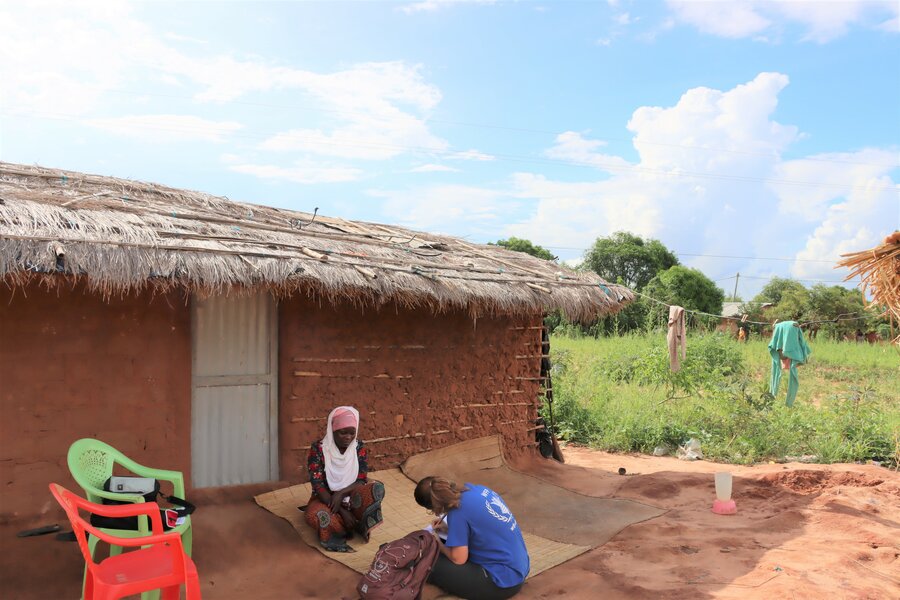 Until last March, Salome's family received a 50 kg bag of rice every month, along with 10 kg of beans and 5 litres of vegetable oil, from the World Food Programme (WFP). By April, funding shortages had forced WFP to halve food rations to all displaced families. People in situations as desperate as Salome's now face the prospect of going hungry unless WFP finds additional resources.  
"WFP's funding situation is worrying," says Antonella D'Aprile, WFP's Country Director for Mozambique. "If no funds are received now, WFP will be forced to suspend all its life-saving assistance to 1 million people by February 2023."
This is a call to action: January is the peak of the lean season. Sadly, it's cyclone season too. Food becomes more expensive as farmers await harvest time. Salome knows this only too well.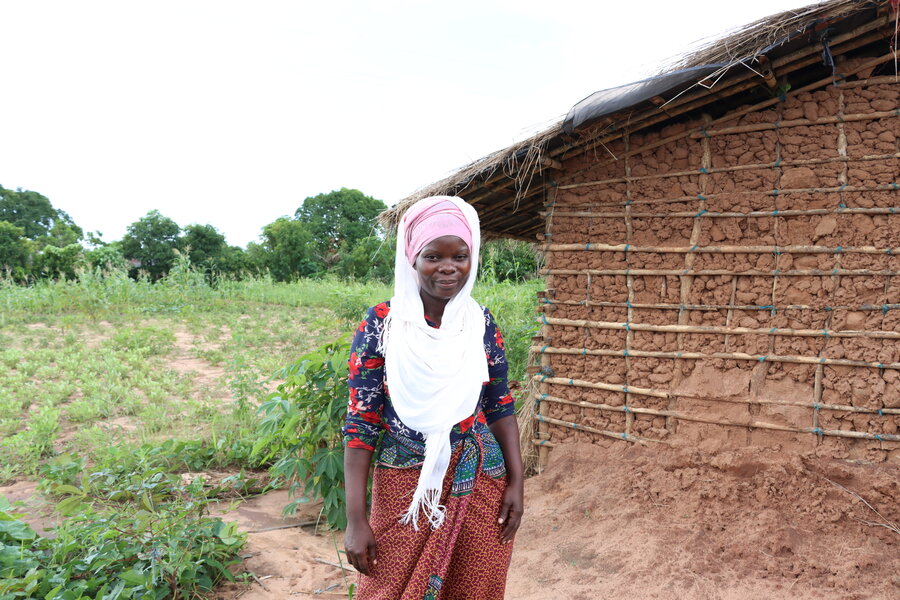 "I was trying to rebuild my life in Nampula. I borrowed this place and built myself a house," she says. "But storm Ana came and destroyed one side of the house. Then cyclone Gombe hit and the house collapsed. The only thing left was this wall. But I don't give up because of my children."
Mozambique is one of the countries most vulnerable to climate change. This year the cyclone season was particularly active – three tropical storms and one cyclone hit the north and centre of Mozambique, affecting 900,000 people. Houses were destroyed and fields were inundated, condemning communities to further hunger and malnutrition. 
Climate callouts put women one step a head of crises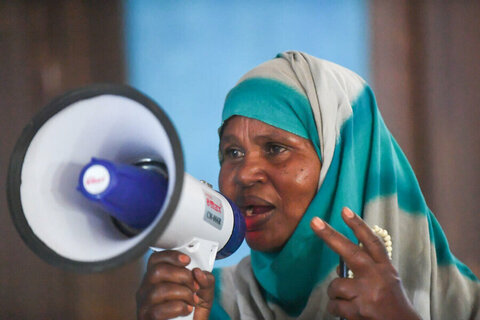 Salome sowed seeds on a borrowed plot near her new home. But her newly cultivated field was destroyed by the storms and cyclone. 
"I had started growing my crops there. I got the minimum. Cyclone Gombe washed everything away. I had planted rice – all the rice got lost. It is like I was living the armed attacks all over again. All was gone," she says.
Salome was only able to save the peanuts. Besides the rice, beans and oil given by WFP, the peanuts are the only different food she has to feed her children. 
"Nowadays we survive thanks to WFP. All my rice was lost," she says. "All cashew trees were laying down. I felt I was falling on a hole. I had to bend down to collect at least the peanuts to take some food home. But I don't give up."
Despite the widespread violence in the north of Mozambique and the funding situation, WFP has managed to expand the delivery of food and nutrition to remote areas, reaching more than 1 million people thanks to the support of the United States of America, European Union (ECHO), Germany, France, Italy, Sweden, Norway, Ireland, UK, Japan, Canada and Saudi Arabia.
Now is the
time to act
WFP relies entirely on voluntary contributions, so every donation counts.
Donate today