School meals + cash transfers = better nutrition and more local jobs
'My kids come home and even start teaching us — the parents — what food is healthy and what is not'
, Dominique Magada
School meals have been a critical element of the World Food Programme's (WFP) work for over five decades — helping create healthier, educated children who are better placed to escape the cycle of poverty.
But what happens when you combine the approach with a much more recent innovation — cash transfers?
A pilot project in Armenia is testing just that, with WFP transferring cash directly to schools so they can select their food from local producers.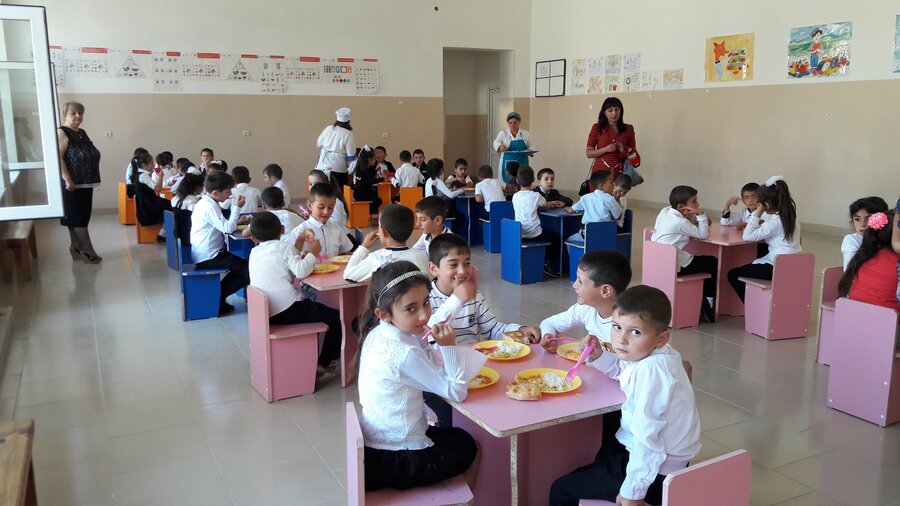 The northeast province of Tavush is the first to benefit from this innovative approach — supported by the Russian Federation — covering 7,594 children in 74 primary schools.
So far, WFP has been supplying meals to 60,000 primary school children in six of Armenia's ten provinces, as part of the government's national school feeding programme supported by the Russian Federation.
With the new approach, WFP is now providing an allowance of 120 Drams (US$0.25) per child per day directly to the school, for the 180 days of the academic year.
It also gives the schools a list of 20 products to be included in the food basket, to help ensure a nutritious and well-balanced diet.
Schools spend about 90 percent of the money on locally produced food in Tavush or in neighbouring provinces, providing a boost to agricultural development.
WFP also supports the registration of local retailers in an e-tendering process for supplying the food. So far, 38 local retailers have been contracted, helping improve their incomes and the local economy as a whole.
Greater involvement from parents
Through their own school committee, parents are involved in buying the food and managing the kitchen — creating job opportunities for local people that helps them feed their families.
Nune Melikyan, a parent at Nerkin Karmir Aghbyur School in Tavush Province, explained the positive impact of the initiative: "Making the meals more diverse has made all the parents happy, and kids' enthusiasm about the school and classes has also grown," she said. "My kids come home and even start teaching us — the parents — what food is healthy and what is not."
WFP is also supporting the creation and renovation of school gardens and orchards, to provide healthy fresh fruits and vegetables for the children.
"My vision is not only that children eat good nutritious food, but also that with the meals programme we can trigger a social development," said Erika Sevanyan, headmaster of the Dilijan 4 primary and secondary school.
School meals today to contribute to future growth tomorrow
Armenia is a relatively young country in the Caucasus region, suffering from serious economic problems since the collapse of the Soviet Union. It is also extremely vulnerable to natural disasters and climate risks.
"In a country with almost one person in three people living below the poverty line, one in six food insecure and one in three at high risk of food insecurity, and facing a double burden of malnutrition together with micronutrient deficiencies, feeding children in Armenian schools lays the ground for future generations to grow healthy and thrive," said Pascale Micheau, WFP Country Director, based in Yerevan.
Following the positive results in the Tavush school feeding programme, WFP and the Government agreed to introduce cash transfers to other provinces, with the aim of a full handover to the Government of Armenia by 2023.