South Korean footballer Son Heung-Min kicks off WFP Goodwill Ambassador role
Soccer superstar steps up to support as World Food Programme responds to a global hunger crisis
, Peyvand Khorsandi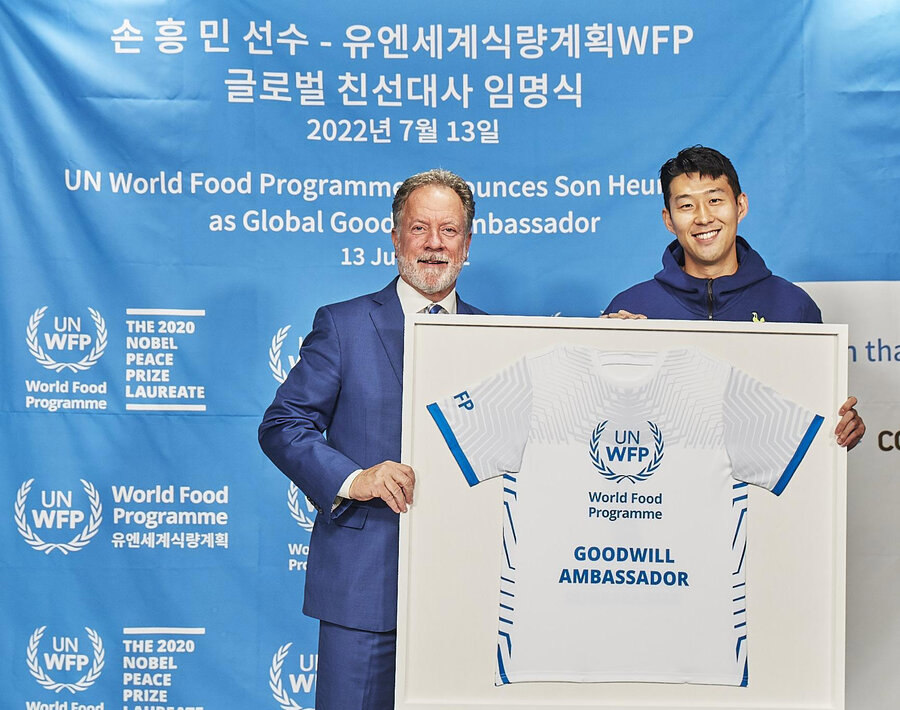 International soccer superstar Son Heung-Min has joined the World Food Programme (WFP) as a Goodwill Ambassador – the South Korean joins a host of high-profile figures lending their support to the organization as it seeks to respond to a global hunger crisis of unprecedented proportions. 
Son, 30, transferred to English Premier League team Tottenham Hotspur from the Bundesliga's Bayer Leverkusen in 2015, having moved to Germany, aged 16, to play for Hamburg SV.
"My own experience of overcoming enormous challenges with courage and positivity during my teenage life abroad and being away from my family encouraged me to be able to support people in challenging situations," he said in a statement. 
Watch Son Heung-Min in WFP 'We Deliver' video
"As a WFP Goodwill Ambassador, I will be a voice to support the mission to end hunger as the pathway to global peace and stability – for the people recovering from conflict, disasters and the impacts of climate change." 
He added: "My passion and courage in the football field will continue to extend beyond the playing field to support WFP operations."
Son, an attacker, and his Spurs teammates took part in a friendly match with leading footballers from Korea's K-League at the Seoul World Cup Stadium on Wednesday (13 July). 
War in Ukraine: WFP marks three months of meeting surging food needs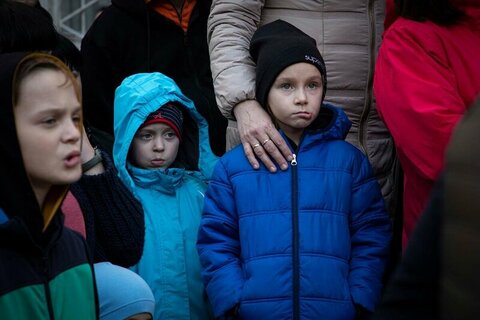 "We are thrilled to welcome Son Heung-Min, a true star of the footballing world to the WFP family," said WFP Executive Director David Beasley. "With Son on our team, we're more determined than ever to kick hunger into touch." 
He added: "Son joins us at a crucial time when an unprecedented 345 million people are marching toward starvation, and another 828 million go to bed hungry each night. I hope his compassion will inspire soccer fans all over the world to join our campaign – we truly need all hands on deck to avoid a global hunger catastrophe," Beasley added.
Last year, Son collaborated with WFP by lending his voice to its Korean-language 'We Deliver' video which drew a powerful parallel between scoring goals on the pitch and WFP's emergency responses.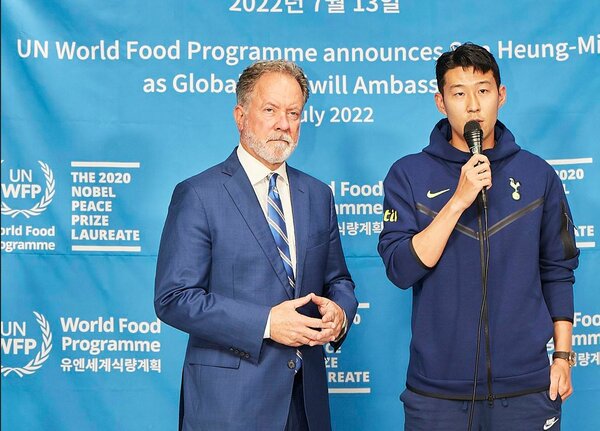 "Son's message has captured the heart of every Korean," said Marian Yun, Director of WFP's Office in Seoul. "He embodies the spirit and legacy of a country that was once a war-torn recipient of WFP assistance to now emerging as one of the most developed countries in the world.
"Korea's own development story of ending poverty and hunger stands as a brilliant example of what WFP strives to achieve in the countries where it operates."
As a Goodwill Ambassador, Son follows in the footsteps of Canadian singer-songwriter Abel Tesfaye (aka The Weeknd) and US actor Kate Hudson, among other public figures. 
Forbes Korea's Power Celebrity top 40 ranks Son as the third most influential in the country, behind pop bands BTS and Blackpink.
The appointment is a welcome development as WFP warns the world is at a 'critical crossroads' – immediate action is required with 50 million people in 45 countries teetering on the edge of famine.
With the number of people facing acute food insecurity having soared – from 135 million to 345 million – since 2019, WFP is calling for US$22.2 billion to reach 152 million people.
Now is the
time to act
WFP relies entirely on voluntary contributions, so every donation counts.
Donate today