A glimpse at typical rooms of Syrian refugee families in Lebanon
, Edward Johnson
During four years in Lebanon, I've visited the homes of around 500 families. All are Syrian refugees who receive cash from the World Food Programme (WFP) to buy food. During most of these visits, I've poked my head around a corner and had a peer into the kitchen — the final destination of food bought with WFP cash. Five-hundred kitchens later, here are a few of the trends I've found and how these spaces reflect the journeys and lives of those inside.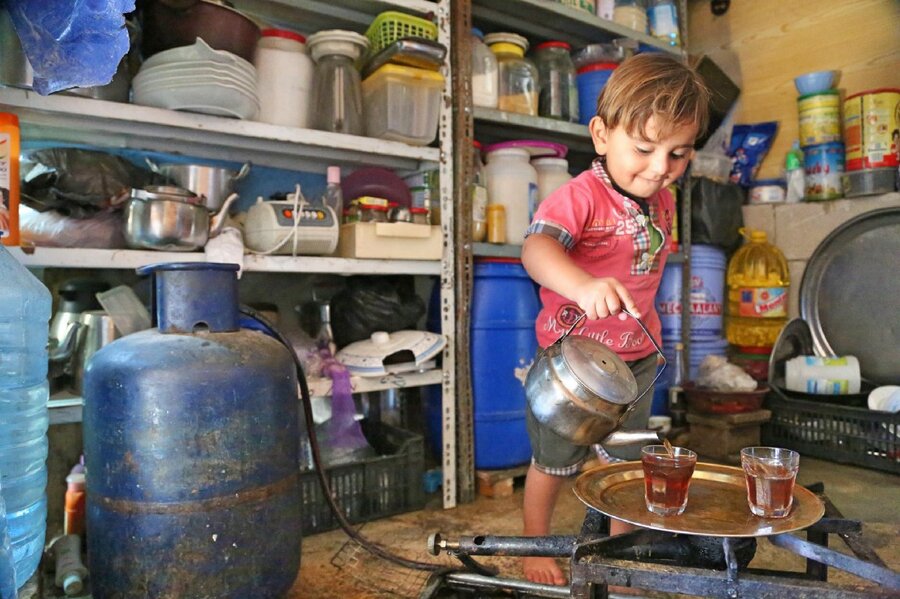 The damp-to-sodden floors are a sign that kitchens are not solely spaces for food storage and preparation. Many families, especially those in rural areas, live in dwellings built by hand. They often have just one water inlet and outlet, meaning that kitchens frequently double up as wet rooms.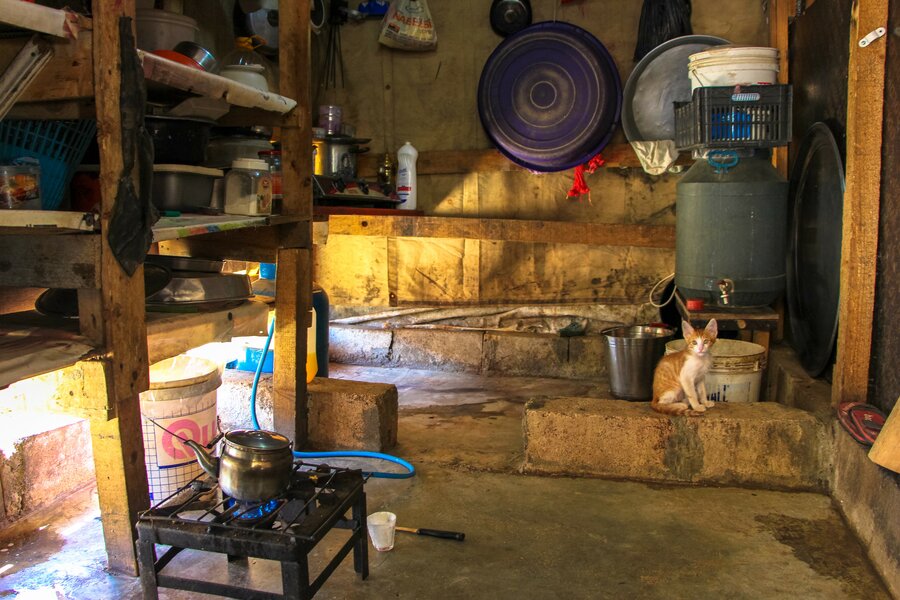 Divisions the height of one stone block are sometimes used to keep the water confined to a particularly wet area. They can also double up as ledges for pets who want to stay dry.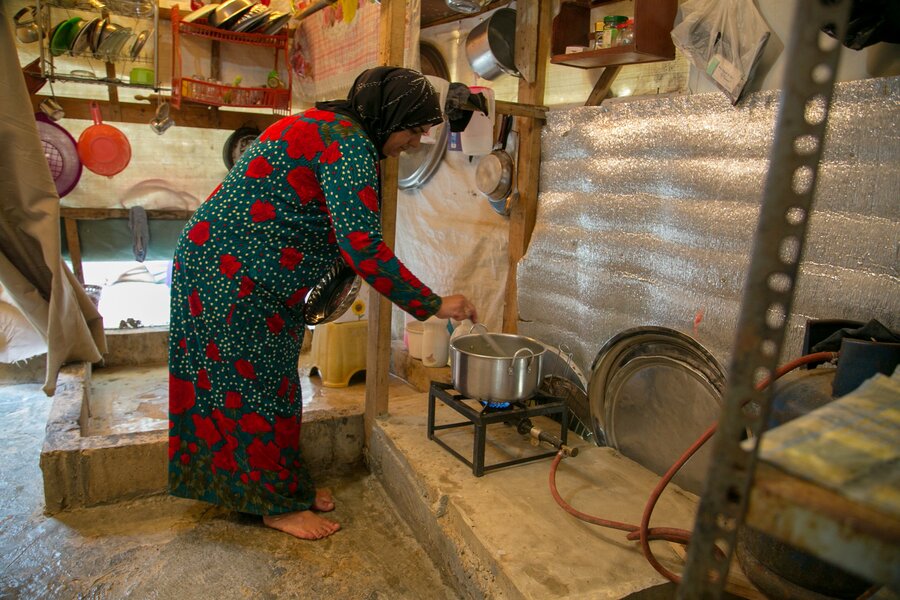 Fatima explained that her life was "in chaos" when I visited her, with six children to cater for in a two-room house in north Lebanon. Her husband built their home in one week when they arrived from Syria a year ago. He mostly used timber and frames sourced from scrap yards and demolition sites nearby. The pots and burner were bought with their remaining savings and the multi-purpose cash they receive from WFP each month.
Each family member receives US$27 each month plus US$175 for the family. This kitchen wet room is where she cooks for her six children each day. Lentils and carbohydrates are frequently on the menu as they're filling and cheap.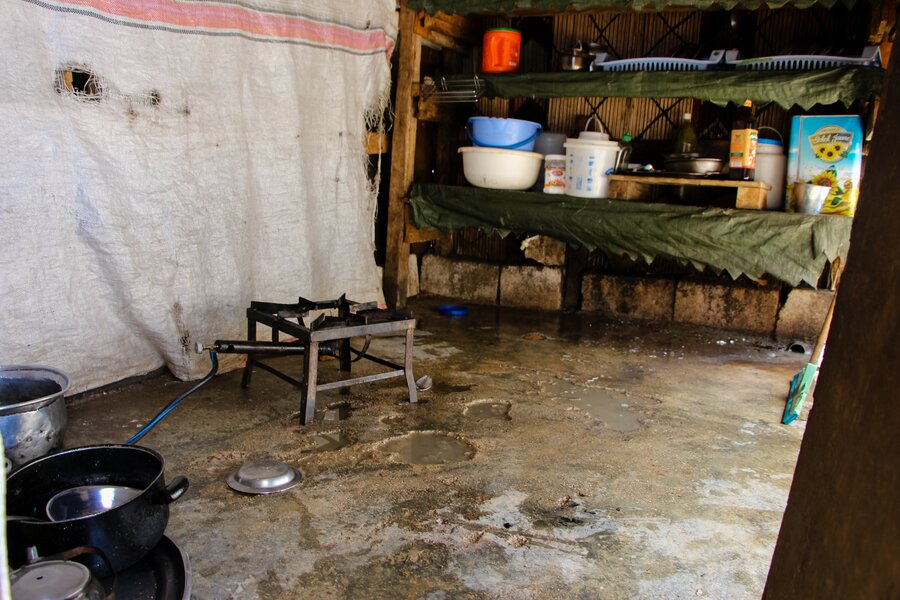 I cannot recall seeing an oven or even a second burner in anyone's kitchen. These small metal frames above can be bought for a couple of dollars. When gas is cheap and electricity seldom available, it is the best way for many families to make a hot meal.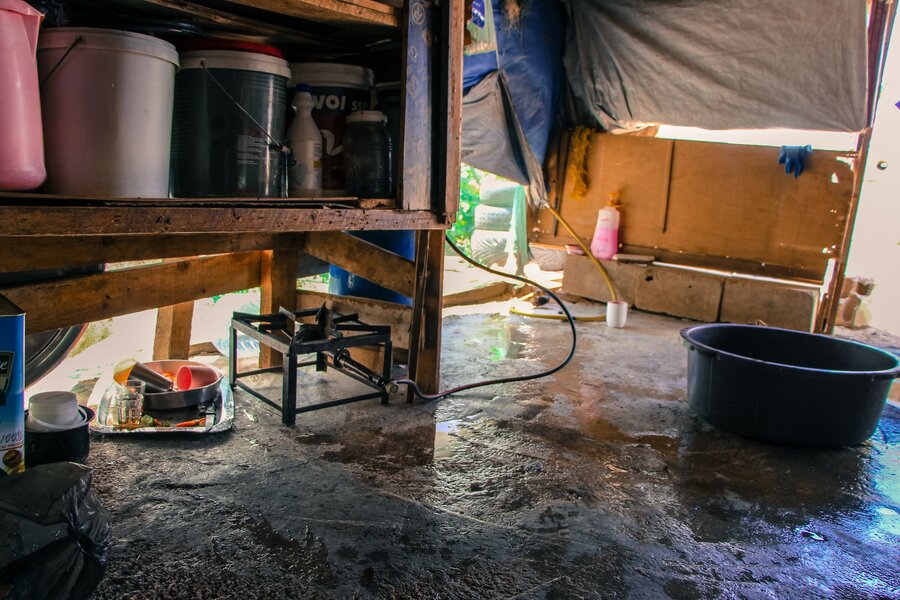 In 2017, I wrote a story about Mohamad, a boy who loves tea. When he isn't playing in the fields surrounding his home, he's usually found in the kitchen preparing a brew. His kitchen is typical of many Syrian families living in the Bekaa — there are plastic products piled high and a burner in the middle of the room. It's a communal hub for the family.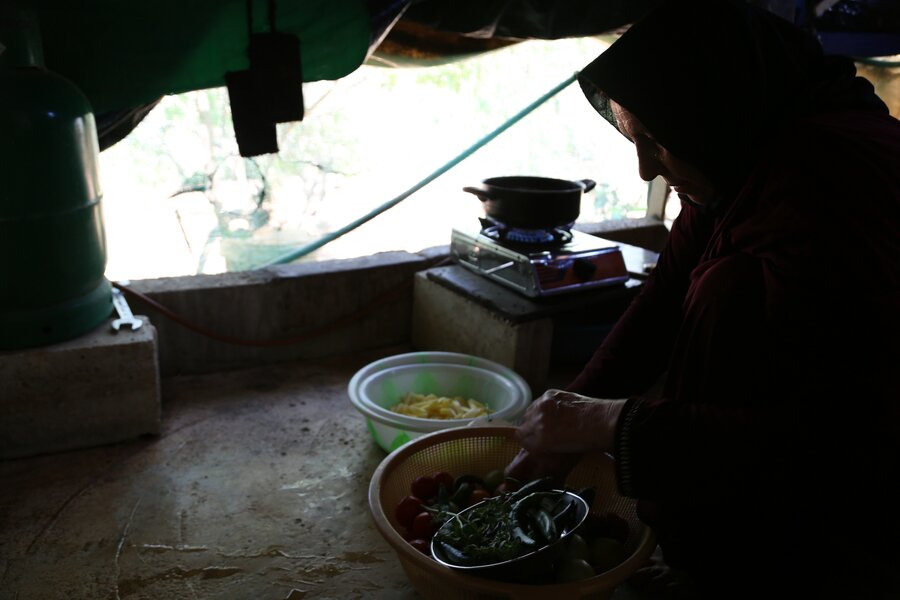 Khadija lives in a shelter made by an olive farmer out of concrete and plastic sheeting. In exchange for tending to the grove, the family lives rent-free and Khadija shares her income from WFP — US$27 a month — with her family. There is no spare money for healthcare, education for the children or electricity for the shelter. She mostly stays indoors in the dark, crouched down cooking potatoes, tomatoes and beans on the family's sole burner.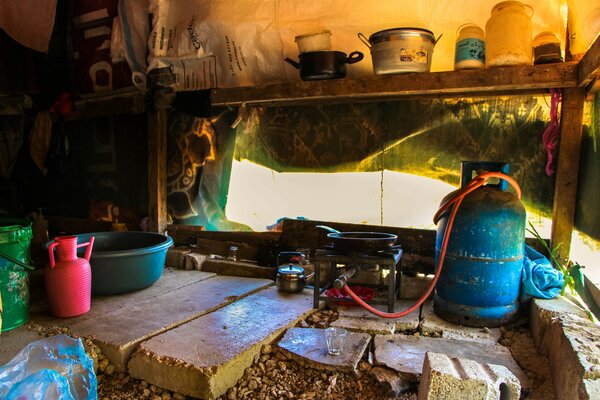 You will only find a wet floor where there's actually a floor though. For families still building their homes or who just cannot afford to put one down, the earth is an alternative base. While the dry ground will soak up any liquid in the scorching summer, the inverse can cause catastrophic problems during winter.
In January this year, several families told me how they protected their homes from flooding by blocking the doors, but "the water came from everywhere; through the roof, the walls, even up out of the ground."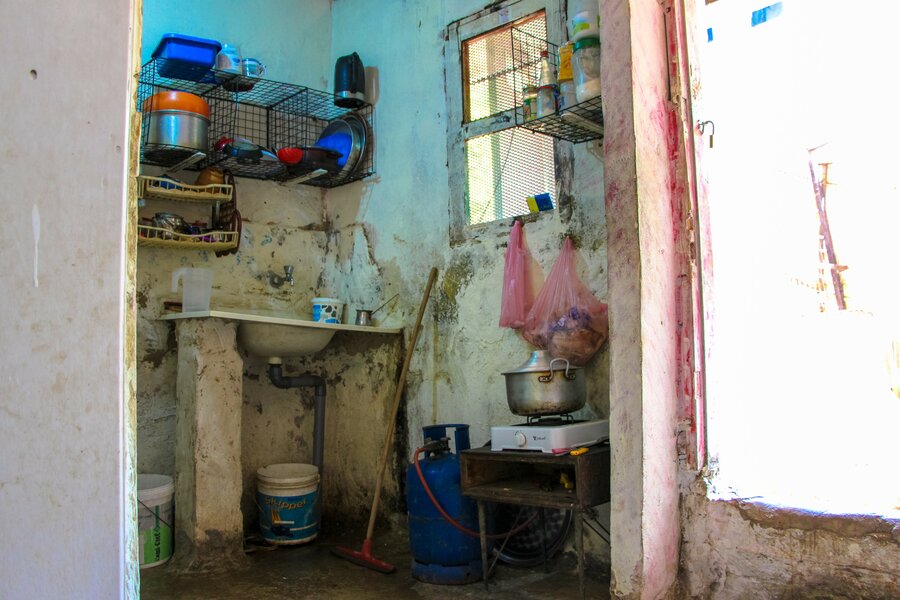 Families in urban environments, often drawn by the higher likelihood of finding employment, often have smaller kitchens. In the heart of Beirut, one mother told me how she uses cash from WFP to cook chicken twice a month on her burner in this wet-room kitchen.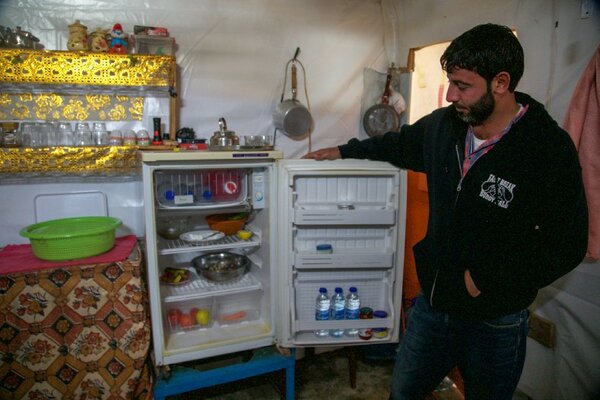 One of the few kitchens that I saw equipped with working space belongs to Hussein. The handyman extraordinaire, proficient in construction, plumbing and electrical engineering, proudly showed me the fridge he found as scrap and brought back to life.
While it is now stocked, that wasn't always the case. It took a while in Lebanon before Hussein and his wife Samira received an e-card from WFP loaded with cash to buy food. "The first time we went to the shop, we bought Mohamad [their son] a chocolate bar just because we could. Before then, it was just bread and handouts," explained Samira.
Nobody wants to be a refugee. Everyone who is one only wants their experience to be temporary. The level of investment in a new home is therefore minimal — also because people fled with only the belongings they could scoop into a bag. They didn't pack pots and utensils.
Kitchens are cluttered with plastic buckets and metal trays and surrounded by plastic roofs and walls. It's all wipe-clean, cheap and disposable. These are the temporary kitchens of hundreds of thousands of Syrian families in Lebanon.