Typhoon Rai: WFP offers Philippines telecoms and logistics support
Storm has claimed 375 lives and displaced more than 600,000 people - World Food Programme urgently needs US$310,000 to assist
, WFP Staff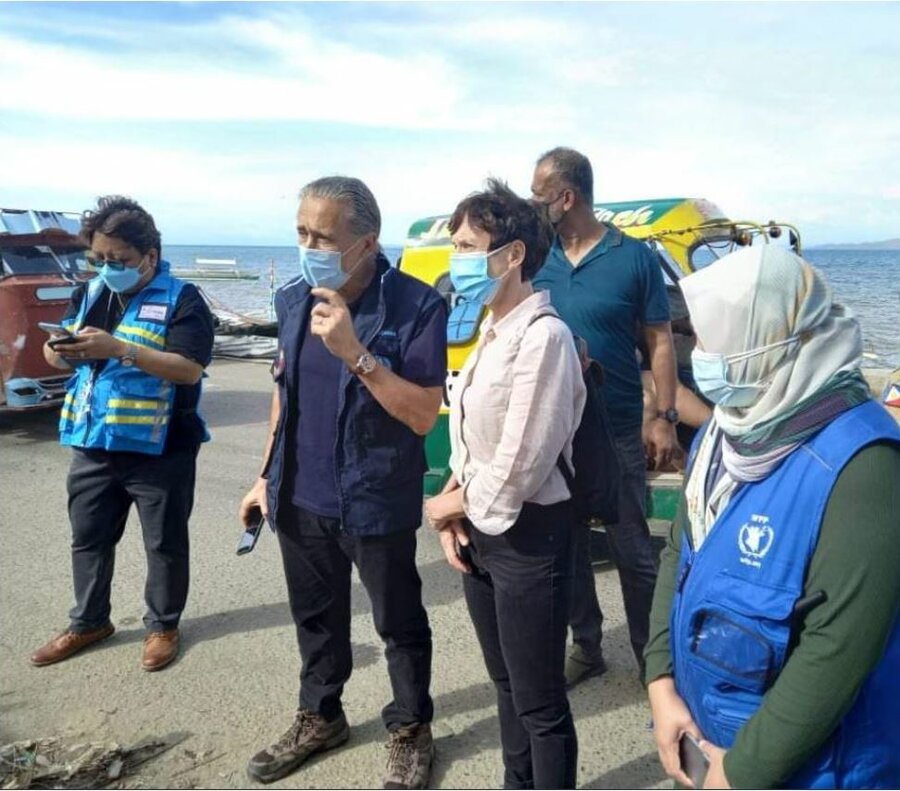 The World Food Programme (WFP) is among humanitarian agencies responding to the strongest cyclone to hit the Philippines this year – typhoon Rai, which struck last Thursday (16 Dec), has killed at least 375 people and left around 500 injured, disrupting communications lines and supply routes. 
Around 662,000 people are displaced with with 418,371 people staying in evacuation centres, according to the UN. 
"Our thoughts are with the families who have been through so much – the ongoing COVID pandemic and now this devastating typhoon," said WFP Country Director Brenda Barton. "WFP stands firmly with those living on the frontlines of climate change. Under the Government's leadership, we will do what we can to help communities recover from this ordeal and continue building their resilience against future shocks."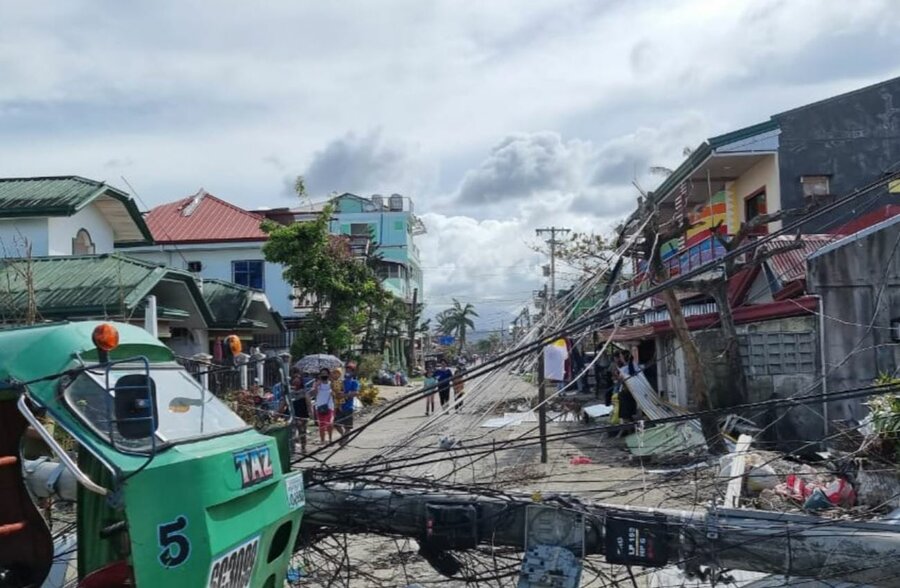 According to a WFP press release, 23,000 hectares of agricultural land have been destroyed with 12,750 farmers affected. "Typhoon Rai hit as the rice crop was about to be harvested and crop loss will compound the problems for the poorest households," it stated. "Malnutrition and food insecurity are high in many places, particularly the Caraga region which is the most affected by the storm."
Known locally as 'Odette', the typhoon made landfall in Siargao, an island popular with tourists, bringing torrential rains, heavy winds, surge storms and landslides. It has destroyed homes, flooded roads and cut off communities. 
After passing through nine central and southern regions, it left the Philippine Area of Responsibility on Sunday (19 Dec), with a trail of destruction in its wake. More than 1.8 million people have been affected.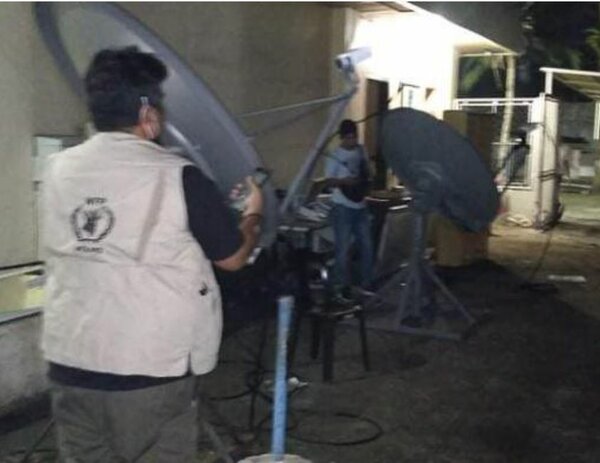 As of Monday (20 Dec), many communities along the typhoon's path have been without power and telecommunications, while transport obstacles are hampering the efforts of emergency responders. People in the Philippines had already been beset by the challenges of the ongoing COVID-19 pandemic restrictions, which have stretched coping mechanisms to the limit.
In collaboration with the WFP, the Government's Department of Information, Communications and Technology has rapidly deployed three, newly built Mobile Operations Vehicles for Emergencies (MOVE) from pre-positioned bases in Butuan, Davao and Tacloban, to the disaster zones in Surigao City and Maasin City in Leyte. 
MOVE is providing critical connectivity which enables Government coordination and response, after communications infrastructure was damaged. 
WFP IT staff on the ground have also helped set up portable MOVE sets in Siargao island, and are now working on Dinagat island.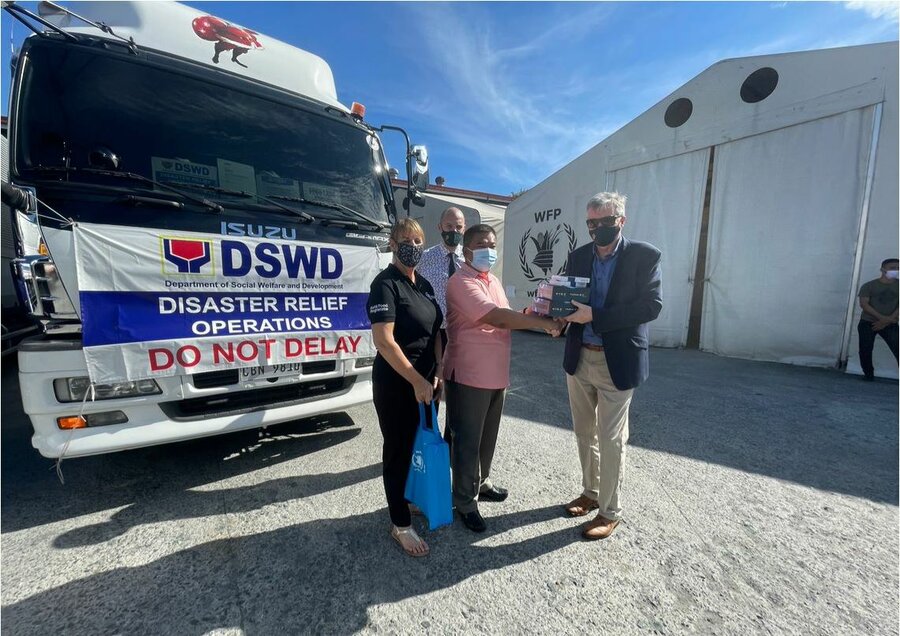 These are part of six MOVE units that WFP co-designed and produced with the Government to strengthen its telecommunications capacity during such emergencies. WFP has donated 12 portable satellite communication devices to the Government, to help the authorities coordinate its response from remote areas; along with two mobile storage units and a generator for establishing a logistics hub in Surigao City.
WFP is also providing critical logistics support to transport 70,400 Government-supplied family food packs to affected areas.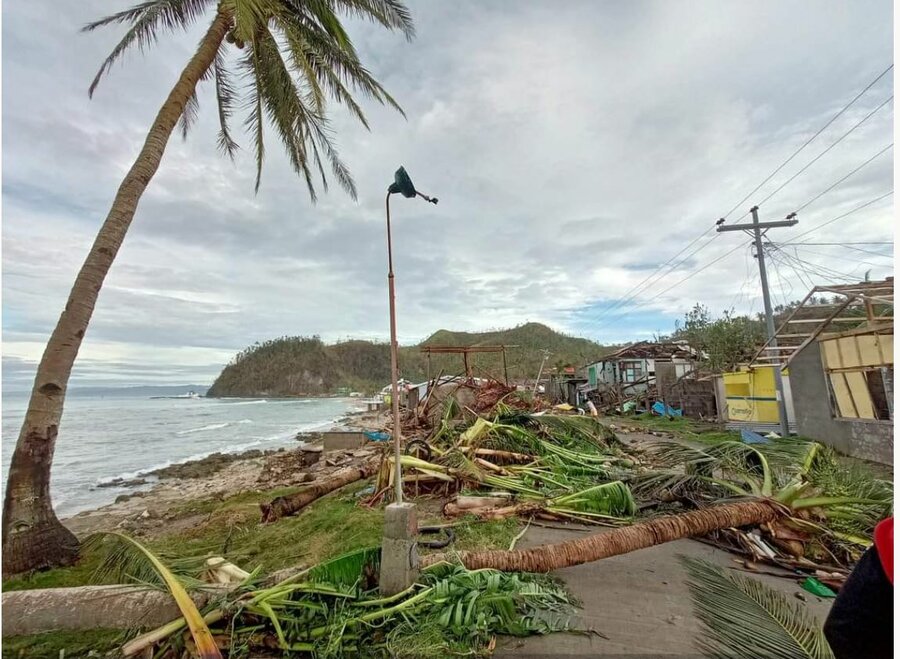 WFP and partners are closely monitoring the formation of another potential storm that could further impact areas already affected by Rai. WFP is also coordinating with UN sister agency the Food and Agriculture Organization to draft a response plan for the food security cluster.
As part of a coordinated response by the UN agencies, NGOs, and private sector partners, WFP will continue providing telecommunications and logistics support to the Government. For this critical support, US$310,000 is urgently required in the next two weeks. 
Now is the
time to act
WFP relies entirely on voluntary contributions, so every donation counts.
Donate Today