'Water is like gold here'
World Food Programme (WFP) initiatives help restore water resources and benefit the local economy in northeast Nigeria
, Patrick Fuller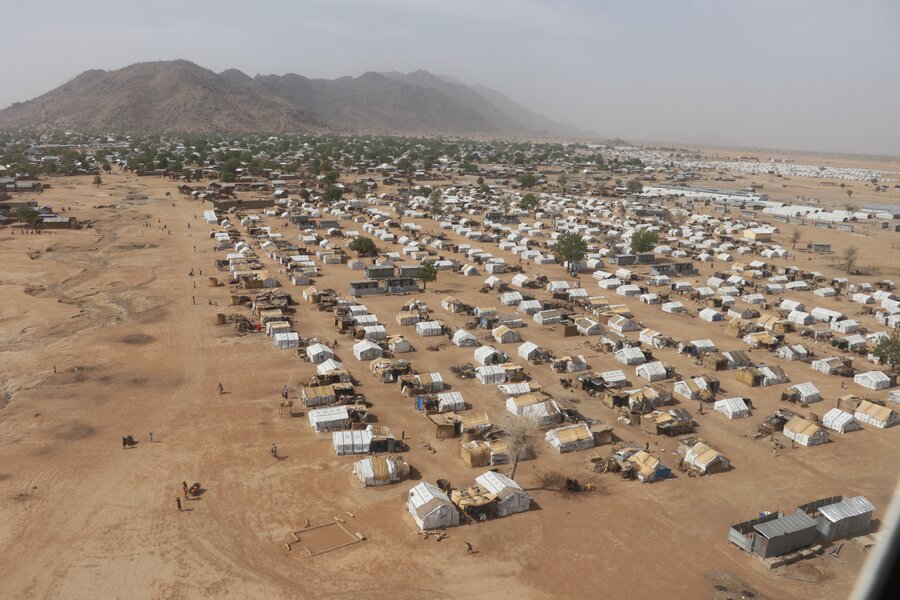 Amidst the flat sandy landscape of northeast Nigeria loom the beginnings of the Mandara Mountains, a volcanic mountain range which runs 190 km along the northern border between Nigeria and Cameroon. The mountains form a natural barrier between the two countries. They also serve as a refuge for non-state armed groups who have been fighting government forces for the past decade. Nestled in their foothills sits the town of Pulka.
Pulka bears the scars of war. Broken and graffitied buildings, destroyed infrastructure and potholed roads are the legacy of the conflict raging in Nigeria's northeast state of Borno, between non-state armed groups and government forces. Civilians have borne the brunt of this situation. Thousands fled Pulka when it was occupied in August 2014 and although government forces regained control of the town seven months later, it was only in 2017 that residents decided it was safe enough to return in large numbers.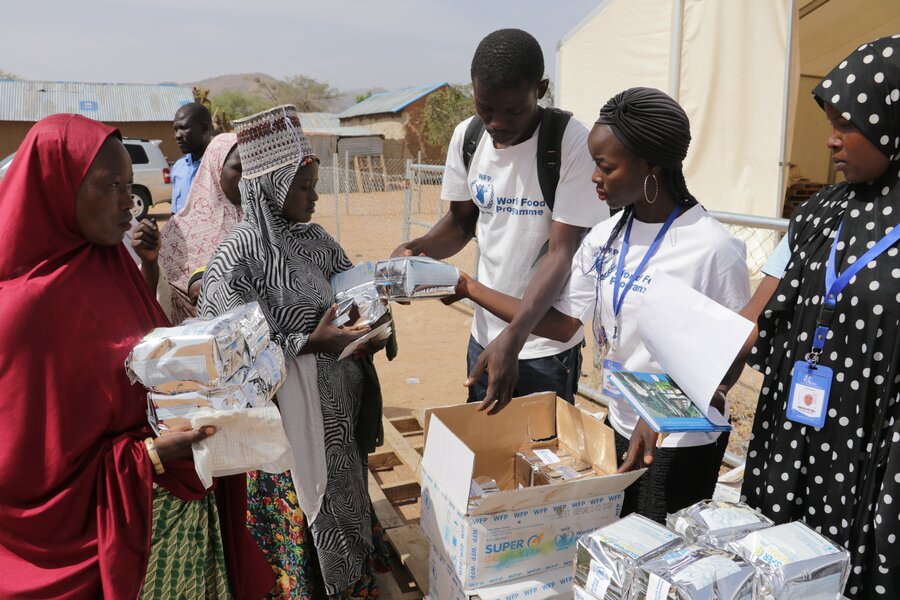 Now the town's population has swelled to 60,000, roughly half of whom are internally displaced people (IDPs) who moved here from nearby villages and now reside in six camps. Each month, a few hundred people arrive, escorted by the Nigerian military in organized returns from Cameroon.
Most are dependent on food provided by the UN World Food Programme (WFP). The organization is also keeping malnutrition levels in check with a nutrition intervention under which a monthly ration of fortified cereals is given to pregnant and breastfeeding women and children under 2.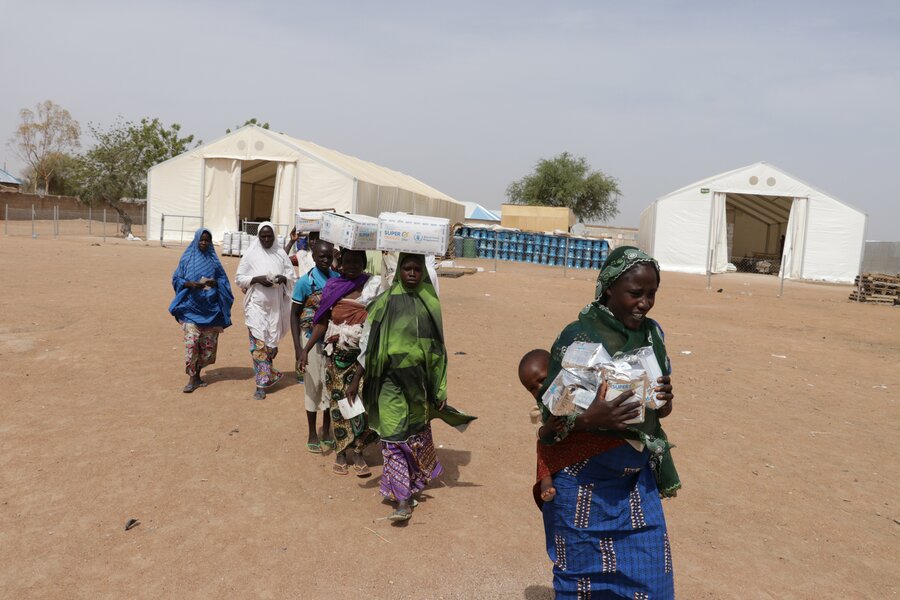 One of the biggest problems facing the people of Pulka is water scarcity. Supply from the town's seven boreholes — of which only two are functioning well — is barely sufficient to meet residents' daily needs, and water from public boreholes is strictly rationed.
Abubakhar Ahmadou is responsible for managing a borehole, which serves three camps in addition to local residents, for a total population of over 18,000. The taps here are opened at 7 a.m. sharp and water is provided on a first-come-first-served basis.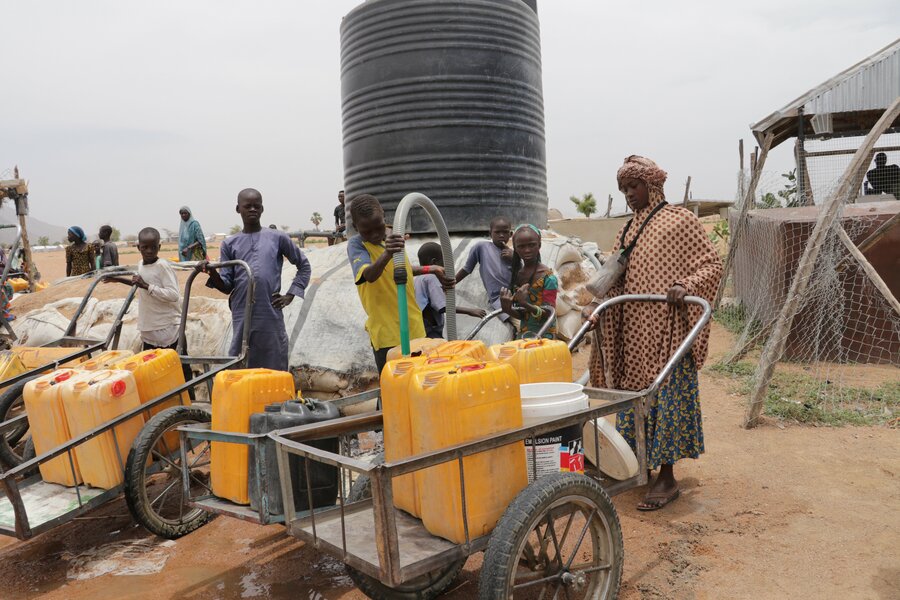 "About 2,000 people come here with their water carts every day. Usually there can be up to 300 carts in the queue," explains Abubakhar.
Lydia Yakubu fled Pulka in 2014 and only returned to her home in the neighbourhood of Balangelle three months ago from a refugee camp in Cameroon. She sits in the baking midday sun next to her cart, cradling her eight-month-old daughter Victoria. Lydia has been waiting in line for almost five hours to fill her three 25 litre plastic jerrycans.
"Even if I get here early, most days I spend between three to six hours in the queue," says Lydia. "This is my life. My husband has no income and we can't afford to buy water. There is no other choice, water is like gold here."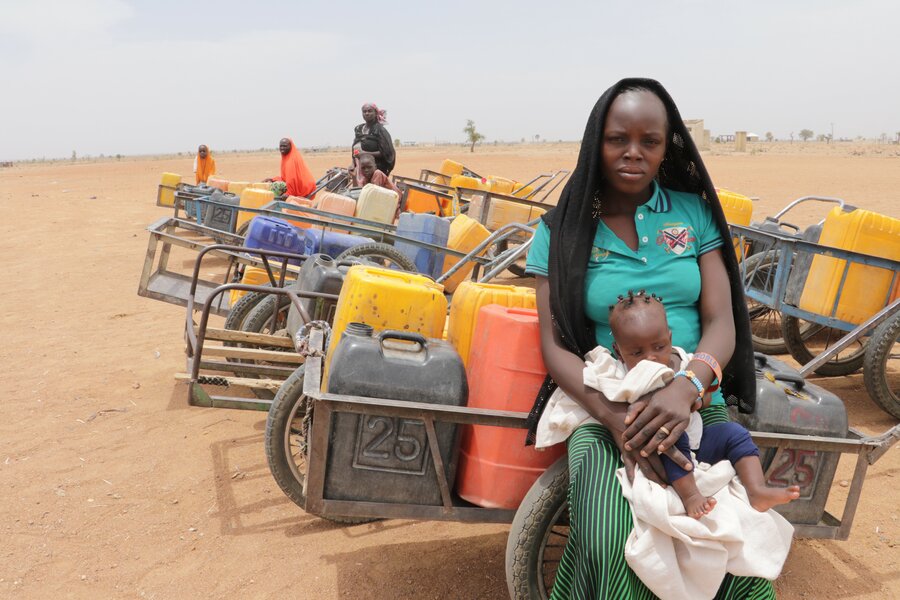 One project supported by WFP and the United Nations Development Programme (UNDP) is setting out to tackle the town's water crisis. Work has begun on rehabilitating a large dried-up earthen reservoir on the outskirts of the town, which fills with water during the rainy season. The reservoir is the size of two football pitches and a bulldozer is being used to reinforce the walls and deepen it by two and a half metres.
On its part, WFP has enrolled 720 households in the project. Most are gathering rocks from a nearby hill, which will be used to create a series of small check-dams in the water catchment leading into the reservoir.
During the rainy season, water cascades down from the surrounding hills along gullies into the reservoir."When it rains heavily, water comes down these dry gullies like a flash flood," explains Awash Mesfin, coordinator of WFP's livelihoods programme. "The check-dams are designed to reduce the force of the water so that it can be channelled into the reservoir. They also prevent silt from clogging up the dam."
The project should be completed before the arrival of the seasonal rains this month. When filled, the dam should collect enough water to last nine months benefiting residents as well as livestock and agriculture.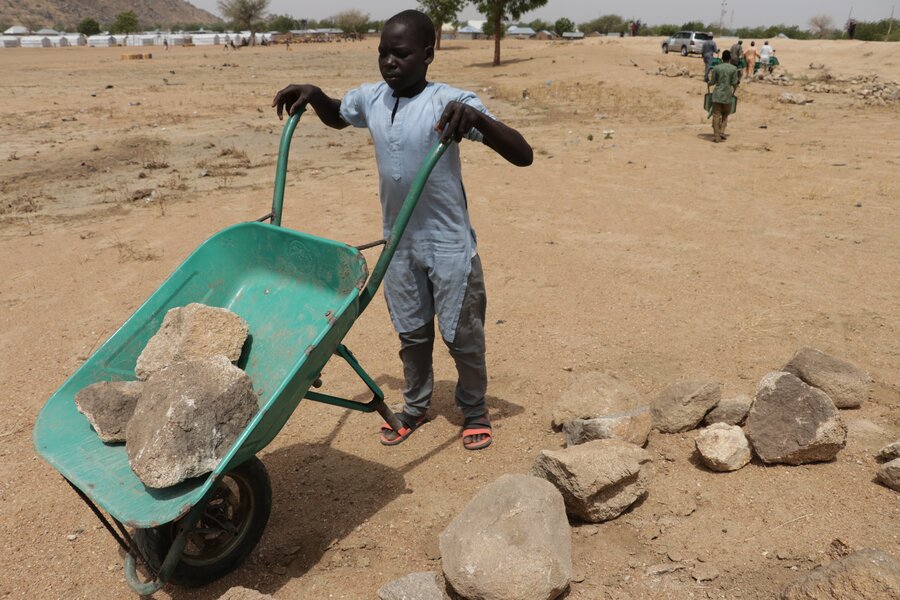 The restoration of the reservoir is one of six projects WFP is supporting to improve community infrastructure in the town. "Each of these projects is designed to improve the livelihoods and well-being of local people," explains Awash Mesfin. "They identified the projects according to their own priorities."
One of such priorities is revitalizing the local market that was hit by a bomb explosion. A team of residents — each contributing 15 days of labour in exchange for a month-ration of WFP food for their family — is renovating a section of the market.
"In 2009, a bomb blast by Boko Haram destroyed more than 20 market stalls here. Since then, it has fallen into further disrepair," explains Ahmed Ali, the head of the local market traders' association.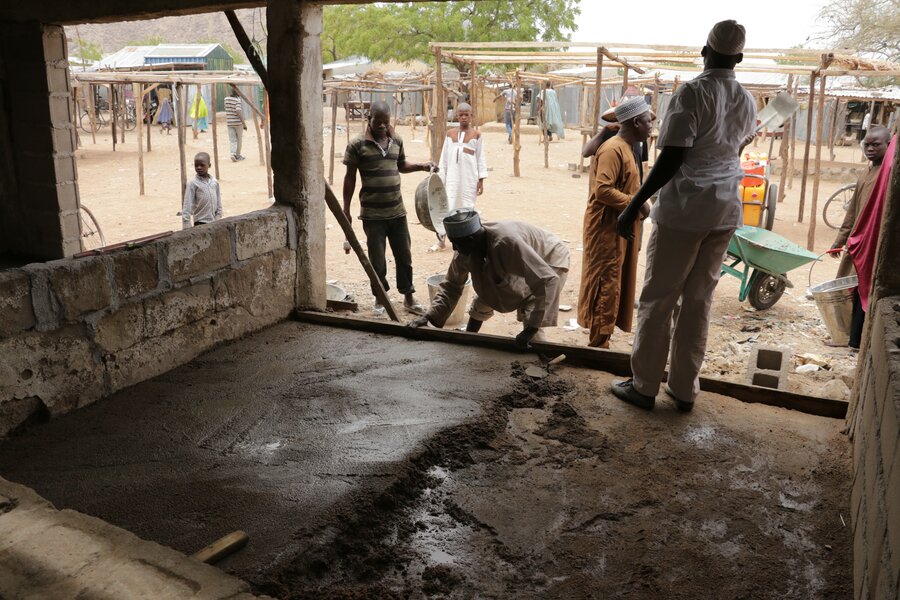 Restrictions on freedom of movement are constraining the development of the economy. Insecurity in the surrounding countryside has left Pulka difficult to reach by road, and commodities from the state capital Maiduguri arrive sporadically in army-escorted convoys.
"People here don't have much money to spend and many things that used to be plentiful in the market, like groundnuts, palm oil and fuel, are now in short supply," says Ahmed Ali, who is part of the team renovating parts of the market.
The damage the central marketplace has suffered serves as a reminder that the armed groups are still active in the area and peace may still be a long way away. The livelihoods activities are, however, bringing a feeling of hope, building a spirit of self-sustenance that had evaporated for years in Pulka.