WFP saves a massive stock of wheat from Yemen's frontline
The United Nations World Food Programme's saves food stored at the Red Sea Mills near Hodeidah nearly two years after Yemen's war had cut off access to half of the agency's stock of wheat in the country.
, Annabel Symington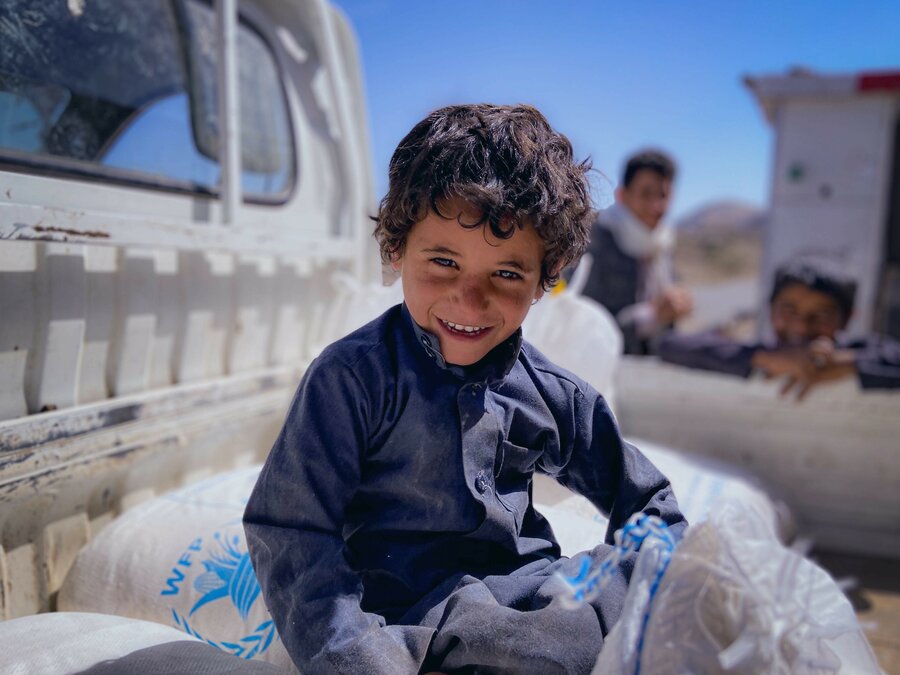 It was September 2018 and Yemen's war was pushing millions of people towards ever-increasing levels of hunger. Fierce fighting had raged all summer in the port city of Hodeidah, the main artery for commercial and humanitarian food imports into Yemen. The shifting frontlines had suddenly cut all access the huge silo complex, the Red Sea Mills, where 51,000 metric tons of WFP's wheat grain was stored.
"The Red Sea Mills in many ways became a symbol of the many challenges we face as we work tirelessly in Yemen to get food to those who so desperately need it."
The food — enough to feed nearly 4 million people — was suddenly inaccessible at a time when WFP was feeding 8 million people every month in an effort to stop Yemen from slipping into famine.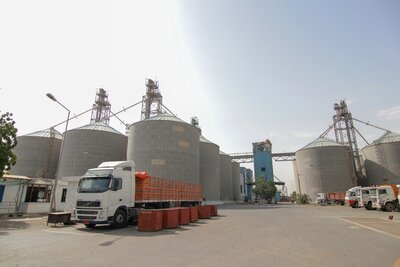 Last week, the last grain was transported out of the Red Sea Mills. As that final truck trundled out of the huge milling facility, it marked the end of a race against time to salvage the wheat and deliver it to the families who desperately need it.
A story of dedication
Inside each bag of flour saved from Yemen's frontline is a story of determination, dedication and success within a crisis that just keeps getting worse.
"Every time my phone rang in the middle of the night, my heart would jump immediately, worried that something had happened at the Mills," said Matthew Dee, Chief of Supply Chain for WFP in Yemen. "The team has done an outstanding job in incredibly difficult circumstances to get this wheat flour out of the Red Sea Mills."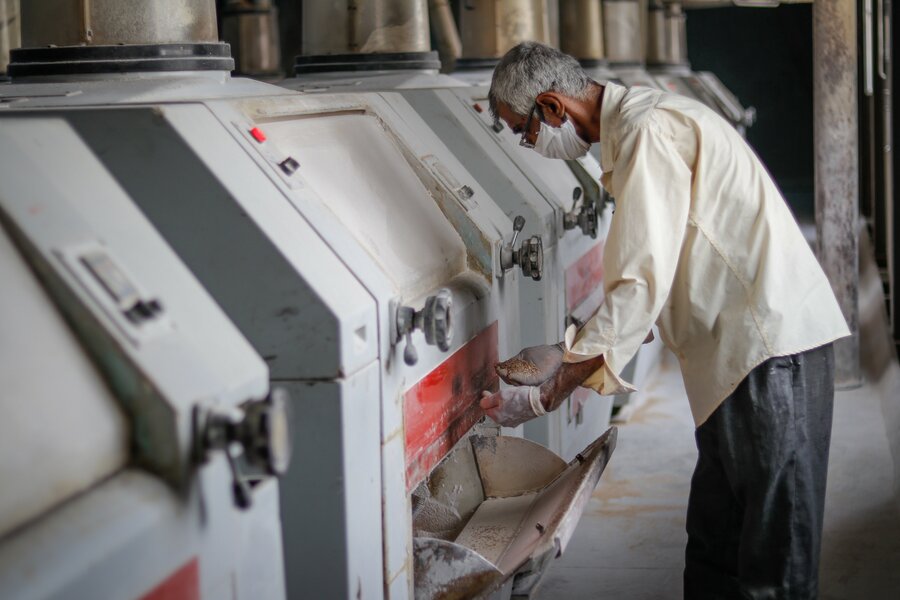 It took WFP five months and multiple dangerous missions across active frontlines to regain access to the vital silo complex after access was lost in September 2018. As every week ticked by, the team became more and more concerned that the wheat would be lost. Hodeidah, located on Yemen's Red Sea coast, is hot and humid year-round, difficult conditions for wheat storage at the best of times, let alone in an active war zone.
A team was finally able to start work at the Mills in May 2019. It took another five months to get the mills, which had been hit by shelling and mortar fire, operational again, repairing first the generator and then the milling equipment to mill the grain into flour ready for distribution to families. Working with the private sector, milling finally resumed in September 2019.
"The Red Sea Mills in many ways became a symbol of the many challenges we face as we work tirelessly in Yemen to get food to those who so desperately need it," said Ally-Raza Qureshi, Deputy Country Director for WFP in Yemen. "I'm immensely proud that the mills now become a symbol of WFP's success working in one of the most complex emergencies in the world."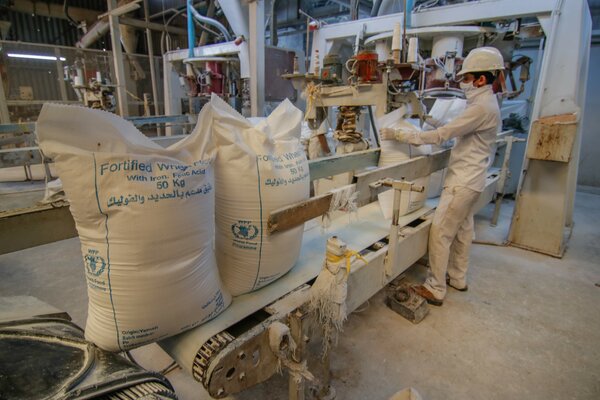 Just a few hundred metres from a volatile frontline, the team at the Red Sea Mills has since managed to mill and dispatch more than 740,000 bags of flour in the last nine months. Nearly every day since late September 2019, trucks have left the silo complex carrying the vital humanitarian assistance. They have crossed the frontlines countless times to get the flour out of the besieged area and into the hands of the people who need it the most.
"As we reflect on a job well done at the Red Sea Mills, however, we immediately look ahead to next challenge."
"The clock was ticking. It was a race against time. But this is what WFP does in wars, disasters and crises all around the world. The WFP team of logistic officers, warehouse managers and transporters, our Yemeni and international colleagues, work around the clock to get food to the needy against all odds," said Laurent Bukera, Country Director for WFP in Yemen. "As we reflect on a job well done at the Red Sea Mills, however, we immediately look ahead to next challenge."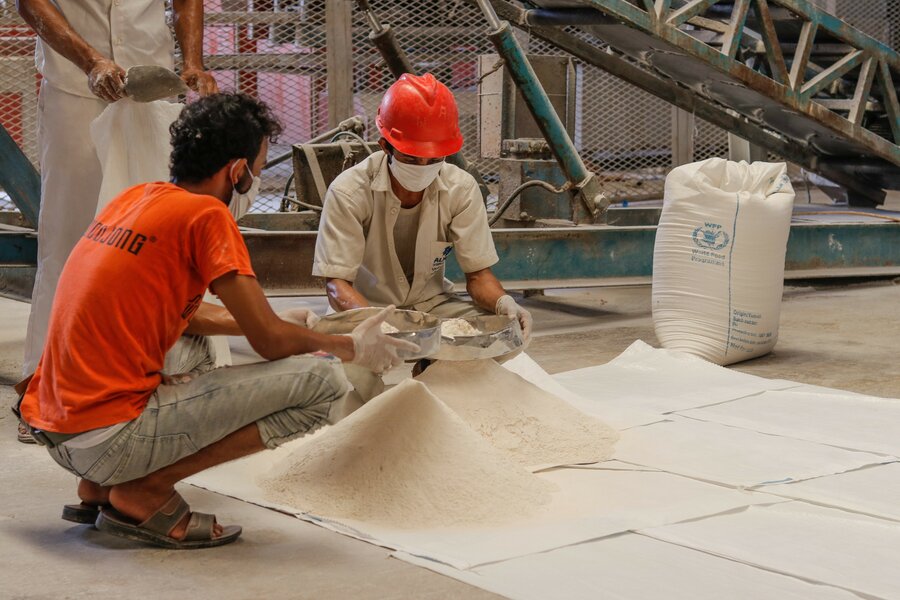 Yemen, a never ending challenge to save lives
Yemen remains the world's worst humanitarian crisis. This is a moniker that Yemen earned in late 2018, when conflict and economic collapse saw millions pushed to the brink. In response, WFP launched a massive scale-up of emergency food assistance in 2019, increasing support from 8 million people to nearly 13 million people. With this, WFP was able to stabilise the situation, saving the most desperate from starvation and preventing many more for slipping in that direction.
But the humanitarian situation is deteriorating at an alarming rate once again as Yemen faces a crisis on multiple fronts. Food imports have declined and food prices are soaring. The Yemeni Riyal is in freefall and foreign currency reserves are nearing total depletion. Added to that, there has been yet another escalation of fighting and the coronavirus is sweeping unchecked across the country. WFP food assistance is the only thing preventing the Yemeni people from facing crippling levels of hunger.
This is all happening against a backdrop of increasingly stretched resources. Salvaging the flour from the Red Sea Mills was vital to make sure that millions of Yemeni children, women and men continue to receive the food assistance they rely on for survival. WFP in Yemen is stretching resources as much as possible to keep this safety net in place. The agency urgently needs US$ 737 million to be able to keep feeding these families for the next six months. The situation in Yemen could get a lot worse if humanitarian action is delayed.