From women's survival to female entrepreneurship
Three tales of dignity regained
, Selina Chan
There was a time when, having escaped Deir Ezzor, in eastern Syria, Doulama Saeb felt life could not be crueller. Her family were left behind, in a besieged town with no food, no supplies, no money, no functioning banks. Her father survived on mouldy bread dipped in tea that he would re-boil over and over. She spoke to him every day on the phone, only to hear him say, "I just want to see you before I die".
Then WFP started airdrops on Deir Ezzor — a fraught, expensive, last-resort operation. "My brother called me to say, 'I felt full for the first time in a year'."
By the time I meet her at a training session in neighbouring Lebanon, Doulama is a storekeeper at a WFP warehouse in Damascus. She describes another Syria, insisting that I visit and sample the city's nightlife with her.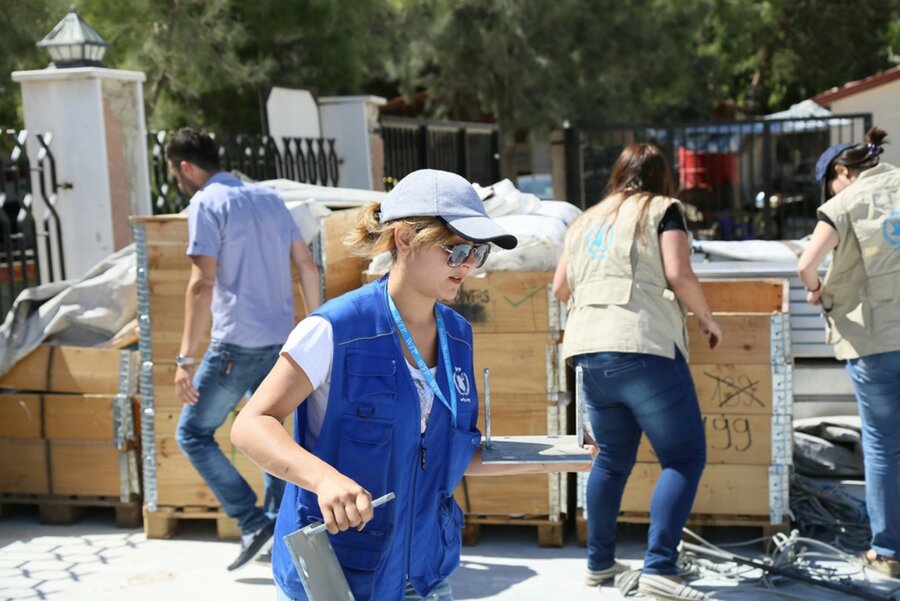 "Every time Syrians left their homes, they'd say their goodbyes," Doulama recalls. "That's over now , thank goodness. After eight years of war, I'm not living my life in the dark anymore."
Some 200 out of the 500 people who work at Doulama's warehouse are women. They pack, dispatch and track assistance to the 3 million hungry people of Syria. This year, WFP plan to switch 400,000 beneficiaries from in-kind food aid to cash transfers. The training session in Lebanon is about learning how to do it.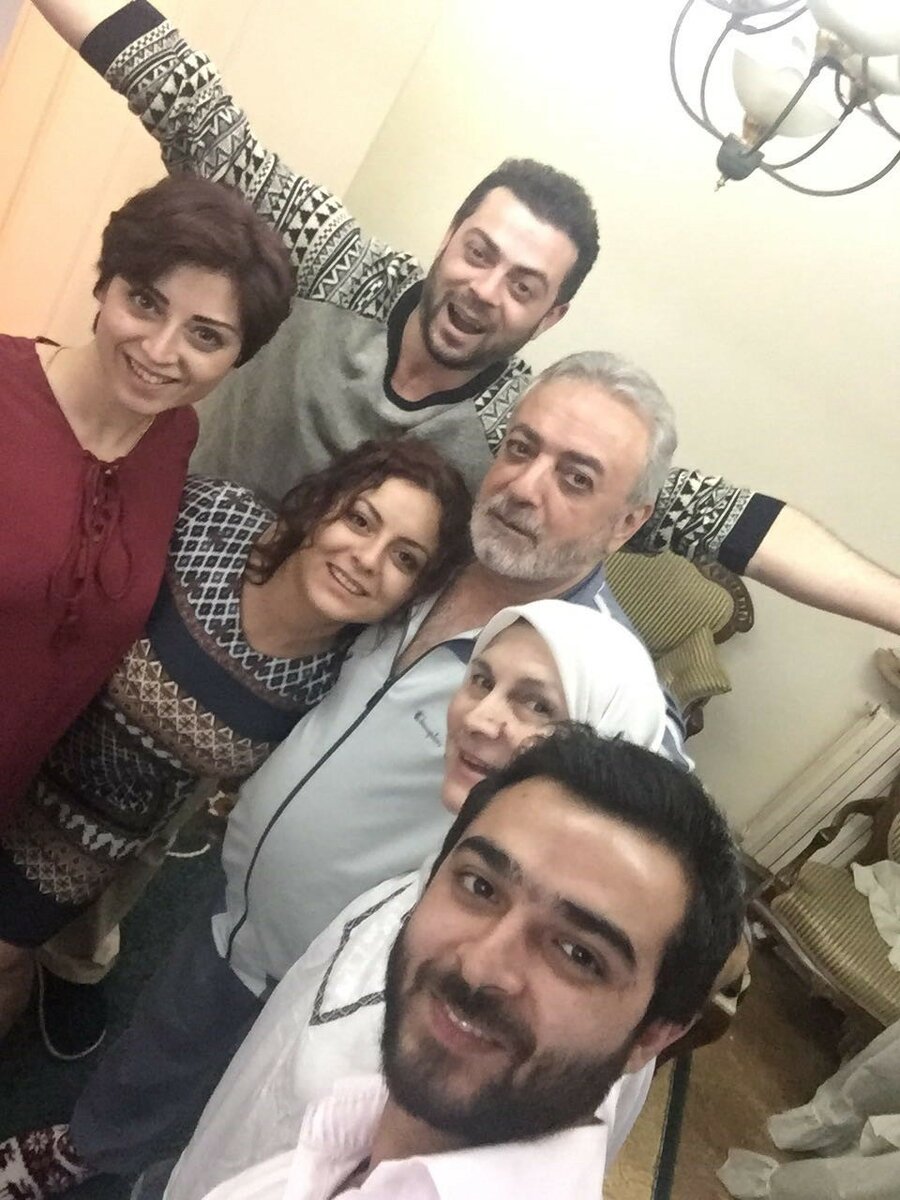 "I thought the idea was noble in principle. But I doubted it was feasible," Doulama tells me.
As the week went on, her skepticism wore off: she began to see how cash assistance might stimulate demand. Pre-war Syria's economy was largely state-controlled, but her father — long before he relied on mouldy bread for survival — had worked in the country's small private sector.
Doulama's dream for Syria is simple: a day where no food needs to enter the country to provide aid. "My vision is of Syria back as it was, as a donor to WFP. I hope that we Syrians will be again be able to provide for ourselves."
Cash is what keeps Egenia going.
They say when it rains, it pours. But unfortunately for the smallholder farmer and mother of four in Mudzi, Zimbabwe, it neither rained nor poured when she most needed it to.
Farming is the sole source of income for Egenia and her family. When the drought hit Mudzi, she found herself eligible for WFP's Lean Season Assistance Programme, which helps vulnerable people in the most drought-affected districts to meet their essential needs.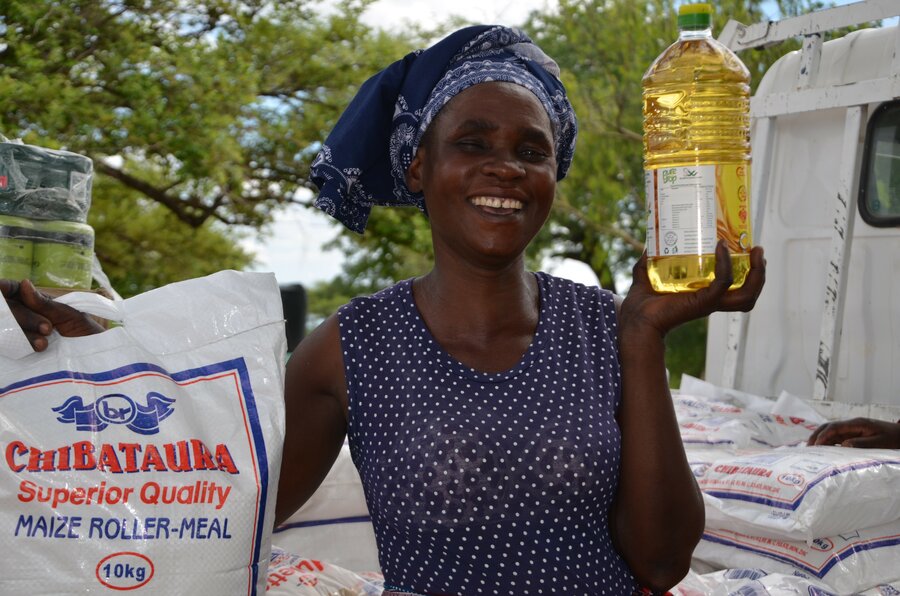 The cash she receives empowers Egenia to make choices that are best for her family. "It goes far beyond food," she says. "After buying food, I can also pay my daughter's school fees."
The primary school is seeing better attendance. And the community too benefits from the cash injection: it supports economic growth and boosts employment in the local shops, which count Egenia and 46,000 other beneficiaries as their customers.
In Mudzi, drought notwithstanding, the seeds of a better future are growing roots.
Sadiyo Hassan Jumbur was born and raised in Mogadishu, Somalia. The business bug hit her early. By 8th grade, she was selling sweets and candy in her village. By the time she was 22, she was trading second-hand clothes.
But in 1992, when the civil war broke out, Sadiyo was not spared. With a wounded arm and the will to survive, she, her husband, and their one-year-old son fled to Dadaab Refugee camp, in north-eastern Kenya. Having to depend on the UN for shelter, food, health and support was new for her. But she did not need help for long.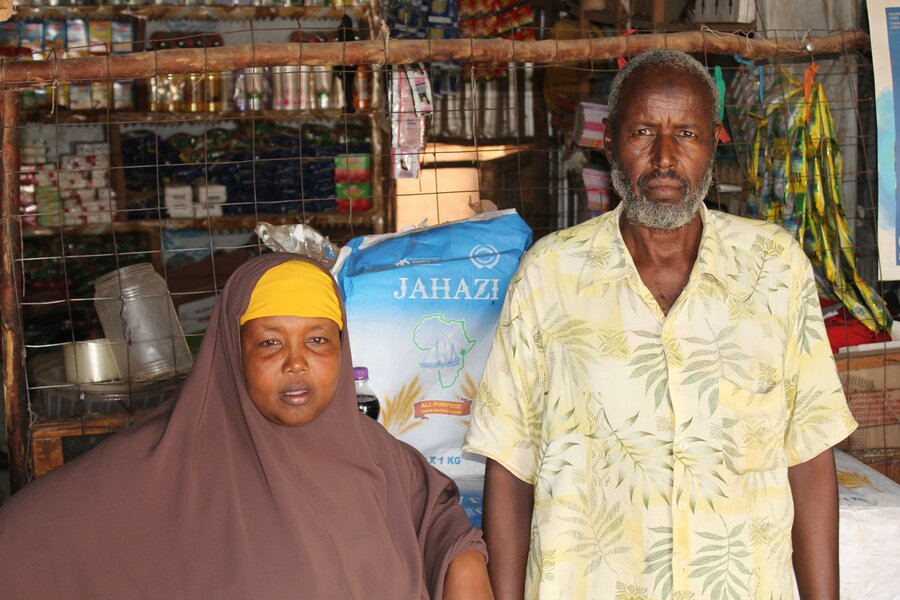 Soon enough, Sadiyo was back to selling sweets in the camp. By saving the money she made, she grew her business to sell camel and goat meat, which she continued doing when Somali refugees were relocated to Kakuma refugee camp in 2009.
Today, Sadiyo is one of the first 245 traders WFP contracted in Kenya to participate in the Bamba Chakula ("Get your food" in local Swahili) programme, which provides food assistance in the form of e-vouchers to more than 380,000 people across three camps. One of the aims is to help refugees diversify their diets by providing them increased access to nutritious foods like meat, fish, vegetables and eggs. Sadiyo and her husband visit the local abattoir every morning to source butchered camel and goat.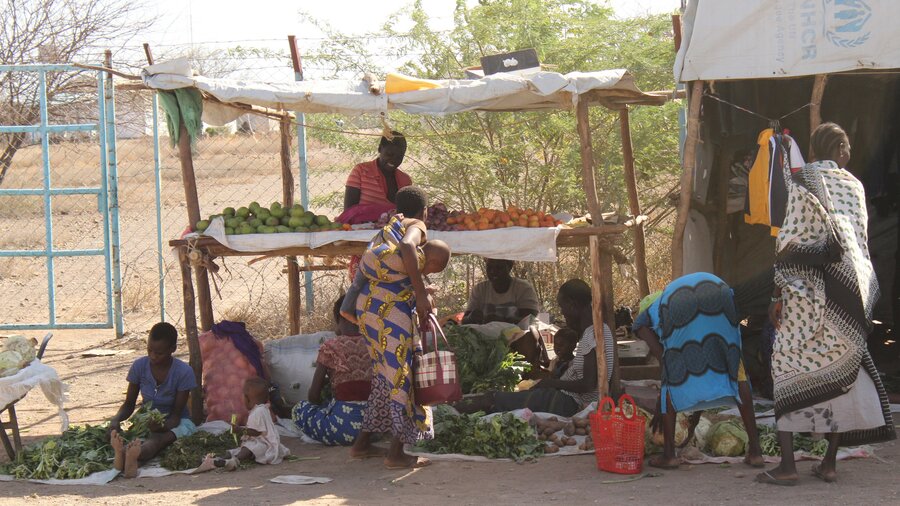 Twenty-seven years after she fled Somalia, proper planning and ploughing back profits have seen Sadiyo's gross sales more than triple to US$ 3,000 monthly. Still, she dreams of one day going to China, India or the Middle East to source her commodities. "A passport stands between me and this dream," she says. "I look forward to the day a refugee will be allowed to go as far and wide as her ambitions."
Learn more about the work WFP is doing to strengthen local markets here.