'Working to get myself out of a job'
World Food Programme (WFP) engineer Daniela Villar on monsoon preparations in refugee camps in Bangladesh and being a woman in the male-dominated world of engineering
, Shelley Thakral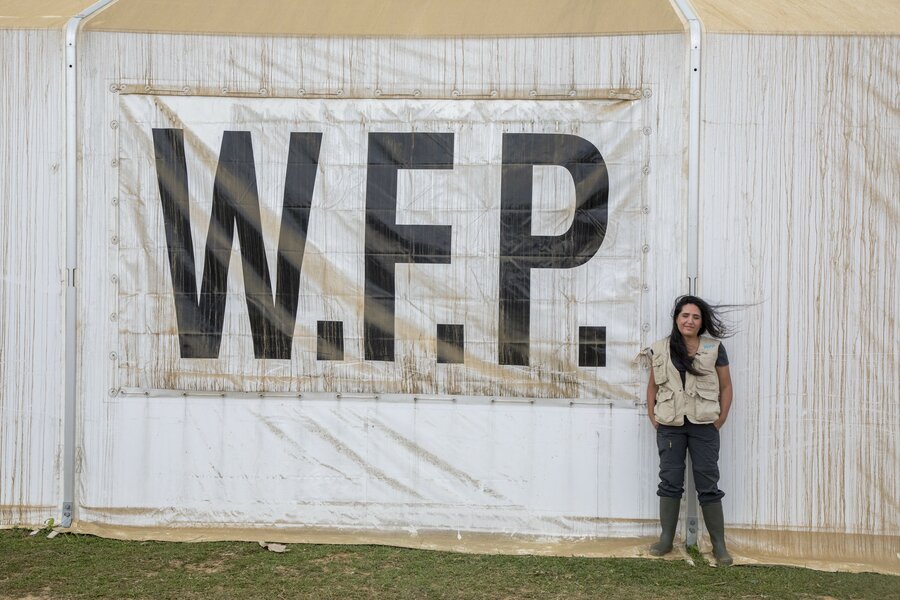 What are you doing to mitigate the effects of the monsoon season on the Rohingya refugees?
As the rains have already started, we are working around the clock to improve the safety and accessibility of the camps.
In March this year, the Government of Bangladesh allocated 800 acres of land to safely relocate an estimated 30,000 refugees. However, this includes hills, valleys and steep slopes — only a small portion of it is workable and can be turned into usable land.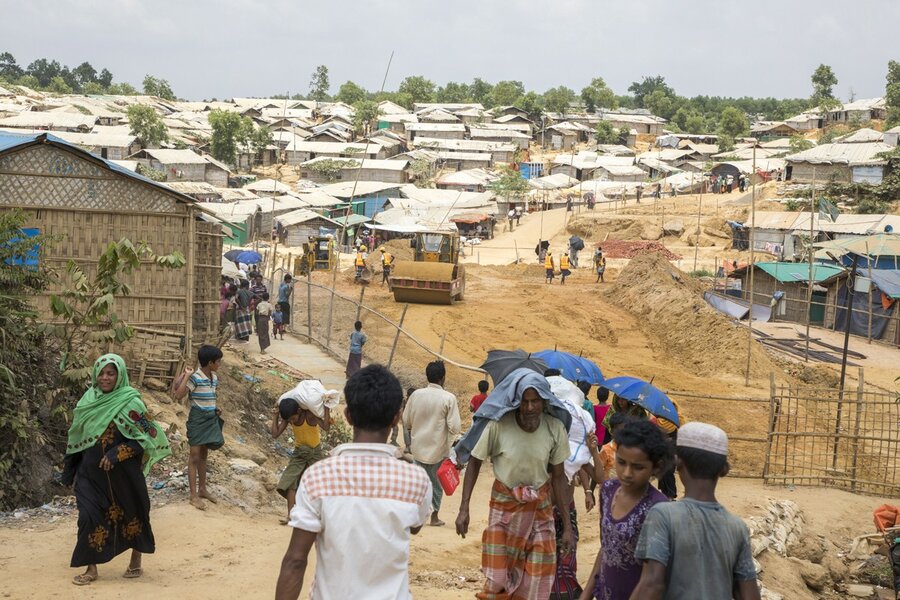 My job was to design and construct a new logistics hub close to the camp and I was one of the first engineers in a joint UNHCR, IOM and WFP project to prepare land to be used for shelter.
I am also part of the WFP Engineering team which is building bridges and roads, fortifying embankments and clearing drainage channels. We are working to ensure we will be able to reach all refugees if and when the refugee sites become inaccessible during the monsoon. New distribution points for food and non-food items are being set up to make sure nobody is left behind.
Considering the danger of flooding, and knowing how densely populated the camps are, we need to ensure the food can reach refugees even in the worst case scenario. To do this, building a Bailey bridge is our best option. It is simply the fastest and sturdiest construction in these emergencies. It takes seven days to put up this bridge, which has just arrived from the UK. We have 50 site workers to clear the ground and build a platform to launch the bridge. I call this a 'Lego' bridge because of the way it is assembled. You build the nose and you launch it to the other side. It will enable the crossing of trucks carrying 5 mt of supplies.
When did preparations begin?
We started in December 2017 by looking at the resources, the constraints and the opportunities. We found out what we could source locally in the time that we had. And then we just got down to work.
Doing the layouts from WFP's Headquarters in Rome, everything is theoretical. Then, once you see the camps first-hand and reality sets in, it is overwhelming. I was struck by the amount of children, the vastness and the absence of greenery. Sometimes you can drive a whole day and only see one tree.
What are the challenges you are facing?
We are facing many challenges — time, resources, heavy rain, will the concrete be ready for launching the bridge? Do we have a plan B? As an engineer you always have a plan B — and a plan C, and even D. Things don't always go as planned. But I am a skilled adapter, designer and problem solver. It is my job to find solutions.
What is it like being an woman engineer in the field?
It is hard, because this sector is still very much a 'man's world' and people assume that, as a woman, you don't have enough experience.
However, when I worked in Myanmar on a Swiss-funded project to improve the quality of a new school, my team was made up of three women engineers. Now at WFP my line manager is an amazing engineer, super inspiring and she also happens to be a woman. I really feel inspired by other women engineers. We can share our experiences and make our voices heard.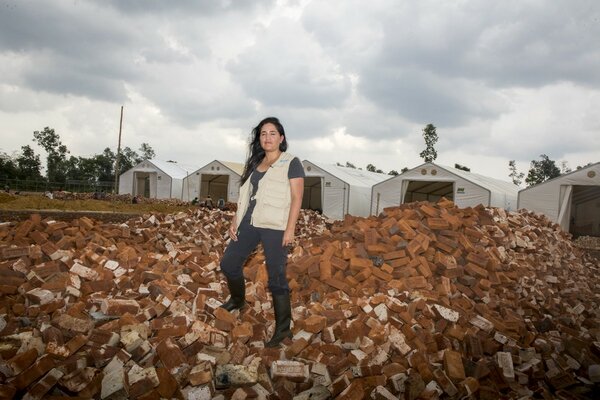 Many construction projects in our line of work are in developing countries — the terrain is tough and so is working in places where women are not even visible.
As a woman, I feel I have empathy with the communities we work with and this makes a huge difference. When I arrive on the ground, my first priority is to listen to the people as well as to the contractors, to understand what they need, what they want and how we can work best together. Just today, I was sitting with the workers in the new logistics hub we are building in the Kutupalong mega camp. They brought me cold water and, through my translator, told me about their families and their children — this creates a connection.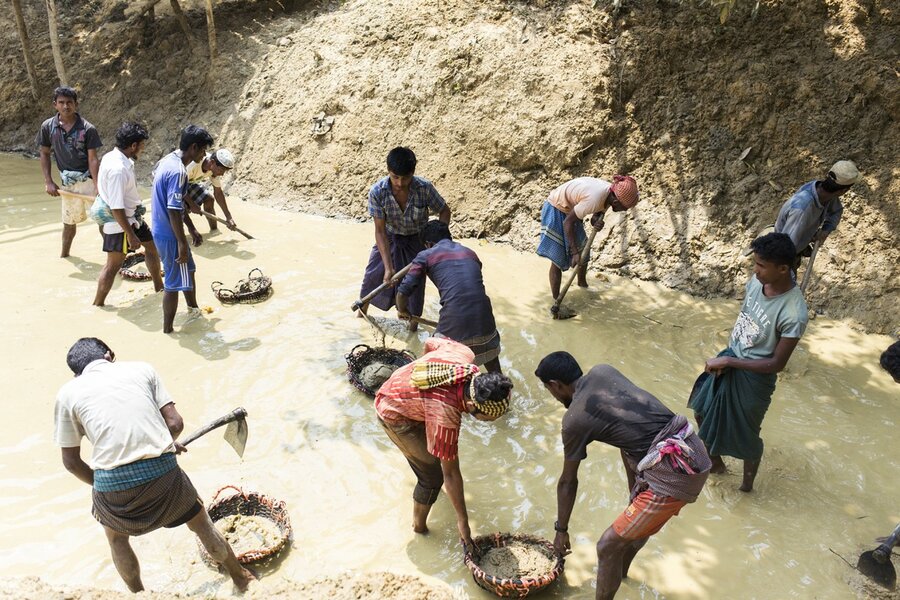 What drove you to become a humanitarian engineer?
I have been working in slums since I was 15 when I was at school — it was a Catholic school in Chile and we felt our mission was to share the luck we had and spread love. We worked in the rain to improve people's homes so that they could live in dignified conditions.
I continued volunteering when I went to University, where I studied structural and civil engineering, learning how to build roads and bridges. After the earthquake and tsunami that hit Chile in 2010, I started working for the Government. I was in charge of three reconstruction projects and reviewing the safety of school buildings. I then went on to do a Master's degree in Australia in environmental engineering, where I learned how to build sustainable buildings. The idea was to get people out of prefab accommodation — the 'out of a box' emergency houses we call mediaguas in Chile — and to give them sustainable, efficient homes with solar panels, rain water harvesting and a garden where they could grow food. It was only natural for me to want to move into the humanitarian world where my skills would help save and change lives.
What do you like about your job?
My team is key to helping WFP deliver food and emergency supplies, and to support the communities in achieving long term sustainability, so they can feed themselves. I like that my work has a concrete impact.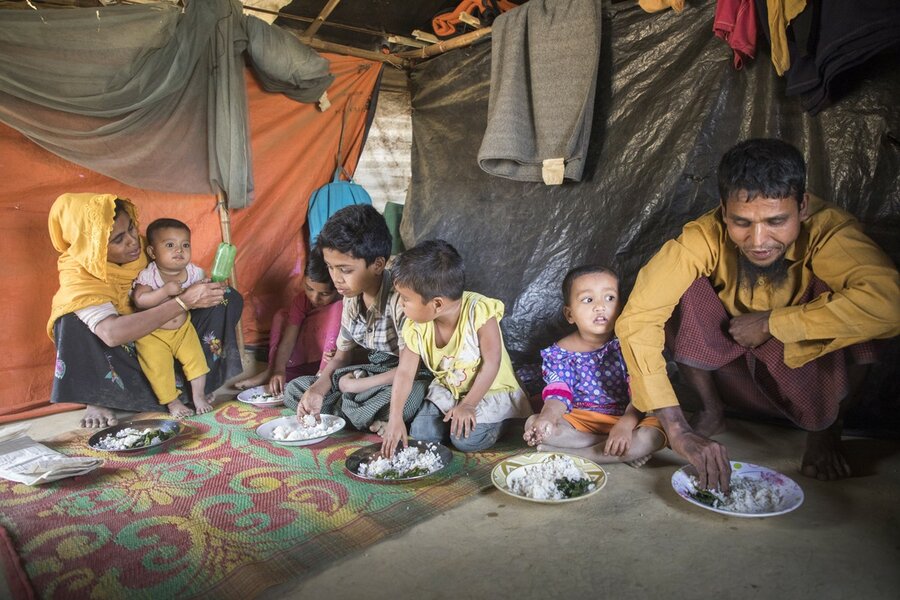 I am always working towards getting myself out of a job. Wherever I am, I make sure we are giving communities the capacity to improve their homes, livelihoods, build schools and help their children so that they won't need our support any longer.
You are working in very stressful conditions. How do you unwind?
I do yoga to clear my head and release stress. Also, I really value talking to people, and in these emergencies we find our 'nest', our little community of like-minded people with whom we are on the same wavelength.