Pumpkin power: how Bangladeshi women fight the climate crisis
On World Food Day, learn about the ways WFP is arming Bangladesh's poorest to confront devastating floods
, Lena von Zabern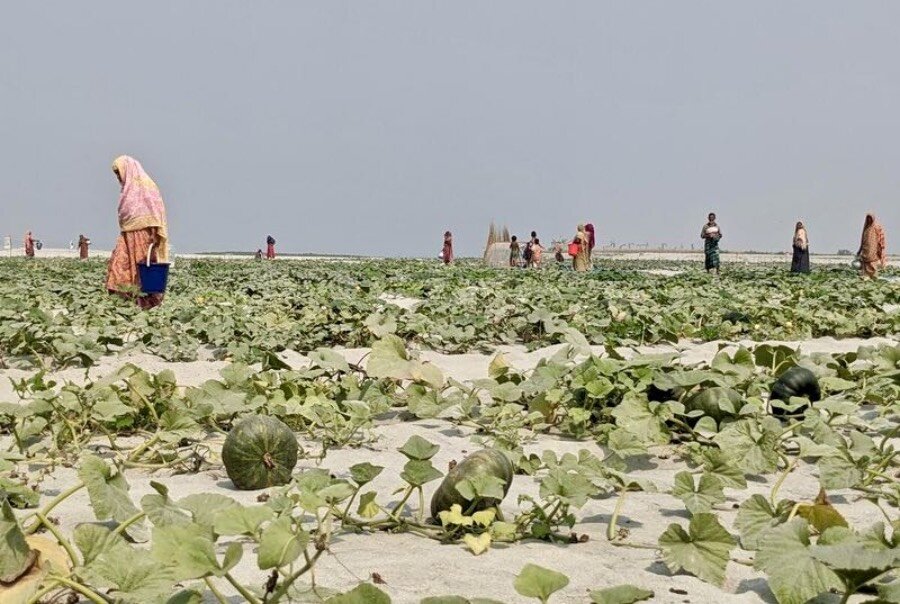 The motorboat ride takes less than ten minutes before the first sand island - or char in local Bengali - emerges from the riverbed of the Brahmaputra, one of the 25 rivers that flow through this vast and flat swathe of northwestern Bangladesh. Through the gray-blue wall of sky and water, the sandy strip is barely visible.
More than 200 sand islands dot this section of the Brahmaputra, one of the longest rivers in the world. But this particular one, known as Char Borovita, is unlike any other. 
Up the steep slope from the river, dozens of fields appear, seamlessly lined up. Women in colorful clothing walk among green vines with heart-shaped leaves, watering the precious crops at their feet. Sprouting from the sand like a mirage in this inhospitable region are hardy pumpkins.
The drought-tolerant plants - ideal for their sandy surroundings - are part of a multi-pronged pilot project rolled out by World Food Programme (WFP) in 2018 in the country's northeastern Kurigram district.
Combining disaster management training, climate insurance and livelihood initiatives, the scheme aims to answer a basic question: how can Bangladesh's poorest people arm themselves against the devastating consequences of climate change?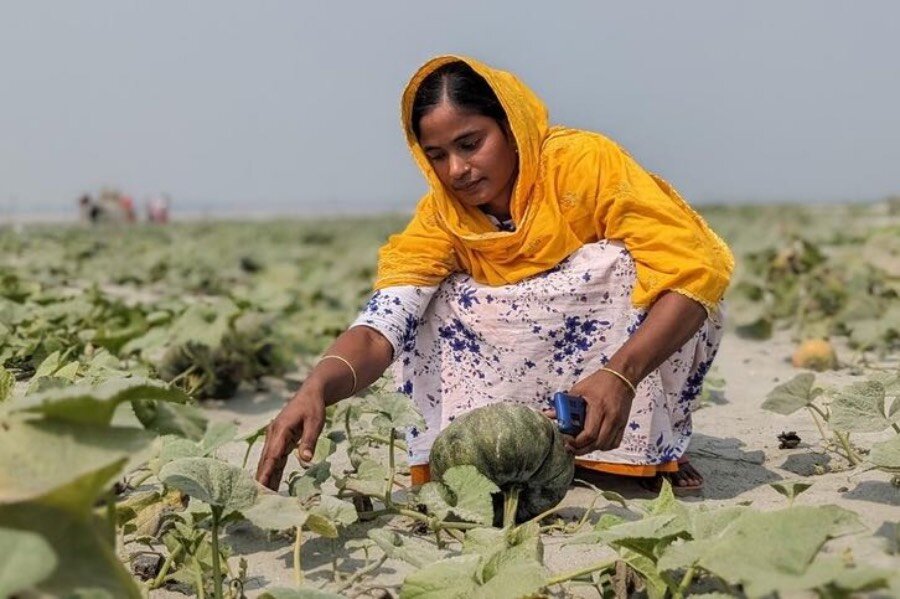 "Things have changed a lot," says pumpkin farmer Asha Akhter, yellow scarf wrapped around one shoulder, as she assesses the project's paybacks. That phrase is heard often among the 25 women growers who collectively tend the pumpkins on Char Borovita. 
Everyone in this district knows what the climate crisis means. As years go by, rainy season floods become more severe. In 2020 alone, the country's rivers burst their banks five times - unleashing the largest and longest floods in twenty years.
Bangladesh counts among the world's most vulnerable countries to the fast-changing climate. By 2050, the World Bank Group estimates one-third of its agricultural output could be lost due to weather extremes, and 13 million people could become internal climate migrants.
For the five million people who live on Bangladesh's chars, the consequences are already catastrophic. Extreme weather has destroyed crops and incomes and displaced the people who have always inhabited these islands on the river.
Washed away
"My house was right here, but it was washed away," says 41-year-old Amina Begum, another Borovita farmer, as she pointed to a spot on the island that drops off steeply, giving way to the muddy brown river. "I had to move to this char, but my situation remains precarious."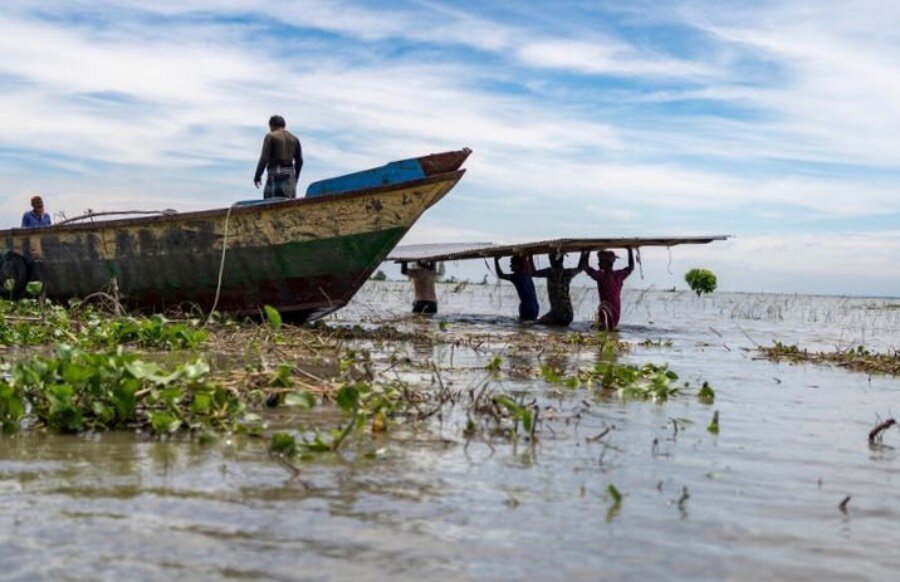 Like many others here, Amina used to own land, which she gradually lost to the Brahmaputra. Floods forced her to move five times over the last 25 years. Any newfound security never lasted long. Growing pumpkins on these temporary river islands allows Amina and other climate-displaced women to farm again - one buffer against future shocks. 
"You see our landscape here," she says, pointing to the shallow sand islands in the distance.  "It is very risky. When the river erodes the land, families lose everything."
"I'm poor," Amina adds, "I don't have enough money to move somewhere else. If I had enough money, I would move to a safer place."
There are few routes to a better life in Kurigram, one of the poorest areas in Bangladesh. Many here work in agriculture, yet seven in 10 people suffer from acute hunger.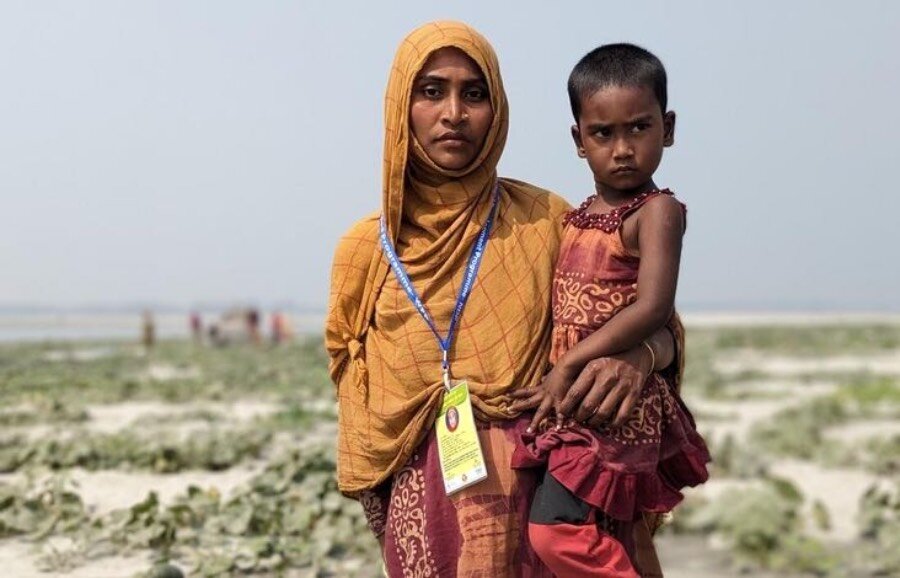 Life on the sand islands is particularly hard. Communication and transportation routes are complicated, and health care is limited. Children often take arduous journeys on empty stomachs to reach the nearest sandbank with a school. In the monsoon season, these daily journeys can be deadly.
"During the floods, we suffered in many ways," says 33-year-old Bilkis Begum, another pumpkin grower on the island, looking back on the last rainy season. "There was no way to communicate. I was stuck in the house and my husband could not work, so we had no money left. We couldn't afford three meals a day."
Building new businesses
Her story could have ended there. Then came WFP's pilot project in Kurigram, aimed to ensure families like Bilkis' could better prepare and respond to the floods.
The initiative trains islanders in disaster management, with WFP and trained volunteers also providing early warning information about looming disasters. Based on flood forecasts, families receive cash so they can move to safety in time.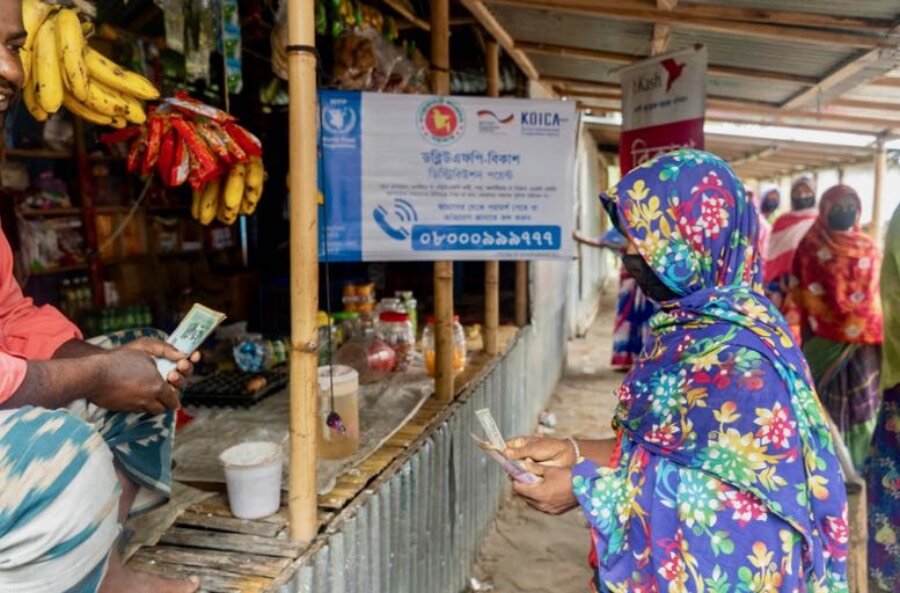 "Those 4,500 taka felt like 40,000 taka," says Bilkis of the cash payments she received ahead of the last floods, amounting to about US$42. "With that money, we could prepare (for the floods). We could buy food and invest in our houses."
After extreme weather hits, WFP climate risk insurance kicks in. The payout helps families to recover.
So do the entrepreneurship training and start-up capital the project provides to its female participants, to diversify and grow their businesses. That, in turn, helps to strengthen their resilience to climate shocks.
Pumpkin farmer Asha learned to sew within ten days. She bought a sewing machine with her WFP start-up funds. Now, she earns money mending clothes - and selling the nutrient-packed squash that she grows. 
Beyond being an ideal plant for barren sandbanks, pumpkin can be harvested ahead of monsoon rains. It also protects the soil, by binding carbon dioxide from the air and creating biomass with it. Because pumpkins can be stored for up to six months, growers like Asha have time to sell them at a good price.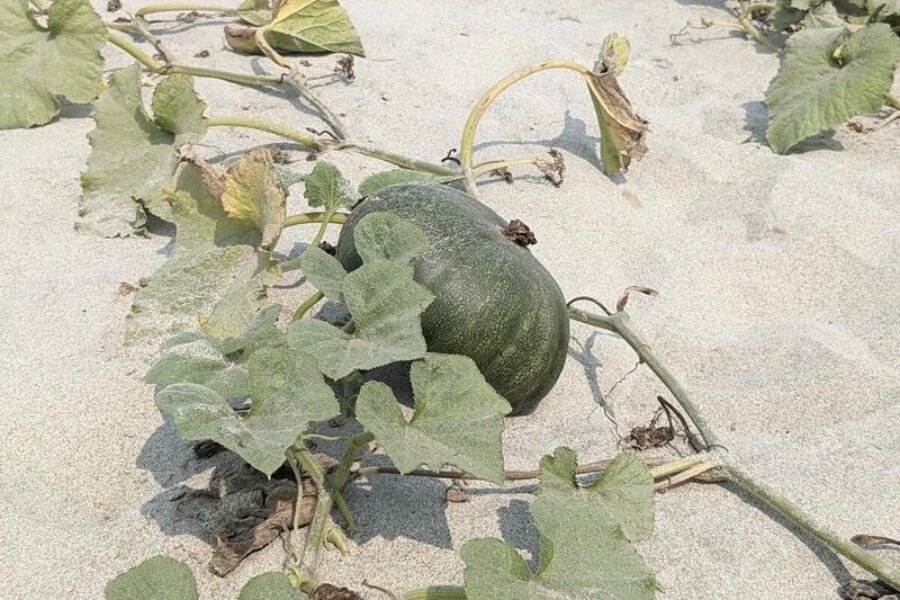 She also knows how to protect the plant's seeds from wind and sand. She is grateful, too, for the other windfalls from her WFP training. 
"Before this project, we had to ask our husbands for money," Asha says. "Now we earn our own money and can support our families. We can send our children to school and spend our cash on different things."
The WFP pilot project in Kurigram has been funded since 2018 with support from the German Federal Foreign Office, among others.
Now is the
time to act
WFP relies entirely on voluntary contributions, so every donation counts.
Donate today