Zimbabwe: Mushroom-growing means independence for women farmers
In a country beset by crises and food insecurity, the World Food Programme and its partners are empowering people with farming and business skills
, By Tatenda Macheka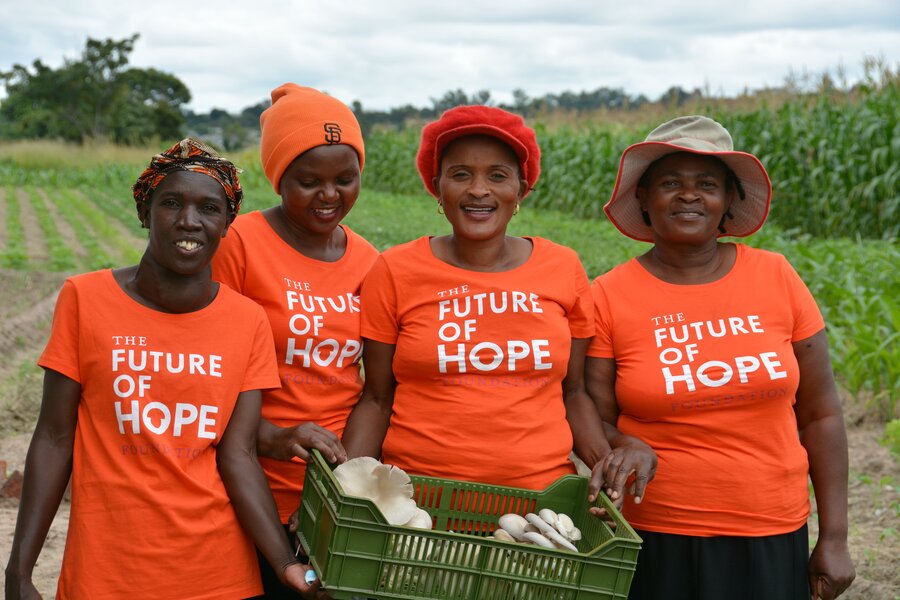 A sad consequence of the advent of the COVID-19 pandemic hitting Zimbabwe is the growing prevalence of urban hunger over the past year. According to Government estimates, around half of all residents of urban areas — around 2.2 million people — go to bed hungry every night.
Cameroon: Women's cooperatives create 'family' bonds amid crisis
How a resilience-building initiative backed by the World Food Programme and Korea is empowering communities recovering from displacement — and enabling new friendships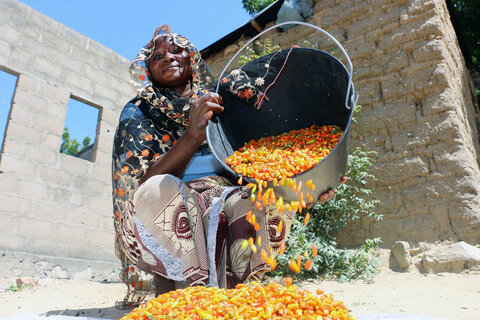 Across the globe, the World Food Programme (WFP) is investing ever more in empowering people in urban areas to withstand emergencies that may develop.
In Zimbabwe, which has a population of nearly 15 million people, WFP complements its humanitarian assistance through cash grants to build skills within communities and ultimately to enhance people's food security over the longer term. 
In Epworth, a suburb on the eastern outskirts of Zimbabwe's capital, Harare, money received from WFP has enabled one group of women to set up a mushroom farm.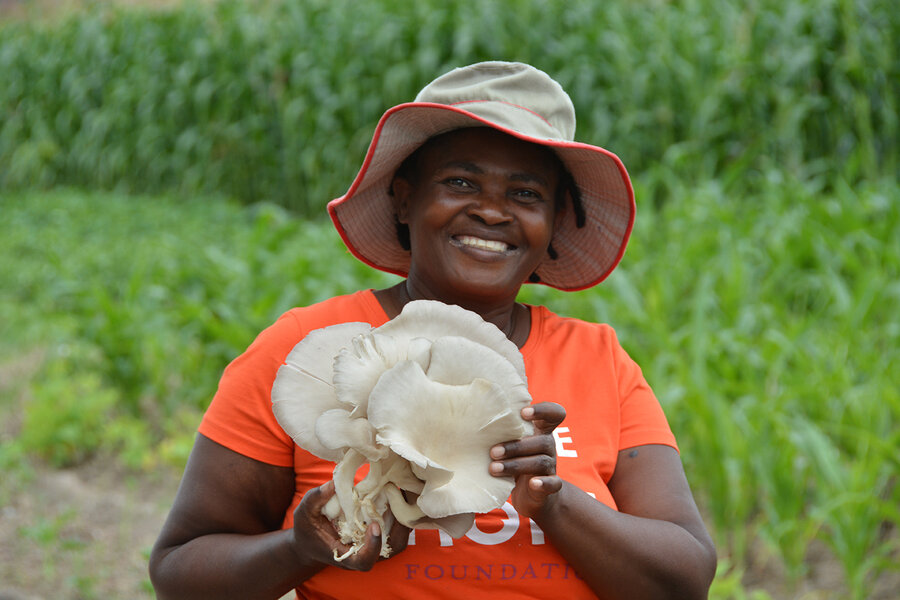 The women are part of a vulnerable community with acute needs that needs urgent attention. After an initial cash transfer, mushroom farming was identified as a quick and effective intervention that could easily be expanded into a long-term self-sustaining project. It is not labour-intensive and requires little space, with a backyard sufficient.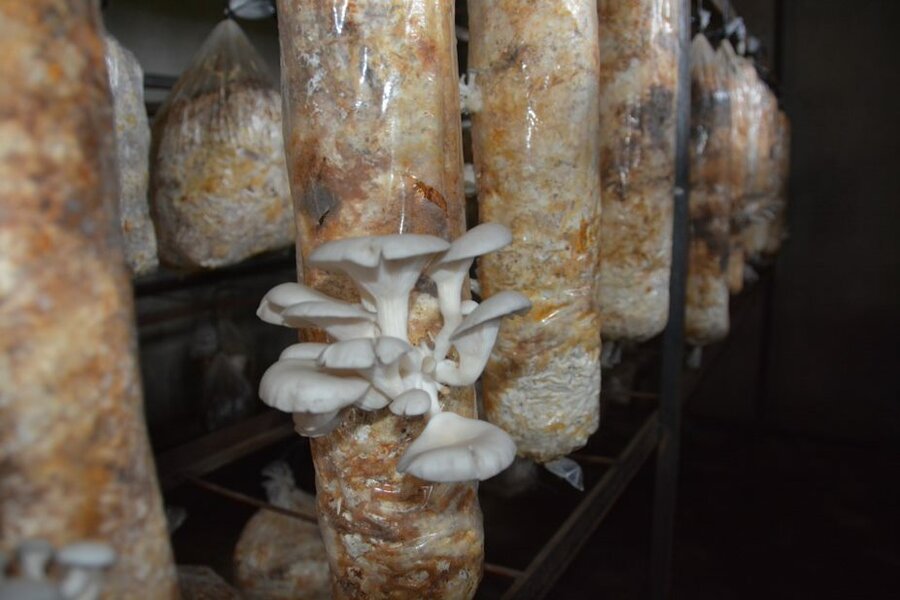 Harvesting can be done in around three months, using byproducts of other activities such as crop leaves to help nourish the vegetable, and locally available resources like grass, thereby making the enterprise cost effective. Crops people do not consume can be sold, generating additional income.
Mushrooms are a source of antioxidants and rare nutrients such as selenium, folate, vitamins B1, B2, D and potassium. They are easy to grow — along with seeds, you only need agriculture waste, which is always available in the form of wheat straw, cottonseed husk and maize cob. With the right balance of humidity and temperature, production is simple. They take 30 days to mature before harvest and allow for swiftly replenished yields. Each grow bag yields up to four times before it is discarded.
Caroline Changaruka, a widow and mother of seven, is part of the group of women who have a mushroom backyard hub at their house. After being instructed at a training centre, she was part of the group of women selected to replicate the lessons she'd learnt at her home.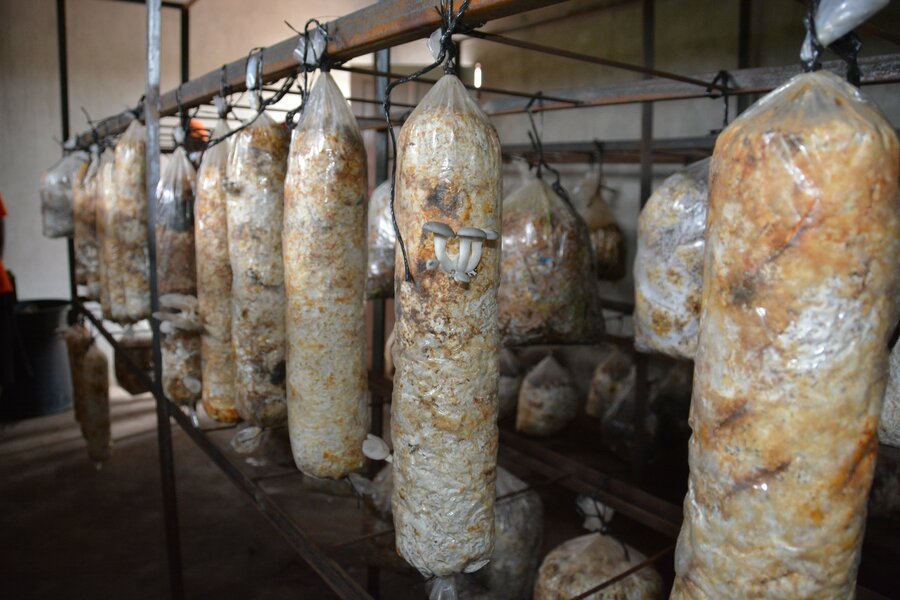 "Before this mushroom farming I used to work in manual labour in nearby farms and it was taking a toll on me. Life was difficult, there is no employment here," she says. "We used to skip meals, some of my kids had to drop out of school so that the younger ones can get the same chance.
"The training has been a lesson of life, a skill that I will always have forever. This has been both a food and income provider for my family. I am doing the production right here in my backyard and it's paying dividends." 
'We can't stay indoors or we'll die of hunger': Coronavirus fears mount for Zimbabwe's urban poor
As WFP scales up assistance to urban areas, lockdown is making survival a daily challenge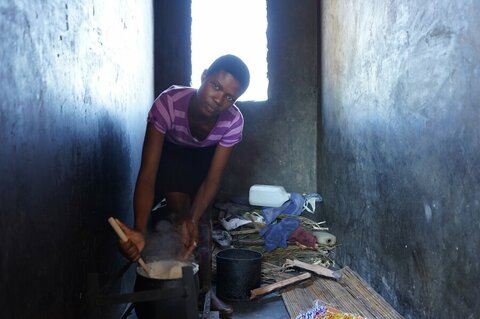 Caroline says the plan is to turn her mushroom production into a bigger business. 
"The type of mushroom we are growing is the grey oyster, which is very rich in protein and has a readily available market. When production is high, some of the mushroom is dried and preserved for future use." 
Mushroom farming will provide both a source of nutrition and income to these vulnerable households beyond the cash assistance programme. To date WFP, through Denmark's DanChurchAid and the Future of Hope Foundation, has trained more than 700 women in mushroom production.
Supporting communities with cash grants alone is not sustainable, however. With funding from ECHO, WFP has helped to strengthen the livelihoods of the most vulnerable and high-risk communities.
---
Shrooms with a view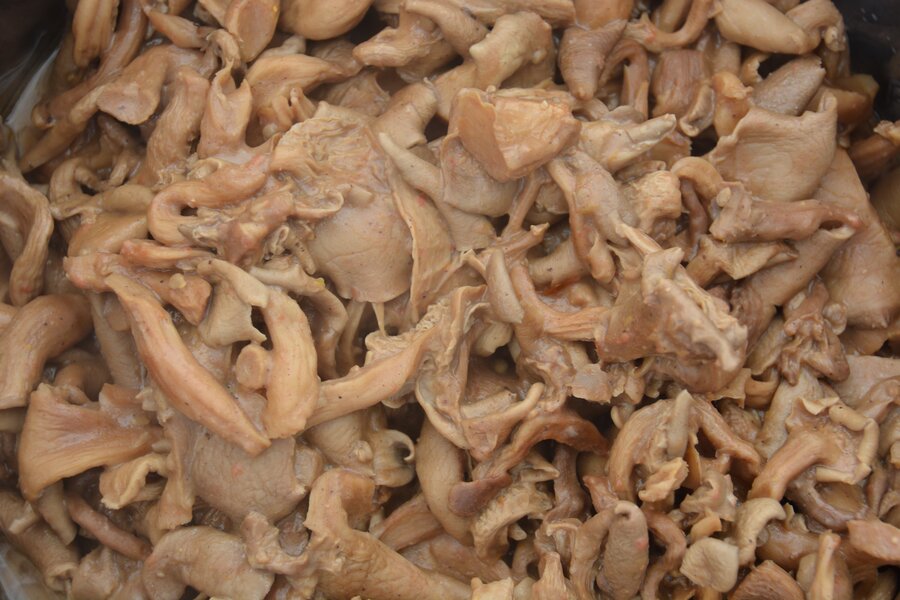 Mushrooms are used in many cuisines throughout Zimbabwe. Below are two simple and popular recipes:
Stewed mushrooms
Ingredients                          
Mushrooms
1 onion
Tomatoes
Carrots
2 green peppers
3 tablespoons of cooking oil
1 tbsp salt
1 clove of garlic
  
Method
Heat oil. Add chopped mushrooms along with onions, garlic, green pepper, tomatoes and grated carrots. Add little bit of water, oil and spice of own choice then cook until the water dries up.
Dried mushrooms in peanut butter
Ingredients:
Dried mushrooms
Peanut butter
Chopped tomatoes.
Method
Boil dried mushrooms until tender then add tomatoes. When tomatoes are well-cooked add peanut butter and a little bit of salt to taste.