France Contributes €500,000 To WFP's Food Assistance For Syrian Refugees In Jordan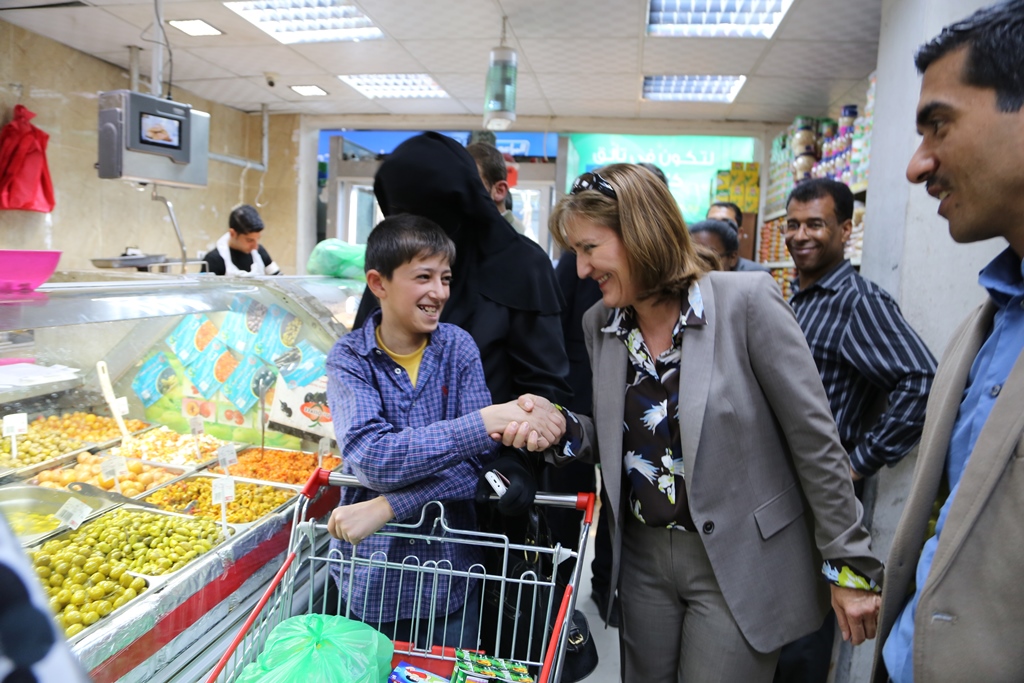 AMMAN – The United Nations World Food Programme (WFP) has received a fresh contribution of €500,000 (US$684,000) from the Government of France towards its emergency food assistance programmes supporting thousands of Syrian refugees who have fled to Jordan.
WFP is assisting more than half a million Syrian refugees in camps and communities in Jordan, mainly through monthly food vouchers valued at 24 Jordanian Dinars (€24) per person. With food vouchers, refugee families are able to purchase the food items of their choice at local shops across the country, including dairy, meat and produce, which are not usually included in WFP food rations.  
"France is very concerned by the magnitude of the humanitarian crisis related to Syria and its impact on neighbouring countries, especially Jordan," said Caroline Dumas, the French Ambassador to Jordan. "France commends the immense efforts of the Jordanian government and of the Jordanian people in welcoming into the Kingdom hundreds of thousands of refugees fleeing a country at war.  To bring some help, France has decided to confirm its support to the excellent WFP programmes supporting the Syrian refugees in Jordan."
"In the face of severe funding constraints, WFP relies on the generous contributions of donors like France to continue responding to the food needs of Syrian refugees in Jordan," said Jonathan Campbell, WFP's Emergency Coordinator for Syria Refugees in Jordan. "Thanks to France, WFP will be able to provide food vouchers to more than 20,350 Syrian refugees in Jordan this month."
WFP is working to ensure that its food assistance for Syrian refugees in Jordan provides families with the food and nutrition they need while also giving back to the host country. The voucher programme helps to promote local production and employment as well as giving a much-needed boost to local markets and the Jordanian economy. Food vouchers also provide families with a sense of normality and dignity when they shop in local markets among local Jordanians.
As the conflict in Syria enters its fourth year, on average some 150 families are fleeing to Jordan each day. WFP still needs to raise €175 million (US$240 million) to meet the food needs of an expected 710,000 refugees who will need food assistance in Jordan in 2014. This would not be possible without the commitment and support of all donors.
To date, France has contributed a total of €5 million (US$6,651,583) to WFP's programme assisting Syrian refugees in Jordan, Lebanon, Turkey and Iraq, including €1.5 million for Jordan.  
#                              #                                 #
WFP is the world's largest humanitarian agency fighting hunger worldwide. Last year, WFP reached more than 97 million people in 80 countries with food assistance.
Follow us on Twitter @wfp_media
For more information please contact (email address: firstname.lastname@wfp.org):
Dina El-Kassaby, WFP/Amman, Tel. +962 6 515 4009 Mob. +962 7 9867 4638