Germany Provides €24 Million To Help WFP Meet Critical Food Needs In Ebola Crisis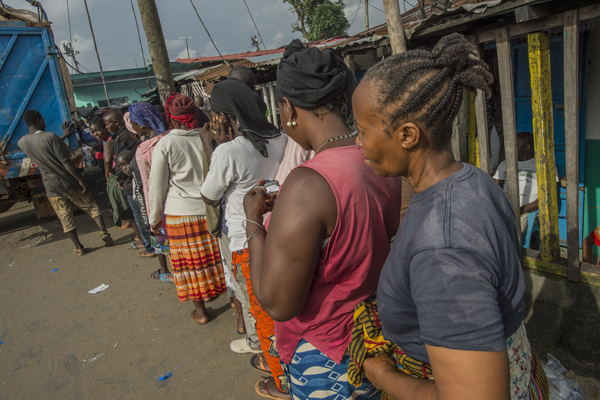 BERLIN/ROME – The United Nations World Food Programme (WFP) has received €24 million (more than US$ 30 million) from the government of Germany to support the increasing need for food assistance to more than one million people affected by the Ebola virus epidemic.
This is the largest contribution WFP has received, so far, for its Ebola response. The funds have been allocated immediately, initially to buy food and finance an airlift operation to bring specialised nutritious foods to patients in Ebola treatment units, survivors who are recovering from the virus, and communities affected by widespread transmission.
"With this critical support from Germany, we will support the health response and contribute to the alleviation of the Ebola outbreak," said WFP Regional Director for West Africa Denise Brown.  "WFP's emergency response involves providing food assistance to affected communities so that people don't have to go out in search of food, and logistics support to organizations and government authorities involved in the medical response."
WFP has flown the urgently-needed food to Liberia and Sierra Leone from the United Nations Humanitarian Regional Depot it manages in Las Palmas, Spain. Moreover, €5 million of this crucial contribution will support WFP Logistics including UN Humanitarian Air Service flights transporting aid workers to Ebola-affected communities.
 
The airlift is bringing more than 760 tons of SuperCereal Plus, a formulated supplementary food that helps prevent malnutrition. It is urgently needed in Liberia and Sierra Leone where it cannot be purchased locally and is being distributed by WFP as part of family rations. SuperCereal Plus is easily prepared as a porridge and is particularly recommended for Ebola patients and survivors, children and nursing mothers requiring extra nutritional support.
As the number of Ebola cases continues to grow, WFP has rapidly expanded its response. The organization has already provided food assistance to 1.3 million people alongside the health response in the three most affected countries of Guinea, Liberia and Sierra Leone.
"This unprecedented crisis is affecting the livelihood of already poor communities. WFP is working with the governments and other partners to prevent this health crisis from becoming a food and nutrition crisis," said Brown.
Besides food assistance, WFP is providing crucial transport and logistics support particularly to medical partners, building Ebola treatment centres and storage hubs for the whole humanitarian community from capital cities to remote areas.
#                              #                                 #
WFP is the world's largest humanitarian agency fighting hunger worldwide, delivering food assistance in emergencies and working with communities to improve nutrition and build resilience. In 2013, WFP assisted more than 80 million people in 75 countries.
Follow us on Twitter @wfp_media,  @wfp_WAfrica and @WFP_de
For more information please contact (email address: firstname.lastname@wfp.org):
Ralf Suedhoff, WFP/Berlin, Mob.  +49 160 949 12547
Katharina Weltecke, WFP/Berlin, Mob. +49 172 4105677
Frances Kennedy, WFP/Rome, Tel. +39-06-6513-3725, Mob. +39-346-760-0806
Emilia Casella, WFP/Rome, Tel. +39 06 6513 3854, Mob. +39 347 945063
David Orr, WFP/Johannesburg, Tel. +27 11 5171577, Mob. +27 82 9081417