In Himalayan Village, WFP Raises Flag For Zero Hunger On Eve Of Global Goals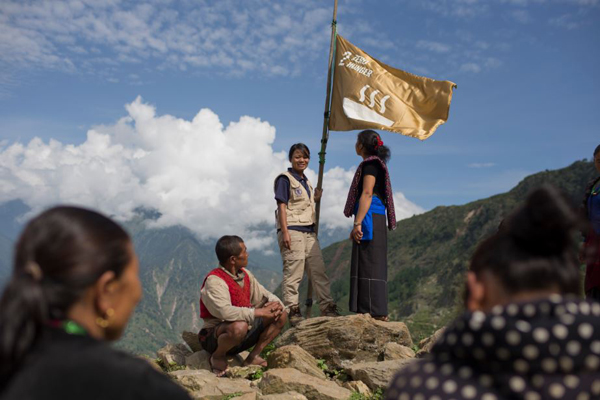 KATHMANDU – A team from the United Nations' World Food Programme (WFP) has trekked into the Himalayas to unfurl a flag representing the Sustainable Development Goal of Zero Hunger, as part of an international effort to bring the global goals to the world's attention. The flag-raising comes ahead of this week's UN Sustainable Development Summit in New York where the goals will be formally adopted by world leaders.
WFP's flag-bearer Nimdoma Sherpa climbed 2,000 metres and overcame rain, fog, rough trails and steep ascents to reach the village of Kerauja, in Gorkha district, where community members welcomed her and took part in the flag-raising ceremony. Five months earlier the villagers were mourning their dead and salvaging what they could in the rubble of their homes after the massive earthquake that hit the region on 25 April.
 
"The long, tough trails we travelled represent the hard task ahead of achieving zero hunger. But when people work together, zero hunger can be achieved," said Nimdoma. "I raised this flag here in the Himalayas for Nepal, for WFP and for all the world."
As a child, Nimdoma received WFP school meals and at the age of 17, in 2008, she became the then-youngest woman to summit Mount Everest. Now, Nimdoma is using her climbing expertise to help WFP reach villages affected by the April earthquake. She was accompanied on this trip by a train of mules bringing rice as part of the recovery effort.
Chandra Bahadur Gurung is one of the Kerauja villagers who witnessed the flag-raising. "After all the hardship our village has suffered following the earthquake, we are proud to have been chosen to carry this message to the world," he said.
The flag-raising is one of 17 around the world – one for each of the global goals – and is part of a collaborative effort called Project Everyone to bring the goals to the planet's seven billion people.
Together, the goals aim to end hunger and extreme poverty, overcome inequality and injustice, and tackle climate change – with a deadline of 2030. They present an historic opportunity to change the world for the better. They are ambitious, but with commitment, hard work and cooperation, they are also achievable.
#                              #                                 #
Broadcast-quality video of the flag-raising is available to download here.
High-resolution photos are available to download here.
WFP is the world's largest humanitarian agency fighting hunger worldwide, delivering food assistance in emergencies and working with communities to improve nutrition and build resilience. Each year, WFP assists some 80 million people in around 80 countries.
Follow us on Twitter @wfp_media    
For more information please contact (email address: firstname.lastname@wfp.org):
Seetashma Thapa, WFP/Nepal Mob. +977 9851 177 901
Damian Kean, WFP/Bangkok, Mob. +66 81 701 9208
Zoie Jones, WFP/Rome, Tel. +39 06 6513 3940, Mob. +39 342 902 5566
Gregory Barrow, WFP/London, Tel.  +44 20 72409001, Mob.  +44 7968 008474
Gerald Bourke, WFP/New York, Tel. +1-646-5566909, Mob.  +1-646 525 9982