Japan Contributes JPY 2.362 Billion To United Nations Agencies In Myanmar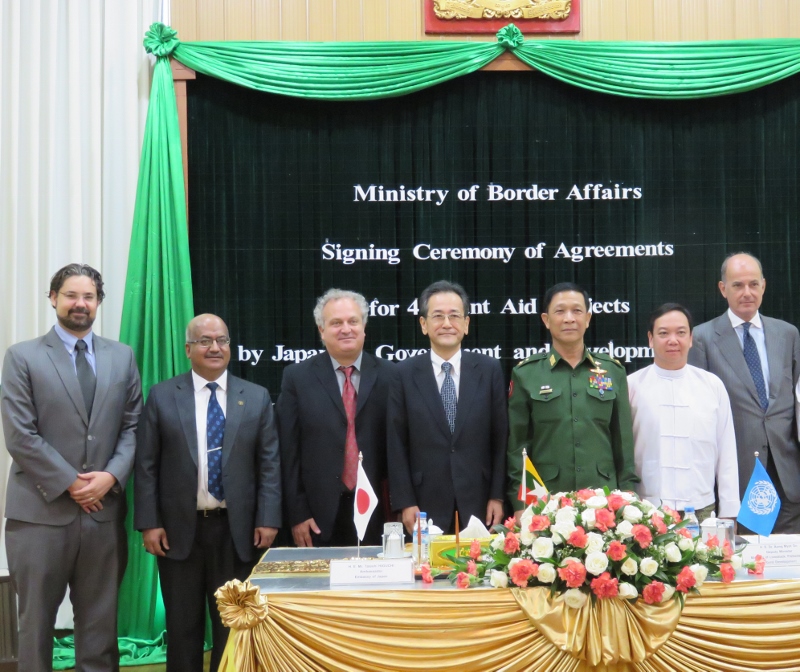 NAY PYI TAW – Four United Nations organisations today welcomed a generous and timely contribution of 2.362 billion Japanese Yen (approximately US$ 19.5 million) from the Government of Japan to support humanitarian and development activities in Myanmar
Representatives of the United Nations Human Settlements Programme (UN-Habitat), the United Nations High Commissioner for Refugees (UNHCR), the United Nations Children's Fund (UNICEF), and the United Nations World Food Programme (WFP) attended a ceremony at the Ministry of Border Affairs in Nay Pyi Taw to mark the occasion in the presence of Japan's Ambassador to Myanmar H.E. Tateshi Higuchi; Myanmar's Deputy Minister for Border Affairs H.E Major General Tin Aung Chit, and Deputy Minister for Livestock, Fisheries and Rural Development H.E Dr Aung Myat Oo.
UN-Habitat received a contribution of JPY 631 million (US$ 5.2 million) which will contribute to helping Myanmar's poor and vulnerable communities affected by conflicts and natural disasters to address the emergency needs to restore their normal life and to sustainably improve quality of life. The project has specific objective of assisting vulnerable communities, mostly women and children, to respond to unexpected disaster conditions through all project activities, promoting active participation of women, immediate recovery of vulnerable communities' economic and social actions and providing safer and healthy environment for children.  The project will support most vulnerable urban poor families to re-construct low-cost housing in Yangon and will assist conflict affected communities restoration community infrastructure in Mansi and Momauk Townships (Kachin State) and Pekkon Township (Shan State) through people's process.
UNHCR received a contribution of JPY 279 million (US$ 2.3 million) which will support the agency's activities in assisting the Myanmar Government in its response to the needs of  internally displaced people (IDPs) as part of the United Nations inter-agency efforts in Kachin State, northern Shan State and Rakhine State. "Japan's support will greatly assist IDPs and other people of concern to UNHCR as we work to support Myanmar in its efforts to find durable solutions to displacement and enhance the protection of people" said Giuseppe De Vincentiis, UNHCR's Representative. In the inter-agency humanitarian response, UNHCR is the agency responsible for shelter, relief items, camp coordination and camp management, as well as leading the protection sector in its efforts in Myanmar.
Japan's contribution of JPY 452 million (US$ 3.75 million) to UNICEF will help to improve maternal and child health and equitable access to Infant and Young Child Feeding counselling, micronutrient supplementation and the management of acute malnutrition in Kachin State, northern Shan State and Rakhine State. This partnership will also help to increase access to primary and pre-primary education and Non Formal Education (NFE) opportunities, and to strengthen the protection of children from violence, abuse and exploitation through increased case management services. "Children do not start conflicts, yet they are most vulnerable to their effects. Violence and conflict harm children, disrupt their education, deny them access to essential health services, and increase poverty, malnutrition and disease", said Bertrand Bainvel, Representative at UNICEF Myanmar. "This contribution will make a difference by transforming the lives of thousands of children from Myanmar."
Japan's generous JPY 1 billion (US$8.2 million) contribution to WFP will support life-saving food assistance to internally displaced people in Rakhine, Kachin and northern Shan States, whose livelihoods have been disrupted by conflict and violence. The contribution will be used to buy rice, pulses, oil and salt - the food commodities that WFP distributes each month to the displaced populations - as well as blended food, which is provided to children under five and pregnant women and nursing mothers in view of preventing malnutrition. Ninety percent of the food will be purchased locally, thereby also supporting Myanmar farmers and contributing to the national economy.
#                              #                                 #
For more information please contact:
Oddy Angelo Barrios - Project Manager, United Nations Human Settlements Programme, UN-Habitat, oddyangel@gmail.com, 95-1-542910-19 Ext. 160
Medea Savary - Associate Public Information Officer, UNHCR Myanmar / savary@unhcr.org / +95 944 802 7892
Mariana Palavra - Communication Specialist, UNICEF Myanmar / mpalavra@unicef.org / Tel: +95 9795452618
Ayuka Ibe - Head of Partnerships, Reports & Communications, WFP Myanmar / ayuka.ibe@wfp.org / +95 9450061236