New Atlas Maps Out Areas Vulnerable To Climate Change, Disasters And Food Insecurity In The Andean Region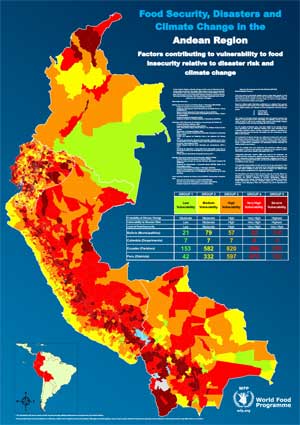 PANAMA CITY – The United Nations World Food Programme (WFP) has launched a new Atlas of the Andean Region showing which areas are most threatened by climate change and the risks of related disasters and their potential impact on the food security and sustainable development of entire communities.
The Atlas of Food Security, Disasters and Climate Change – which targets areas with potential need for intervention and support – analyses the situation in four Andean countries: Colombia, Ecuador, Peru and Bolivia, based on the information published or obtained from official government sources.
"The map shows in a very visual manner a clear fracture across the continent. Low income communities located  in the Andean region through the four countries studied,  have similar difficulties accessing basic services such as  water, energy, and markets, which reduce their coping mechanisms and makes them especially vulnerable to climate-related disasters," said WFP's Regional Director, Miguel Barreto.
"If we are able to act all together to reduce those unequal conditions, we could revert this situation and make those communities resilient to the effect of climate change," he added.
This new map is the result of WFP's food security analysis work, commonly known as VAM (Vulnerability Analysis and Mapping).
"This atlas can also help guide decision-making among governments to plan and take action to mitigate the impact of climate-related disasters, such as loss of livelihoods and rise of food prices, and to invest in disaster-risk reduction," Barreto said.
According to the Atlas of Food Security, Disasters and Climate Change, in Bolivia 148 municipalities are listed with "Severe Vulnerability" and 32 with "Very High Vulnerability". In Colombia, six departments were identified with "Severe Vulnerability" and another six with "Very High Vulnerability".
In Ecuador 389 parishes have "Severe Vulnerability" and 586 have "Very High Vulnerability". Finally, in Peru 190 districts have "Severe Vulnerability" and 673 have "Very High Vulnerability."
Climate change is increasing the frequency and intensity of natural disasters, including droughts, floods, hail and snow storms, frosts, and glacier melts, which could lead to an upsurge of the numbers of people in need of food assistance. WFP works in partnership with the governments of the Andean Region to find country-led solutions to make their most  vulnerable people – women and children —  more able to withstand climate shocks.
#                              #                                 #
To download a copy of the map click here
WFP is the world's largest humanitarian agency fighting hunger worldwide. On average, WFP reaches more than 90 million people with food assistance in 80 countries each year.
Follow us on Twitter @wfp_media
For more information please contact (email address: firstname.lastname@wfp.org):
Alejandro Chicheri, WFP/Latin America and the Caribbean, Tel. 317 3900, Mob. 6671 5355
Elio Rujano, WFP/Latin America and the Caribbean, Tel. 317 3900, Mob. 6677 0608