Nicaragua receives milk from Switzerland for children's school meals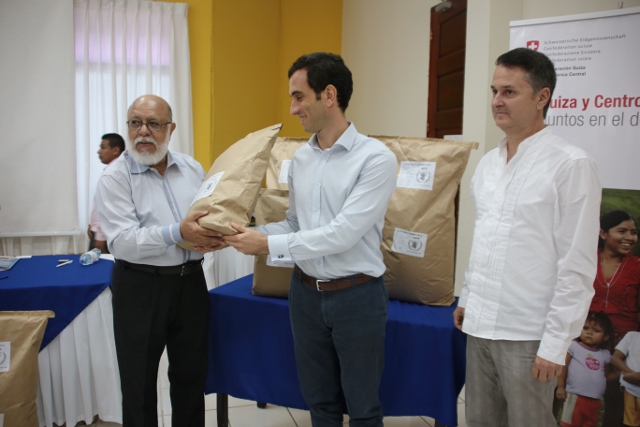 Managua - July 30, 2015 - Children of Nicaragua received good news with the delivery of a new contribution from the Nicaraguan Government and the People of Switzerland of 225 metric tons of powder milk destined to the meals of 162.000 students from the Ministry of Education's public nursery and primary schools.
The contribution of powder milk has a value of US$1.41 million. The powder milk arrives in the country by sea from Switzerland and will be distributed to 2,182 urban and rural schools from 12 municipalities of the North Caribbean Autonomous Region (RAAN) and the department of Jinotega.
The Resident Deputy Director, Responsible for Humanitarian Aid of the Swiss Cooperation Office in Central America, Fabrizio Poretti, delivered today the contribution to the WFP Deputy Representative, Marc Regnault de la Mothe and to the Nicaraguan authorities, among them the Presidential Advisor on Education, Salvador Vanegas. 
"The Swiss Cooperation in Central America is very pleased to know that the milk produced in Swiss fields is given to Nicaraguan boys and girls as part of their school diet, contributing their growth and development," said Poretti. "Our efforts are focused in buying the best dairy products from my country at the best prices possible to be able to obtain a larger quantity, which will then be put at the disposal of humanitarian aid organizations such as WFP."
Switzerland has been an ongoing partner of the Ministry of Education's Integral School Nutrition Programme (PINE), providing powder milk annually to strengthen the school meals. Since 2007 Switzerland has contributed 382.000 metric tons of powder milk (worth approximately US$8.2 million), benefiting some 665.000 school children.
The Swiss Cooperation covers transportation costs for the contributions of dairy products from Switzerland to Nicaragua, as well as its storage and conservation until it is distributed to schools.
"Milk is an excellent complement for the school meals, as it contains essential proteins, vitamins and minerals. We are thankful for this precious contribution from the Government and the People of Switzerland through its cooperation agency. Because of their generosity, boys and girls will drink milk in their schools all year long", said Regnault de la Mothe of WFP.
The mothers who prepare the meals at school mix the Swiss powder milk with Super Cereal (included in the school meals basket), cook it at high temperature and serve a nutritious drink to the children. 
For more information:
Sabrina Quezada Ardila. Assistant Communications Officer. WFP. Managua, Nicaragua. E mail: sabrina.quezada@wfp.org  Telf. + 505 2278-4982. Cel. +505 8930- 2987.
Ana Carolina Peralta, Assistant for Humanitarian Aid. Swiss Cooperation Office in Central America.  Managua, Nicaragua. Email: ana-carolina.peralta@eda.admin.ch  Tel. +505 2266 3010 Ext. 129. Cel. +505 8852 4618.