Norway And WFP Seal Multi-Year Financial Commitment To Achieve Zero Hunger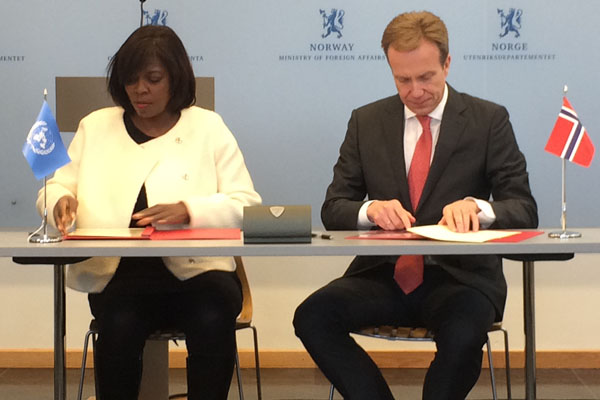 OSLO – Minister for Foreign Affairs Børge Brende and visiting Executive Director of the United Nations World Food Programme (WFP) Ertharin Cousin today reconfirmed their strong commitment to achieve Zero Hunger by 2030 by renewing a multi-year Strategic Partnership Agreement between Norway and WFP.
The Strategic Partnership Agreement, covering the period from 2016–2019, represents a record contribution of NOK 948 million (US$109.6 million) of fully flexible funding and establishes Norway as an exemplary donor committed to promoting and implementing the principles and practice of Good Humanitarian Donorship.    
"Norway leads by providing un-earmarked, flexible, predictable and multi-year funding. Unfortunately nine out of ten other government donor contributions received by WFP are earmarked. Only one tenth of our funding is multi-year. Thanks to Norway, WFP can respond fast and effectively when disasters occur. Because of Norway's contributions, we provide assistance to vulnerable families affected by the too-often forgotten shocks and crisis. Working together we ensure that help reaches those left furthest behind first.  WFP applauds and appreciates Norway's global leadership," said Cousin.
In 2015 Norway contributed a record US$96 million in support of WFP's works. This contribution made Norway the 10th largest WFP donor overall and the 4th largest donor of flexible funding. Norway is also the top donor to WFP's Immediate Response Account (IRA), a life-saving immediate funding facility.  This fund permits a rapid, well-timed response to emergencies.
"Strong partnerships enable WFP to achieve better outcomes for the people we serve. In Norway, WFP has an important and highly valued partner and working together we will achieve Sustainable Development Goal 2 – Zero Hunger," added Cousin.
#                              #                                 #
WFP is the world's largest humanitarian agency fighting hunger worldwide, delivering food assistance in emergencies and working with communities to improve nutrition and build resilience. Each year, WFP assists some 80 million people in around 80 countries.
Follow us on Twitter @wfp_media and @wfp_no
For more information please contact (email address: firstname.lastname@wfp.org):
Anne Poulsen, WFP/Copenhagen, Tel. +45 4050 3993
Caroline Hurford, WFP/Rome, Tel. +39 06 6513 2330; Mob. +39 348 132 5018