A Roof Over Your Head [Blog]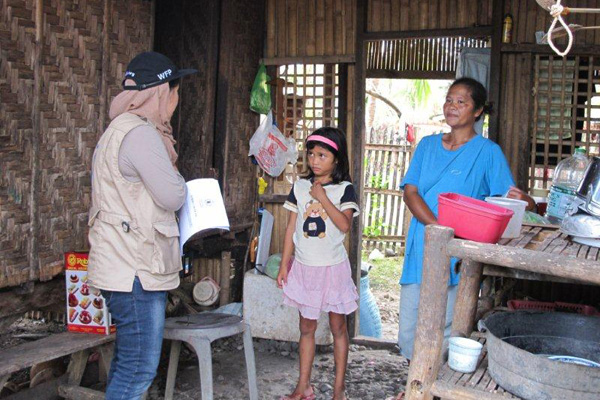 By Frances Kennedy in Cebu



My journey across the Haiyan-struck area around Ormoc yesterday has given a whole new sense to the phrase 'a roof over your head'. As we drove out across a beautiful, bruised and battered landscape this was the one constant. Thousands, maybe tens of thousands of people along the road, had been deprived of that most fundamental thing – something to protect them from the elements.
Simple bamboo huts were just  blown apart, slightly sturdier homes remained upright but lost their tops.  Even solid concrete buildings like schools and  warehouses lost some or all of their roofs . A small boy emerged from a field of bamboo carrying aloft a sheet of corrugated iron.  There was no building within 200 metres, so that roofing  had been blown a long way.  
Even the new city hall in  Tabango, a town of 30,000 people, was not immune. The  mayor, Corazon Remandaban, is now  camped in a makeshift office – alongside  WFP rice bags ready to be dispatched  to the barangays, or settlements, in the surrounding rural areas.  
"The most important thing for my people right now is shelter and food," she said, showing us a spread sheet of information she was already gathering on loss and damage. "Fortunately most roads are cleared, but  there are people, many of them poor, who have lost so much," she said.
All along the road to our destination  -  barringay Tabing  - you could see the connection between having a roof over your head and putting a meal on the family table. Tarpaulins  were laid out on the road side as people tried to dry their sodden  rice in the sun.  A  rice mill had just a few slats left on the roof so that too was lost, with lack of supply driving  up prices on local markets.
Most of the people along our route are landless tenant farmers, and their livelihoods – coconut and rice farming – have been destroyed.
The distribution of emergency food relief, organized by the government, was taking place as we arrived, in St Joseph's Chapel .  It was the only place in town with a roof.  People who had trekked down from hills to collect their rice, canned foods and instant noodles rested in the shade before heading back home.
Young children queued in two neat lines to receive packets of WFP's High Energy Biscuits. A life-saver in the initial days after a disaster, the biscuits also help keep youngsters nourished in crises.  In an already  poor area, where  most families  are  tenants to large landholders,  the key crops – coconut and rice – have been decimated.
The Paghubasan family, like many others, crowded into the house of the village head as the storm raged around them two weeks ago.   The family income is what Mrs Paghubasan earns doing laundry as her husband has a physical disability.  "We stocked up on food when we knew the storm was coming,'' she said, " but it was either washed away or damaged, "she said.
 
Daughter Joanna Marie, 8 years, was sad that the family's five chickens had died in the storm. Her mother mourned their loss in more pragmatic terms. She hugs the big plastic bag containing WFP rice, along with canned fish and instant noodles provided by the Government. 'We are eking out what we have also with my elderly parents but there is not enough," she said.
She worries they are going to need help for some time to come. Yet the family is already working on recovery  – their yard is clear of debris and with help from their neighbours, they have already put in place a sheet of iron that will  keep the rain and wind out.