Rugby Fans Get Opportunity To Tackle Hunger At Rugby World Cup 2015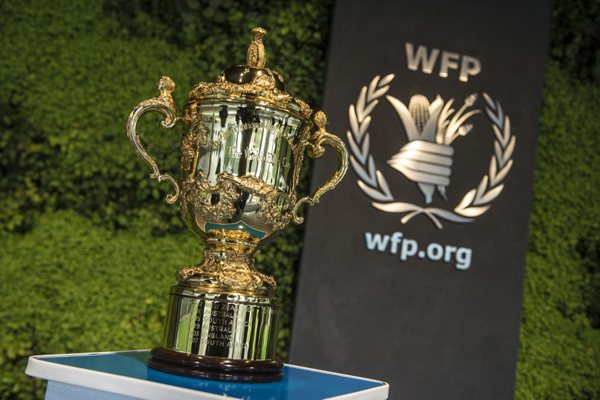 LONDON – The World Food Programme (WFP) and World Rugby, the international federation for rugby union, have joined forces to raise awareness and funds during Rugby World Cup 2015 for WFP's work on the frontlines of hunger.
The "Tackle Hunger" campaign will support WFP's work in the area of nutrition, specifically programmes to help children reach their full intellectual and physical potential, a key element to achieve a zero hunger world.
"The Tackle Hunger partnership drives home the universal importance of nutritious food," said WFP Executive Director Ertharin Cousin. "If you want to be the best – at whatever you do and wherever you are – the right food at the right time is essential."
When rugby's global showcase kicks off in London on 18 September, "Tackle Hunger" will be the focus of a major fundraising and visibility campaign.  In the UK, the tournament's host broadcaster, ITV, will support and broadcast public appeals, featuring celebrities from the world of rugby and sport, under the banner "Tackle Hunger Together."  
The fundraising potential has been significantly boosted with the UK government's Department for International Development (DFID) agreeing to match all public donations made in the United Kingdom as part of its UK Aid Match scheme.
 
"As excitement builds for the opening game of the Rugby World Cup in just a few days, rugby fans across the country have the chance to come together to beat hunger.  The World Food Programme is making sure that millions of the poorest people around the world are getting the food and nutrition they need not only to survive but to thrive," said the UK Secretary of State for International Development, Justine Greening.  "By matching public donations to the Tackle Hunger campaign pound for pound, we can help WFP deliver food to cut off communities, feed malnourished children and help those caught up in wars and natural disasters, saving lives and preventing hunger in the future."
World Rugby Chairman Bernard Lapasset said: "We have long believed in sport's tremendous power to drive social change, and the response of the global rugby family to our Tackle Hunger partnership with the United Nations World Food Programme has been truly amazing".
At an international level, rugby fans and WFP supporters will be able to make a donation in support of Tackle Hunger via a dedicated web donation link: wfp.org/tacklehunger
This is the fourth time that the "Tackle Hunger" partnership has featured at a Rugby World Cup final following successful promotions in Australia (2003), France (2007) and New Zealand (2011).  
For Rugby World Cup 2015, fans have already indicated a willingness to support WFP by opting to give more than US$300,000 in donations during online ticket sales.  A first tranche of this money – enough to pay for 1 million meals – has been delivered to WFP's school feeding programme in Senegal.
Subsequent funds raised at this year's tournament will be used to support WFP school feeding programmes and emergency response.
#                              #                                 #
WFP is the world's largest humanitarian agency fighting hunger worldwide, delivering food assistance in emergencies and working with communities to improve nutrition and build resilience. Each year, WFP assists some 80 million people in around 80 countries.
Follow us on Twitter @wfp_media
About World Rugby: World Rugby is the world governing body for Rugby Union. The sport is played by over 7.23m men and women, boys and girls, in more than 120 countries across five continents.
For more information please contact (email address: firstname.lastname@wfp.org):
Gregory Barrow, WFP/London, Tel.  +44 20 72409001, Mob.  +44 7968 008474
Bettina Luescher, WFP/Geneva, Tel. +41 22 917 8564, Mob. + 41-79-842-8057
Steve Taravella, WFP/Washington DC, Tel. +1 202 653 1149, Mob. +1 202 770 5993
Frances Kennedy, WFP/Rome, Tel. +39 06 6513 3725, Mob. +39 346 760 0806