School Meals At Risk For 1.3 Million Children In West And Central Africa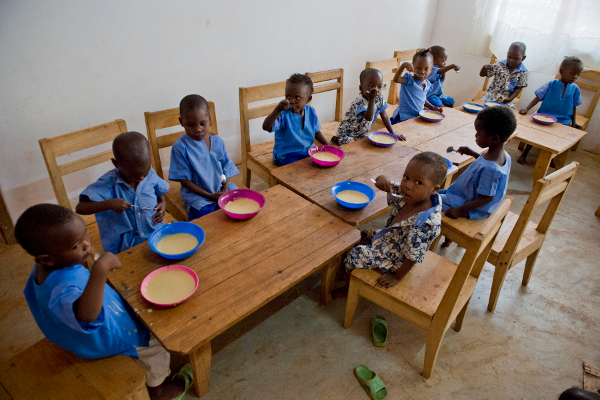 DAKAR – As schools resume this autumn, more than 1.3 million children across West and Central Africa risk missing out on school meals from the World Food Programme (WFP), as widening financial constraints force the United Nations agency – the top sponsor of such initiatives – to reduce its reach.
Dwindling resources, shifting donor priorities and changed financing mechanisms in some countries – all have conspired to create a funding gap and jeopardize programmes. Unless vital funding comes through in the next month, more than half a million  children across Cameroon, Mali, Mauritania and Niger could start the school year without the meals they have come to rely upon. By the end of 2016, assistance will run out for a further 700,000 children in 11 other countries.
In Chad – where, in some regions, as many as four-fifths of the population do not get enough food for a healthy life – WFP's school meals programme has shrunk by more than 90 percent in the past three years due to funding shortages, from more than 200,000 children assisted in 2013 to just 15,000 in 2016. In Senegal, current resources will cover school meals for fewer than a fifth of the children targeted by the programme. In Mauritania and Cameroon, funds ran out during the 2015-2016 school year, forcing WFP to halt assistance in January and May respectively. In Guinea, WFP will halve its assistance this school year.
"In most countries in West and Central Africa – in the grip of chronic hunger and malnutrition, and increasingly affected by conflict – school meals have been a lifeline for children, as they are often the only regular and nutritious meals they receive," said Abdou Dieng, WFP Regional Director for West Africa.
While in some countries the government and other agencies lead or complement WFP's programme, in most of this region WFP is the sole or main provider of school meals, targeting areas where hunger and malnutrition levels are highest. Year after year, funding constraints have been forcing WFP to shrink its areas of coverage.
During or after conflict in the Central African Republic, Mali and Niger, or in the aftermath of a major health crisis such as the Ebola outbreak, school meals have played an important role in providing children in need with nutritious meals; encouraging families to send their children to school; and, more broadly, helping children regain their childhood.
"Children from the very countries and regions where needs are most acute are missing out on this vital assistance. We urge our supporters not to forget the value the school meals programme brings – a key vehicle to reduce poverty, hunger and malnutrition – and not let more than a million children slip deeper or back into in poverty and hunger. We urgently need US$48 million to start or continue our school meals assistance," said Dieng.
WFP's school meals are a major social safety net. They encourage primary school children, especially girls, to enroll, attend and remain in school. In 2015, WFP provided daily nutritious meals to over 2.5 million children across West and Central Africa: of these, 1.2 million were girls. Across the region, WFP partners with small-scale farmers to buy locally grown, fresh food, thus not only helping students, but boosting agricultural incomes and local economies at the same time.
For every US dollar invested in school meals, there is an overall economic return of US$3 to US$8, studies by WFP show. This is because improving the health of schoolchildren transforms the rest of their lives: it increases their productivity as working adults, and reverberates through the next generation by improving the health of their own children.
Achieving Zero Hunger and learning for all are key elements in the achievement of the UN's Sustainable Development Goals (SDGs), including SDG 2 on ending hunger by 2030.
Key donors to WFP's school meals programme in West and Central Africa for the 2015-2016 school year are Canada, the European Union, Japan, Luxembourg, Saudi Arabia and the United States.
#                              #                                 #
WFP is the world's largest humanitarian agency fighting hunger worldwide, delivering food assistance in emergencies and working with communities to improve nutrition and build resilience. Each year, WFP assists some 80 million people in around 80 countries.
Follow us on Twitter: @WFP_WAfrica, @WFP_media
For more information, please contact (firstname.secondname@wfp.org):
Adel Sarkozi, WFP/Dakar, Mob. +221 776375964
Jane Howard, WFP/Rome, Tel. +39 06 65132321, Mob. +39 346 7600521
Gregory Barrow, WFP/London, Tel.  +44 20 72409001, Mob.  +44 7968 008474
Bettina Luescher, WFP/Geneva, Tel. +41 22 917 8564, Mob. + 41-79-842-8057
Gerald Bourke, WFP/New York, Tel. +1-646-5566909, Mob.  +1-646 525 9982
Steve Taravella, WFP/Washington DC, Tel. +1 202 653 1149, Mob. +1 202 770 5993