Sri Lanka Donates Rice To WFP Operations At Home And Abroad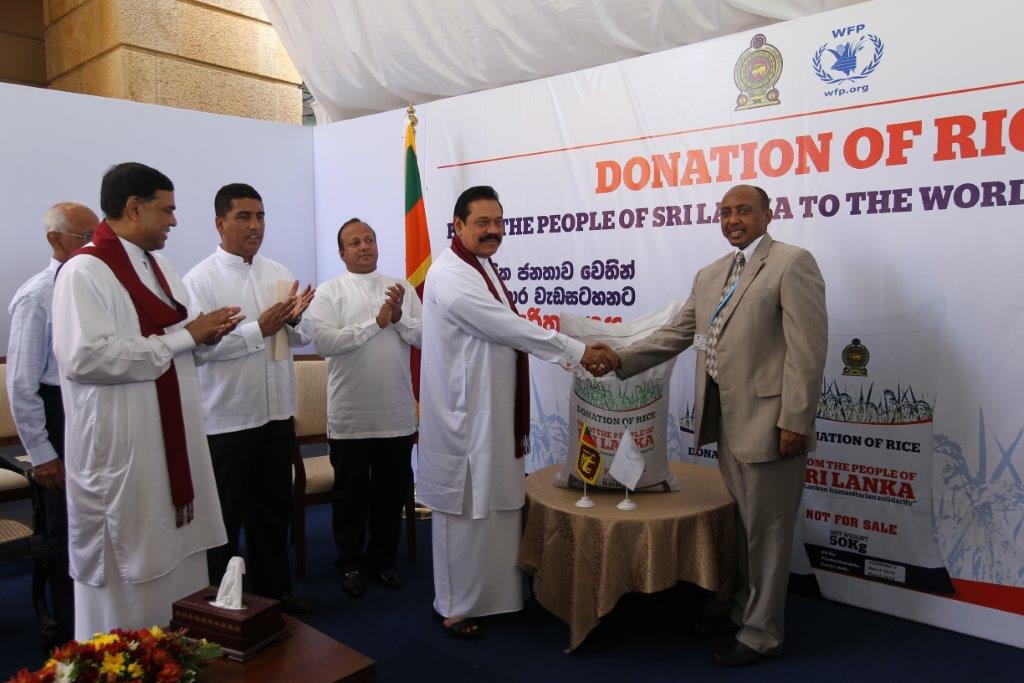 COLOMBO – The Government of Sri Lanka today delivered the first part of a donation of 50,000 metric tons of rice, valued at about US$22 million, to the United Nations World Food Programme (WFP) for distribution to people in need in Sri Lanka and ten other countries in Asia, the Middle East and Africa.
In a ceremony at the Presidential Secretariat Building, President Mahinda Rajapaksa consigned 2,000 metric tons of rice to WFP. This food will be distributed to families in the north of Sri Lanka who are still in need of assistance following the conflict, and will be enough to feed 165,000 people for one month.
"We are pleased to see such a concrete demonstration of Sri Lanka's commitment to achieving zero hunger," said Elisabeth Rasmusson, WFP Assistant Executive Director for Partnership and Governance Services. "WFP has been working in Sri Lanka for the past 46 years. With the food security situation starting to improve, it is commendable that the Government is looking beyond its own borders to support the fight against hunger in other countries."
The overall donation foresees 10,000 metric tons of rice for WFP's programmes in Sri Lanka, and a further 40,000 metric tons in support of WFP's operations worldwide. WFP is now seeking cash contributions from other donors to cover the cost of transporting and distributing the rice. To date, funds have been secured to cover the associated costs for the first 2,000 metric tons. This is the second donation from Sri Lanka to WFP in the past two years.
WFP works together with the Government of Sri Lanka to provide food assistance to those in need, and to support national priorities for addressing food and nutrition security in the country.  WFP aims to assist 385,000 people in 2014 at a total cost of US$16 million.
Food assistance is used in projects to improve economic opportunities for the most vulnerable, to boost community resilience in disaster-prone areas, and to address nutrition and education needs in the country.
#                              #                                 #
WFP is the world's largest humanitarian agency fighting hunger worldwide. On average, WFP reaches more than 90 million people with food assistance in 80 countries each year.
For more information please contact (email address: firstname.lastname@wfp.org):
Anomi De Mel, WFP/Colombo, Tel. +94(0)112 508919, Mob. +94(0)773073524