WFP-chartered Ship Docks In Yemen With Fuel For Humanitarian Operations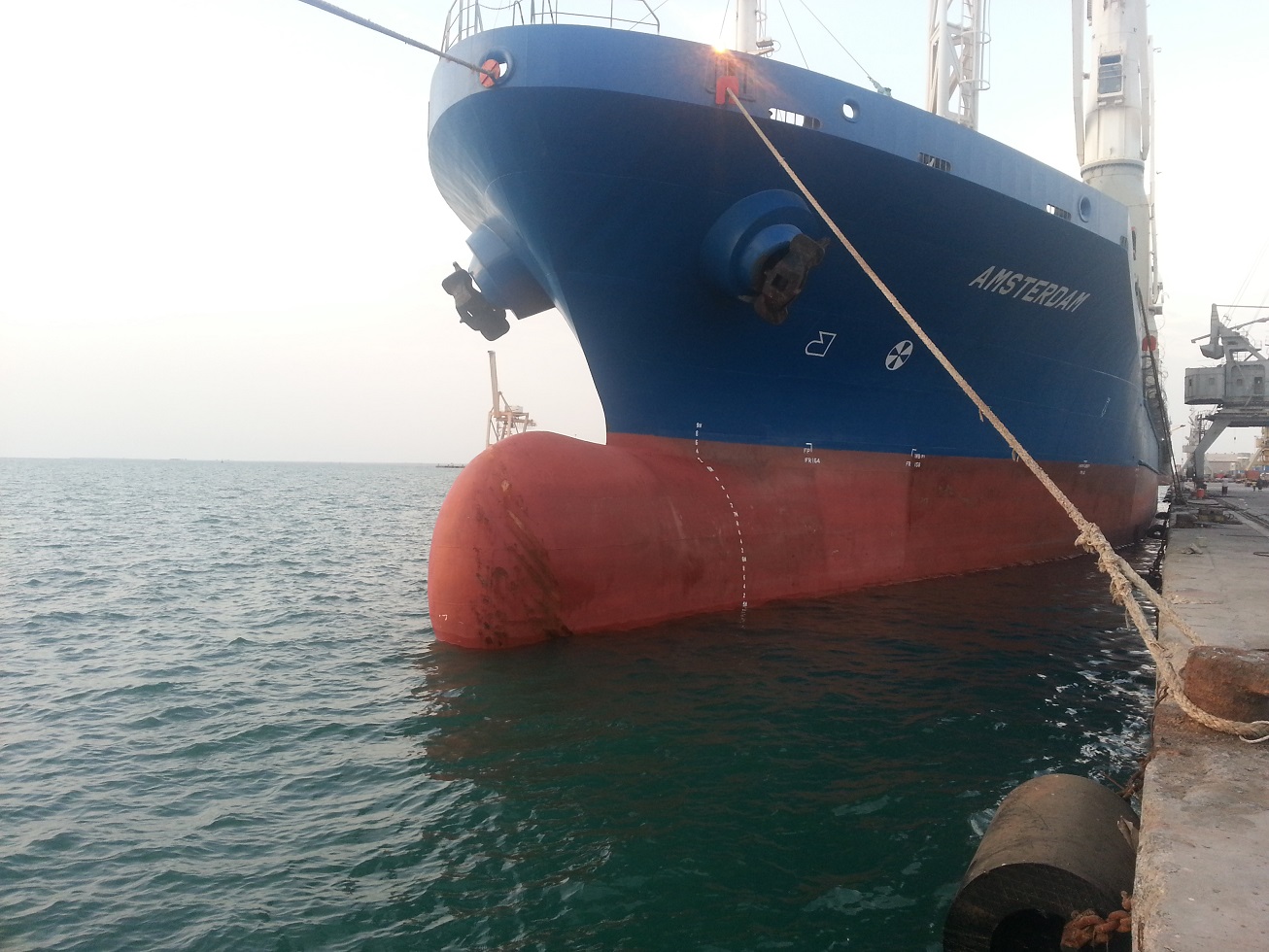 SANA'A – A ship carrying fuel chartered by the United Nations World Food Programme (WFP) has arrived in Yemen, opening up a new humanitarian lifeline for civilians impacted by conflict. All humanitarian operations in the country had ground to a halt because of a shortage of fuel.
"This breakthrough for the UN humanitarian operation in Yemen will allow us to reach hundreds of thousands of people in need of urgent food assistance," said Purnima Kashyap, WFP Representative and Country Director in Yemen. "More fuel and food shipments are expected in the next few days."
WFP reached more than 1 million people in Yemen in the past three weeks amid growing conflict that has increased hunger so an estimated 12 million people struggle to find their next meal. The fuel shortage stopped WFP sending food from its warehouses to affected areas for a few days.
The MV Amsterdam berthed at Hodeidah port on Saturday with some 300,000 litres of fuel and some supplies for humanitarian organizations. WFP requires 1 million litres of fuel per month in Yemen. The total need for humanitarian operations is estimated at 5 million litres per month.
WFP expects another vessel to arrive at the port later on Sunday with an additional 120,000 litres of fuel. The fuel will be distributed to more than 50 humanitarian partners in Hodeidah and the capital Sana'a so deliveries of humanitarian and relief aid can resume.
Before the upsurge in fighting in Yemen began in March, WFP was regularly assisting nearly 4 million vulnerable people in the country.
WFP is preparing for more food deliveries into some of the hardest- hit areas as soon as a humanitarian ceasefire scheduled to start next Tuesday goes into effect. WFP is positioning a small passenger ship in Djibouti to shuttle humanitarian workers and cargo to Yemen.
WFP requires around US$43 million every month to reach its target of feeding some 2.5 million people over the next three months.
Markets in 19 out of Yemen's 22 governorates are struggling with basic food disappearing off the shelves. Prices of wheat grain and wheat flour – a staple in Yemen – jumped by more than 40 percent in April compared with February; and in many places there are no stocks in the market.
WFP has been feeding more than 5 million severely food insecure people throughout the country over the last year. In 2014, a WFP food security survey found that 10.6 million people – 41 percent of the population – were food insecure with more than 5 million people severely food insecure – in need of food assistance. The current conflict will exacerbate the precarious food security situation because the country imports more than 90 percent of its food needs.
#                              #                                 #
WFP is the world's largest humanitarian agency fighting hunger worldwide, delivering food in emergencies and working with communities to build resilience. In 2013, WFP assisted more than 80 million people in 75 countries.
Follow us on Twitter @wfp_media or @wfp_mena
For more information please contact (email address: firstname.lastname@wfp.org):
Abeer Etefa, WFP/Cairo, Mob. +2 01066634352
Reem Nada, WFP/Cairo, Mob. + 2 01066634522
Peter Smerdon, WFP/Rome, Mob. + 39 342 878 4107
Elisabeth Byrs, WFP/Geneva, Tel. +41 22 917 8564, Mob. +41 79 473 4570
Gregory Barrow, WFP/London, Tel. +44 20 72409001, Mob. +44 7968 008474
Bettina Luescher, WFP/New York, Tel. +1-646-5566909, Mob. +1-646-8241112
Steve Taravella, WFP/Washington DC, Tel. +1 202 653 1149, Mob. +1 202 770 5993